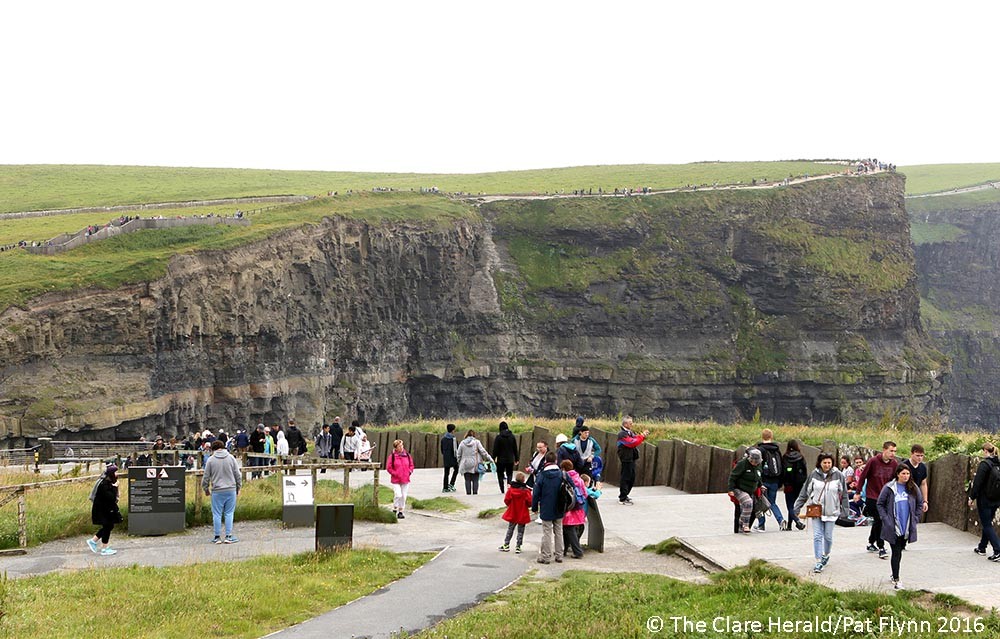 The Cliffs of Moher experienced a further increase in visitor numbers last year beating Dublin Zoo for a fourth consecutive year.
The Guinness Storehouse is the still Ireland's top visitor attraction welcoming 64,000 more visitors last year than in 2016 while Dublin Zoo experience a drop in footfall last yea.
The Cliffs of Moher in Co Clare saw a 7% increase in people visiting the attraction in 2017, almost 100,000 more than the previous year.
While the Guinness Storehouse has consistently held onto the top spot in recent years, the 214m (702 feet) high cliffs on the Atlantic coast leapfrogged Dublin Zoo into second place for the first time in 2014 and last year, welcomed almost 418,000 more visitors than the Phoenix Park based attraction.
A spokeswoman said: "The Guinness Storehouse retains its position as Ireland's number one international visitor attraction by surpassing all previous records, with 1,711,281 guests passing through its doors in 2017. Since first opening its doors to the public in 2000, the Guinness Storehouse has welcomed almost 18 million visitors."
Despite exceeding the 1 million visitor mark for the seventh year and enjoying an increase of 40,000 visitors in 2016 (1,143,908), last year the country's most popular family attraction welcomed 35,000 less people.
A spokeswoman for Dublin Zoo said: "Over the course of the twelve-month period, Dublin Zoo welcomed 1,108,728 visitors through its gates. Exceeding the one million mark for the seventh year running, the 2017 footfall figure confirms Dublin Zoo as Ireland's most popular family attraction."
Cliffs of Moher Visitor Experience director Geraldine Enright: "It was a record year for visitor numbers at the Cliffs of Moher Visitor Experience with 1,526,440 visitors, a 7% increase year on year."
"The growth was not just in the peak season but across the 12 months of the year. All markets have performed strongly in particular the US and Germany. New developing markets including China, Australia and New Zealand have seen significant growth in 2017. There has been an increase in visitors booking their visit online to guarantee entry during busy periods."
"2018 is expected to be another busy year. The visitor centre will open from 8am from April through to September and open to 9pm June July and August. The idea is to facilitate the early risers and those who wish to see stunning sunsets, in turn delivering overnights to Co. Clare," Ms Enright added.
Meanwhile, National Aquatic Centre in Dublin continues to grow its visitor figures following a further increase of almost 62,000 last year to 1,099,756 just 9,000 less than Dublin Zoo.
Fáilte Ireland is expected to publish its list of Ireland's top visitor attractions in June.