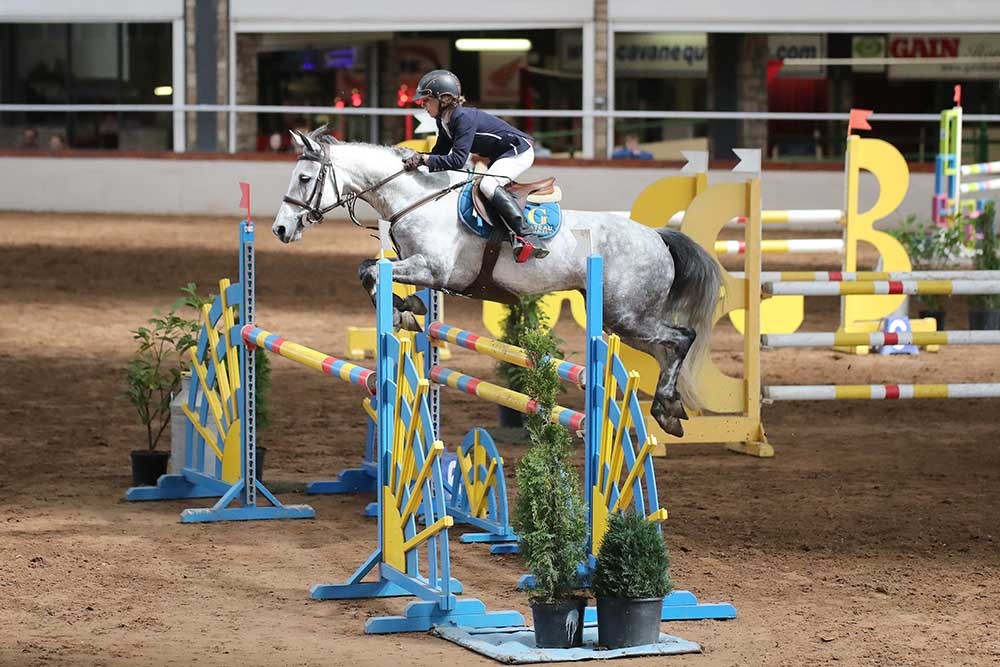 Young Jack Conlon-Gateau from Spancilhill was the toast of the recent Cavan International Equestrian Centre when he grabbed two of the 7 available qualification spots for the prestigious RDS Horse Show in August.
11-year-old Jack qualified two of his ponies – Uquam and Kato Star, who are stabled and train in Gateau Stables in Spancilhill, in the highly competitive Under 12, 12'2 pony category.
The Cavan event was the first of four similar qualification rounds where 7 spots for the RDS can be won – 28 Golden Tickets as they are referred to in the show jumping community. There were 87 starters from all over the country on Saturday morning in Cavan for the first round of jumping of which just 36 riders and ponies went clear.
A second round, with the fences going up a further10cm to 1m 15cm saw just 16 more clear rounds.  In the third and final round, with those 16 ponies now jumping against the clock, Jack went clear with both his ponies and took the 3rd and 5th spots available.
Commenting on his success over the weekend Jack said; "It's such a thrill to qualify for the RDS in August. It's really like getting to Croke Park for an All-Ireland in September if you play football or hurling.  There are so many good riders and ponies its really hard to qualify, so I'm just delighted to have got my tickets now and can look forward to all the fun and excitement of Dublin in August."
Jack's Mum, trainer and owner of Gateau Stables Valerie Gateau said: "We're so lucky to have such a strong network of centres and competition in the Clare-Limerick SJI  region; places like Clare Equestrian, Banners Equestrian and of course the Show Grounds too. The competition is so high in Clare and Limerick it really gets you ready for the national events.  We have also been able to do some training recently with Michael Blake in Tuamgraney and that has been fantastic for Jack, as has Michael.  Jack has worked so hard to get one of those 'Golden Tickets' for the RDS and now he has two – its just so exciting….we can't wait until August now."