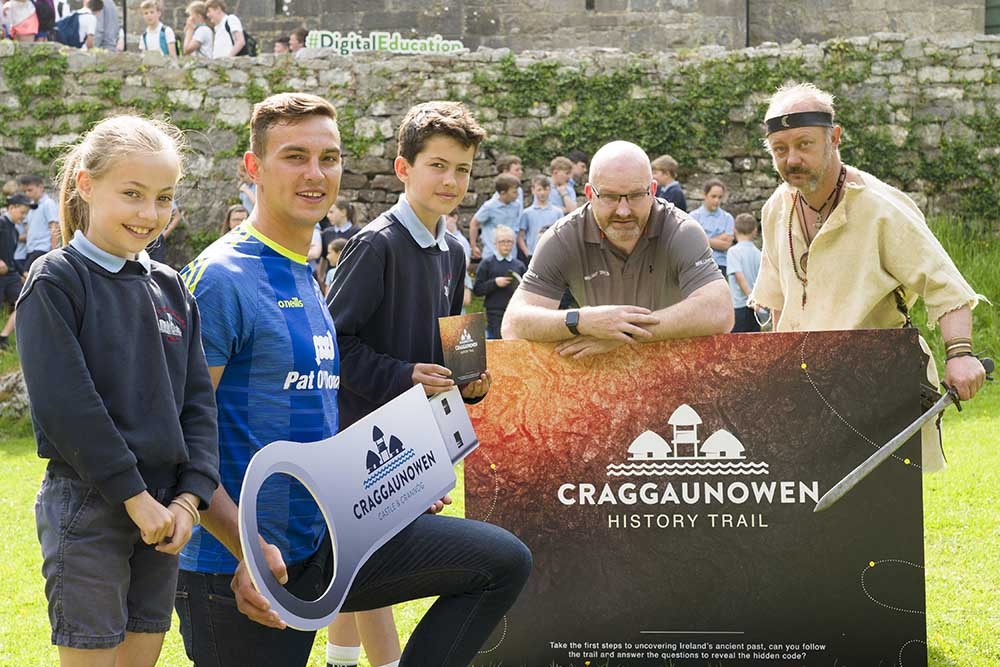 Craggaunowen – the Living Past Experience, in Kilmurry, Co. Clare has launched its new educational trail at the award winning Pre-Historic park.
The trail was launched by Clare hurler Peter Duggan, who was joined by 3rd and 4th class children from Kilmurry National School and Quin National School in Co Clare.
The educational trail will give schools and visiting groups the opportunity to experience and learn about everyday life during the Pre-Historic and early Christian periods in Ireland as they navigate through the reconstructed and restored dwelling houses, farm sheds and hunting sites at Craggaunowen.
3D models along with a series of markers containing information, images and facts, have been placed at various locations of interest along the educational trail.  Visitors are then guided though the site via a "treasure hunt" style activity book (unique to Craggaunowen) in which they can solve clues along the way.
An interactive trail, specifically for families, was also launched today. Like the educational trail, this gives families the opportunity to learn and engage at the locations on the route as they explore the various sites at Craggaunowen.
Designed by Allan Hamilton of Brilliant Trails, the educational trail is the first such feature to be unveiled at a Shannon Heritage site and will potentially be rolled out at other Shannon Heritage attractions in the near future.
This is the second of two new education initiatives at Craggaunowen following the launch of the digital education pack in May. The 'Tales of Craggaunowen Series' includes 10 educational videos that capture the living history experience that unfolds at the Bronze Age Park and is available for free to all schools on USB key.
Speaking about the launch of the educational trail, Niall O'Callaghan, Managing Director of Shannon Heritage said: "We are delighted to be able to unveil our new educational trail at Craggaunowen. The trail is an interesting and exciting way for children to learn about the Pre-Historic and early Christian periods in Ireland. With the summer months now here, we are certain that the educational trail will prove to be a very popular attraction with visiting groups at Craggaunowen".
Craggaunowen – the Living Past Experience is an award winning ancient Celtic settlement that has an array of fascinating features including a restored Ringfort, Crannog, a 16th century castle featuring the Hunt Collection plus a team of enthusiastic animators who re-enact various activities from days gone by. The attraction is also home to a sounder of rare native wild Irish boar and of course, the famous boat in which Tim Severin sailed across the Atlantic following Brendan's Voyage.