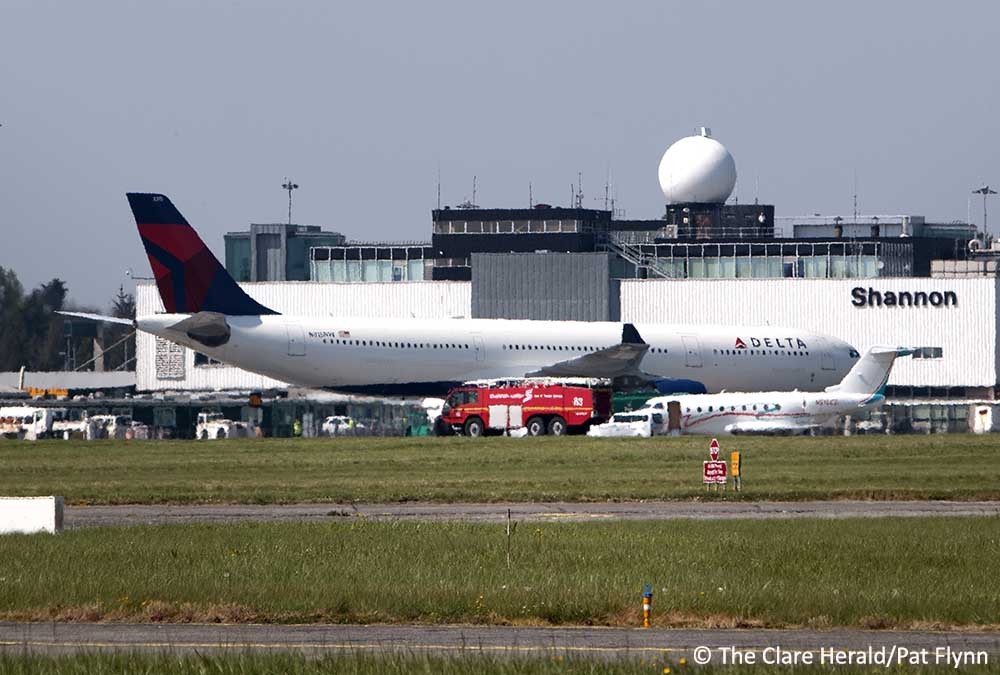 A US-bound passenger jet made a U-turn over the Atlantic and diverted to Shannon Airport this afternoon after a the crew declared a medical emergency.
Delta Air Lines flight DL-31 was travelling from London Heathrow to Atlanta in the US at the time. There were 307 passengers and crew on board.
The flight had already flown through Irish airspace having departed Heathrow at around 12.10pm. The Airbus A330-300 jet was almost three hours into it's journey when the crew made contact with doctors at a specialist centre in the US. After consulting medics, the crew opted to turn around and divert to Shannon.
Airport fire crews took up positions on taxiways adjacent to the runway in advance of the aircraft's arrival. This was a precautionary measure in case the jet's braking system overheated during the emergency landing.
After making a safe landing at 5.06pm, the aircraft was accompanied to the terminal building by emergency vehicles and met by HSE ambulance paramedics and a doctor. Medics quickly board the aircraft where they assessed the passenger who was later removed to University Hospital Limerick for treatment.
The flight continued its journey to the US about 95 minutes after diverting.
An airline spokeswoman said: "Flight 31 from London to Atlanta diverted to Shannon after the crew consulted StatMD about a medical emergency onboard. The flight departed Shannon at 6:44p local time."
Last May, a Delta Air Lines flight diverted to Shannon Airport after a crew member fell ill. The crew member was removed to hospital for treatment while the flight was subsequently cancelled and passengers sent to hotels for the night.
In May 2017, an elderly man died on board a Delta Air Lines flight that diverted to Shannon.
Delta Air Lines flight DL-71 was en route from Amsterdam to Atlanta when the crew Shannon reported they had an 88-year-old man on board who was unresponsive.
Despite the best efforts of cabin crew to resuscitate the man, he was pronounced dead shortly after the flight landed.
Of the 113 unscheduled landings at Shannon Airport last year, 24 were medical emergencies. In three cases passengers had passed away before landing or reaching hospital.