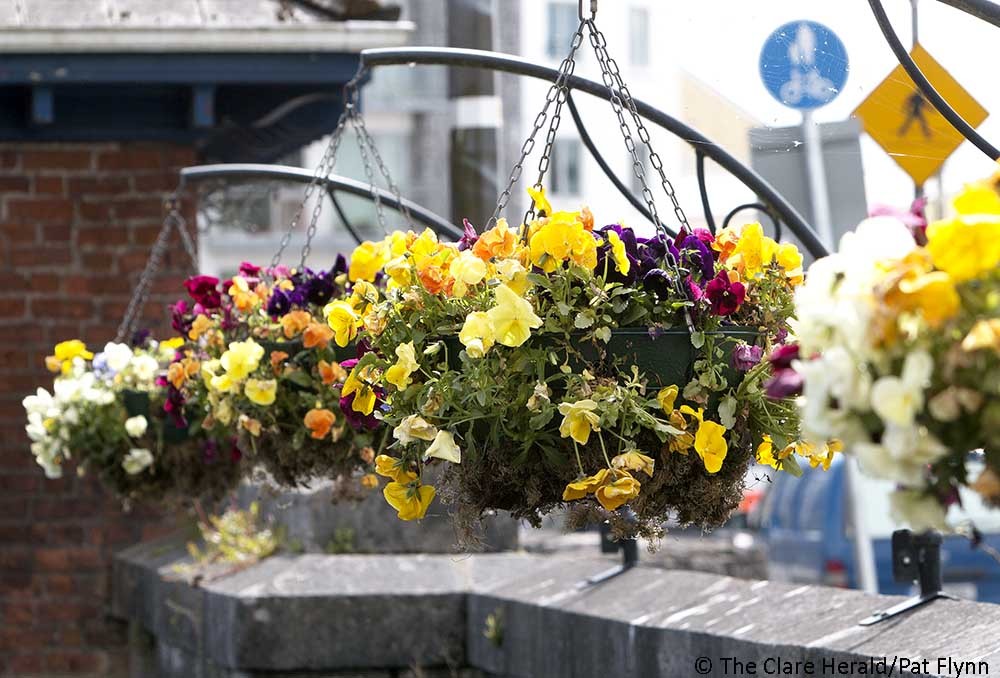 Ennis has won a Pollinator Award in the 2018 SuperValu TidyTowns competition in recognition of the work being undertaken locally by Ennis Tidy Towns and Clare County Council to help pollinating insects.
The Tidy Towns winners were announced today by Mr Michael Ring TD, Minister for Rural and Community Development at the Helix in Dublin.
One third of Ireland's 99 bee species are threatened with extinction due to a drastic drastically reduction in the amount of food (wildflowers) and safe nesting sites in our landscapes. The All Ireland Pollinator Plan was launched in 2015 as a shared plan of action to try to reverse these declines and work with communities, businesses, parks, schools and farms to make an Ireland where pollinators can survive and thrive.
The Local Authority Pollinator Award aims to encourage TidyTowns groups to implement pollinator-friendly actions in their towns and villages as part of the TidyTowns competition. It supports the All-Ireland Pollinator Plan and is co-ordinated and sponsored by the Heritage Offices and Biodiversity Offices of Local Authorities across Ireland, in partnership with the National Biodiversity Data Centre. There were 66 entries, from 22 counties, for the Pollinator Award this year and the standard of entries was extremely high.

Congella McGuire, Clare County Council Heritage Officer, said, "To take home this award, Ennis, which also won a Gold Medal in this year's competition, took a range of pollinator-friendly actions. The TidyTowns Group adopted a whole-town approach, mapping the town and pinpointing areas that could act as refuges for pollinating insects, to provide food and shelter. They altered mowing regimes at several sites and roundabouts in order to encourage a diversity of wildflowers to provide pollen and nectar, the 'food' for our bees.  Many of the roundabouts in Ennis are now literally buzzing with pollinators. They also planted wildflower meadows and four community orchards at Ballyalla Lake, Lees Road, Claureen, and An Sean Dun."
Seven other regional Pollinator Awards of €1,000 were also presented to Clonmel, Sneem, Tullahought, Buncrana, Killeshandra, Swords and Geashill.
To find out how you can take actions to help pollinators or to enter the 2019 Pollinator Award, please see www.pollinators.ie.
Winning Entries:
Overall Winner (€1000):                Clonmel, Co. Tipperary
Large Town Category Regional Winners Pollinator Award (€1000):
Midlands & East: Swords, Co. Dublin
South & Mid-west: Ennis, Co. Clare
South East: Clonmel, Co. Tipperary
North-west & West:  Buncrana
Small Town Category Regional Winners Pollinator Award (€1000):
Midlands & East:  Geashill, Co. Offaly
South & Mid-west: Sneem, Co. Kerry
South East: Tullahought, Co. Kilkenny
North-West & West: Killeshandra, Co. Cavan