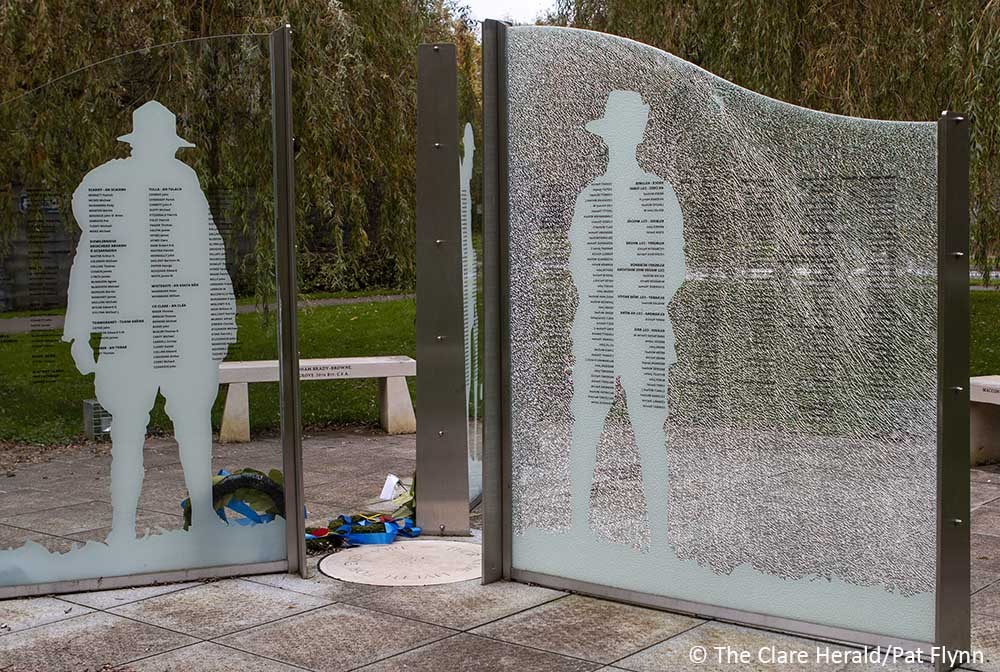 Gardaí are investigating an incident of criminal damage to a €70,000 World War 1 memorial in Co Clare.
The glass memorial is dedicated to over 700 Clare men and women who died in the conflict. Located at Causeway Link road, adjacent to the glór theatre in Ennis, one of the three glass panels was shattered sometime in recent days.
While still standing, the glass panel was shattered after been hit by what appears to have been a hammer or other heavy implement.
This year marks the 100th Anniversary of the ending of WW1 and the Committee have plans to host two services to commemorate this including a major memorial event on 11th November.
Clare Peace Park committee chairperson and historian Dr Keir McNamara said: "We are disgusted by this turn of events. The memorial has been a wonderful addition to the build heritage of Ennis and Clare and means so much to so many people."
"A lot of hard work went into this project which included private donations and public money especially from Clare County Council and the Ireland 1916 Fund. It's worth over €70,000 in its entirety and we are assessing the extent of the damage and how the panel can be replaced.
Very brave men and women are remembered on our memorial. How brave are those who carried out this needless act? We hope as many people as possible come out to the Service of Remembrance at the memorial on 11th November at 2pm," Dr McNamara added.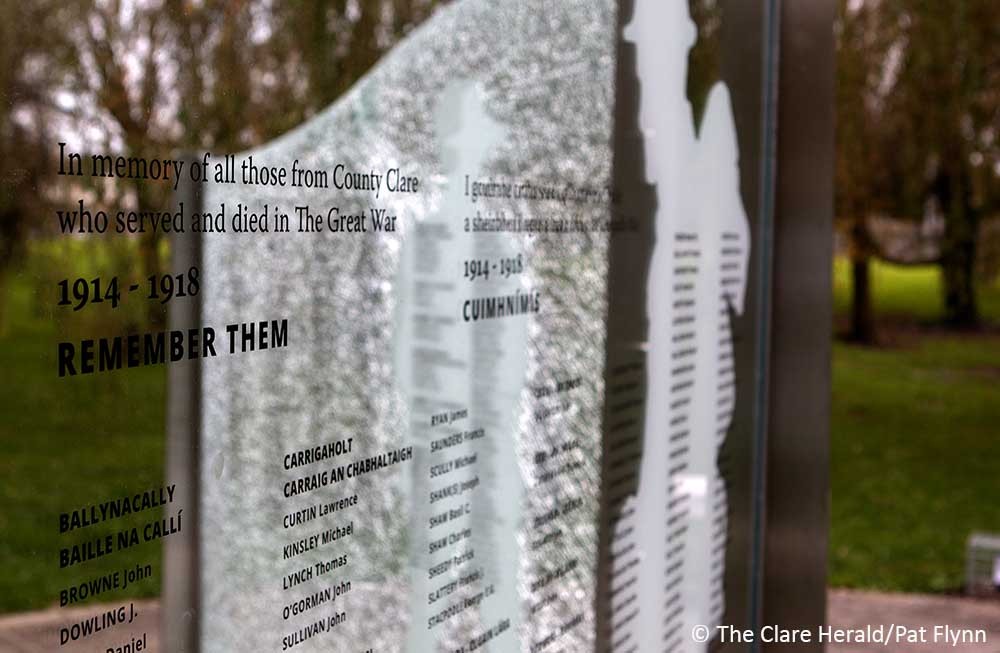 Ennis Councillor Mary Howard said: "I am so disappointed at this cowardly act. This memorial was only completed a couple of years ago and it has been used regularly for different memorials over the that time. Most recently we laid wreaths at the site on Sunday October 7th to commemorate those from Co Clare who lost their lives on the RMS Leinster which was torpedoed off the east coast exactly 100 years ago.
I joined the Clare Peace Park committee in 2012 and we raised every penny whether by fundraising, donations and grants to create this beautiful. To think that some gormless, spineless coward would come in the cloak of darkness and destroy one of the panels is quite frankly sickening," Ms Howard added.
Clare Independent TD Dr Michael Harty said: "I am shocked and saddened by reports of vandalism at the World War One memorial in Ennis. We are approaching the centenary of the end  of the "war to end all wars". One hundred years ago, in 1918 at the 11th hour of the 11th day of the 11th month, the guns fell silent.  It is reckoned that 4,000 Clare men fought in the Great War and about 700 lost their lives.
This iconic glass memorial is such a well crafted and appropriate piece of work, it is shameful that anyone would try to damage it. Great credit goes to all those who campaigned, fund raised and created the memorial. I am confident that that this violent act will not detract from the centenary commemoration. The memorial will continue as a place of meditation and a quiet spot to remember the Clare men who never came back," he added.
Dr McNamara has asked anyone with information about damage to contact Ennis Garda station on 065 68 48100.