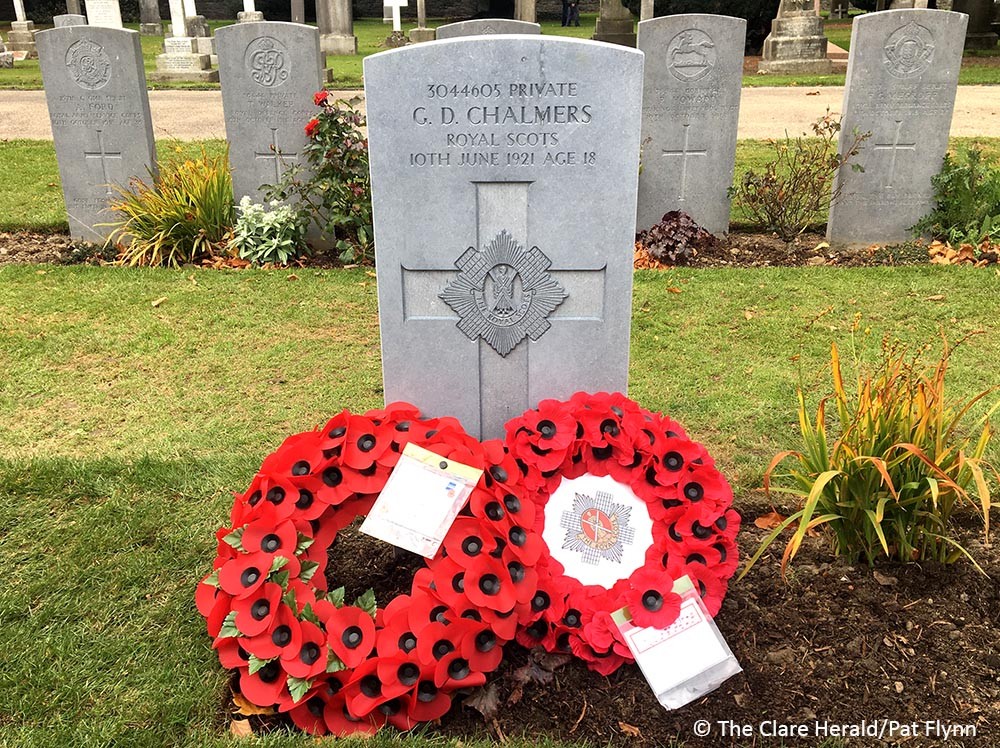 A rededication service has been held at Grangegorman Military Cemetery in Dublin for a young British soldier executed by the IRA in Co Clare almost 100 years ago.
The body of 18-year-old Private George Duff Chalmers was recovered from a bog near Miltown Malbay last May. He was a member of the 2nd Battalion of the British Army's Royal Scots based in Clare during the War of Independence.
Pvt Chalmers is believed to have died in June 1921 at Drumbaun, Co Clare after he was captured by members of the Irish Republican Army (IRA). He had been travelling to Moughna in a convoy of four lorries when, according to local history, he jumped from one of the trucks in the area of Lavoureen. It's thought he was going to visit a local girl.
It's believed he was soon captured by two members of the IRA and brought before a group of local IRA officers. During his interrogation he refused to give his name or any other information and was subsequently court-martialled by the IRA and sentenced to death. He was executed on suspicion of being a spy on an intelligence gathering mission and buried in an unmarked grave near Miltown Malbay.
According to one story, locals had been told not to cut turf in the local bog as a British soldier had been buried there. However, in the 1950s, a group of young men accidentally stumbled across what were believed to be Pvt' Chalmers' remains which they quickly.
The grave was later marked with a cross while about 20 years ago an inscribed 'slab' was also placed at the site. It read: "George Chalmers – British Solider – 11-06-1921."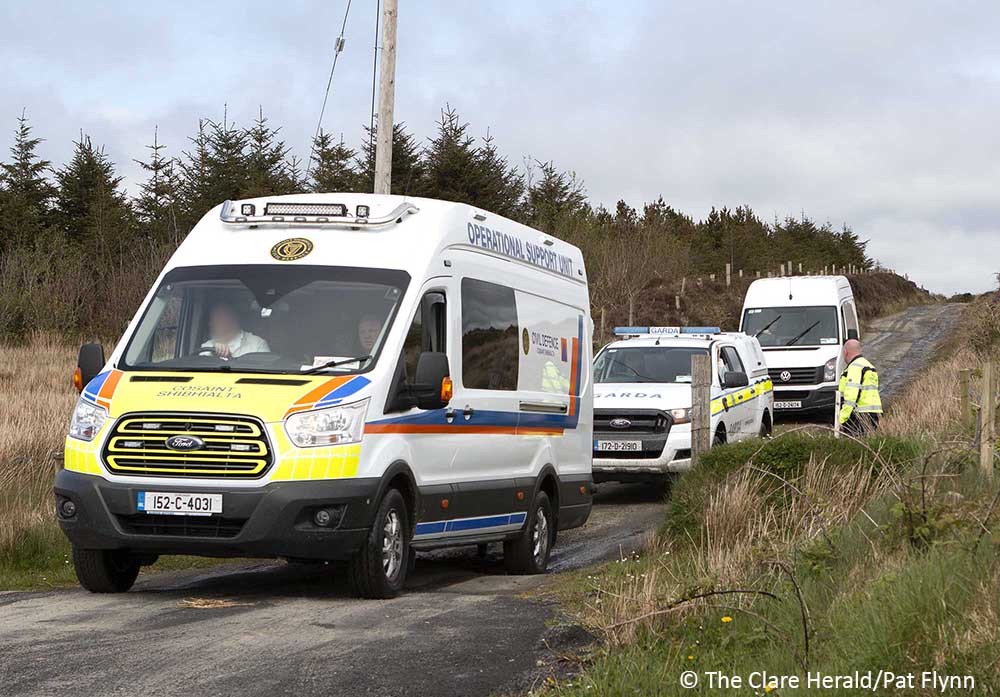 Earlier this year, representatives of the Commonwealth War Graves Commission (CWGC), working alongside the Office of Public Works (OPW) and Clare County Council, exhumed Pvt Chalmers' remains. The complex early morning dig took place in a bog at Rockmount about 4kms from Miltown Malbay .
Until August 2016, Private Chalmers was not listed in The CWGC's records, despite being eligible. A review of the case by the Ministry of Defence saw Private Chalmers officially recognised and those records were amended.
It's understood that the site in Co Clare was surveyed to confirm there was a body buried there. The decision to exhume and rebury the remains was made by the CWGC after they were contacted by the Chalmers family last year.
The family had enquired about the possible relocation of his remains to an alternative site. As it was not possible for his original grave to be maintained Pvt Chamlers was later reburied at Grangegorman Military Cemetery in Dublin.
A spokeswoman for the CWGC said: "Private Chalmers was killed in 1921 and buried in a remote peat bog. His grave was marked by a sandstone plaque inscribed with his name and the date he died. As it was not possible for his original grave to be maintained, his remains have now been reburied in Grangegorman Military Cemetery, Dublin.
"The service has been organised by the Joint Casualty and Compassionate Centre. The grave of Private Chalmers is now marked with a Commonwealth War Graves Commission headstone bearing his name and a personal inscription chosen by his family," the CWGC added.
Todays service will be attended by the UK's Joint Casualty and Compassionate Centre, British Defence Staff, regimental representatives and staff from the OPW and CWGC. Relatives of the later George Chalmers also attended todays ceremony.
A spokesman for the UK's Ministry of Defence said: "The rededication service for Private George Chalmers will be held (today) Grangegorman Military Cemetery in Dublin."
The story of Pvt Chalmers has been researched by several historians notably Dr. Padraig Og O Ruairc and Dr. Tomás Mac Conmara.
It was Dr. O Ruairc's many years of research that finally established the identity and resting place of Pvt Chalmers providing his family with the first concrete evidence of his fate.
Earlier this year, Dr. Mac Conmara gave a talk on the capture and execution of Pvt Chalmers at the  20th Annual International Oral History Conference the University of Jyväskylä in Finland.