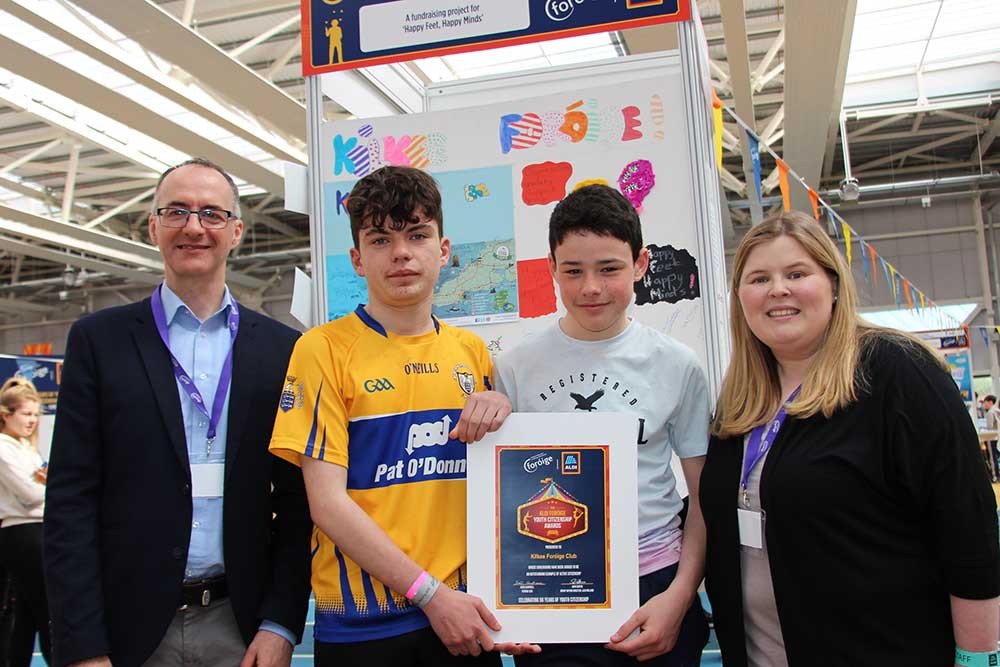 Three projects from Clare took part in the Aldi Foróige Youth Citizenship Awards in the National Indoor Arena, Blanchardstown, Dublin last Saturday, 13th April 2019.
'The Positivity Pages', from Carrick an Suir, Tipperary was named the overall national winner at the Aldi Foróige Youth Citizenship Awards. Their Citizenship Project, which started a monthly youth newspaper to spread positivity and awareness about minding your mental health was chosen from over 220 social action projects developed by young people to change their communities for the better.
This year is the fiftieth anniversary of the Youth Citizenship Programme, which was first run by Foróige in 1969. 2019 has been the biggest year for the programme ever, with over 14,000 young people taking part.
More than 2,000 young people, representing every county in the Republic of Ireland, descended on the National Sports Campus to celebrate and showcase their community action projects at the Awards. 220 youth groups took part, having worked on Citizenship Projects focused on improving the entrants' local communities in areas such as equality, homelessness, climate change, social inclusion, community events, mental health and culture.
Seven projects received gold awards, seven silver and eight bronze. Gold winning projects included Adam Fletcher from Offaly, who carried out maintenance work on church ruins and the Saturday Club Phibblestown, Dublin 15, that raised funds for seal rescue.
Commenting at the Awards, Seán Campbell, CEO of Foróige said: "There's a reason this programme has lasted fifty years; it works. It gives young people the opportunity to grow and learn, but perhaps even more importantly to get to know their community by being a leader in it.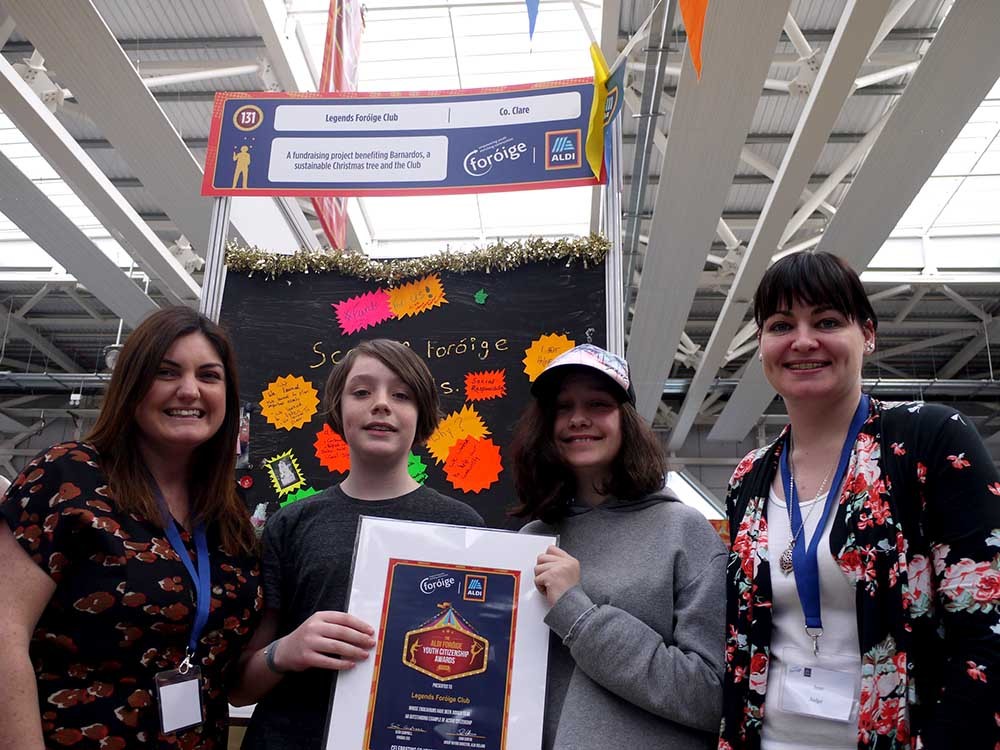 "Year after year, attending these awards, I'm amazed by the ingenuity; integrity and grit of Foróige young people. It's truly phenomenal how much they can achieve when they put their minds to a cause. The young people who entered the Aldi Foróige Youth Citizenship Awards this year invested over 82,000 hours in their community action projects and that's something that we should be really proud of as a country.
"We are deeply grateful to our sponsor Aldi, for not only making this work possible, but for believing in young people and in communities in a real and tangible way."
This year was the fifth year Aldi has partnered with Foróige to support the Awards, and it's the second year of an agreed a new three-year €900,000 partnership extension with the youth organisation. Over that time the programme has gone from strength to strength, with entries increasing by over 600% since 2014.
Commenting at the Awards, John Curtin, Group Buying Director with Aldi added:"Aldi's partnership with Foróige is one that we are very proud of. This is the 5th year we have been involved in the Youth Citizenship Awards and over that time the programme has gone from strength to strength, with the number of entries growing each year."
"Through their projects, the Foróige members raise awareness for homeliness and mental health, promote areas such as road safety and animal welfare and made the everyday lives of those in their communities better'"
"It Is absolutely inspiring to see what young people can achieve when they work together and for the benefit of their communities."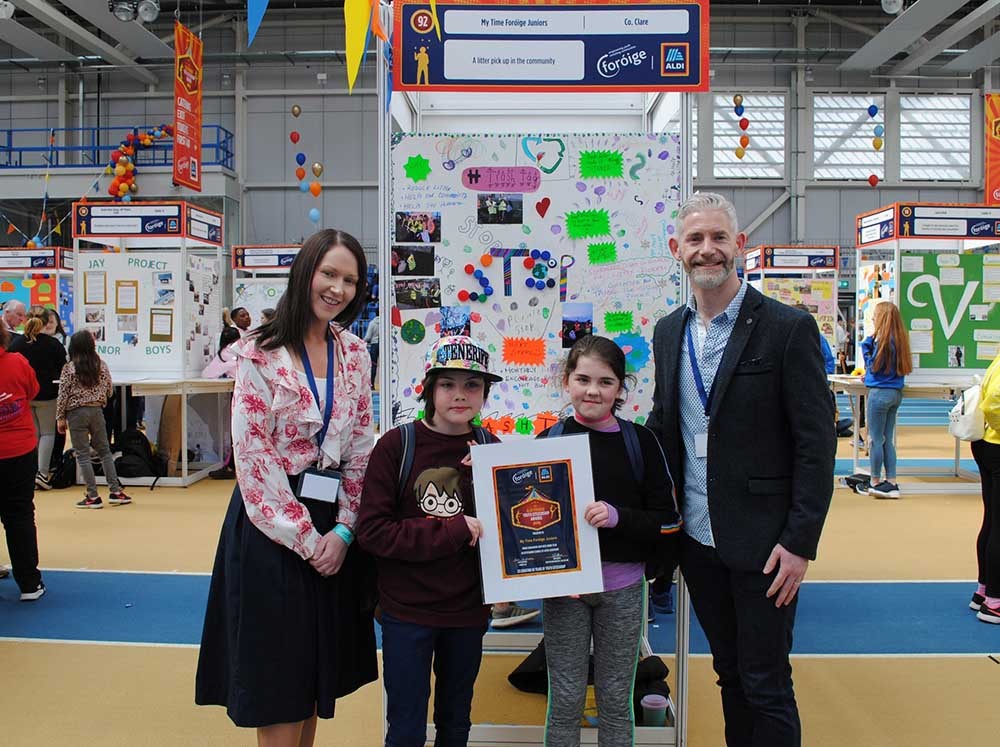 Projects from Clare included
Legends Foróige Club, Co. Clare
A fundraising project benefiting Barnardos, a sustainable Christmas tree and the Club
The Legends Foróige Club have had a very busy year. The members of the club have a strong link with the Tidy Towns and the Local Residents Association and through this they learned that the town was trying to purchase a sustainable Christmas tree. Impressed with this idea the group organised a cake sale and the money raised went towards the purchase of the tree. Every year the members sing Christmas carols in town in aid of Barnardo's and this year was no different. Seeking permission from Barnardos and the local store where they based themselves the members spread Christmas joy. Finally, the group organised a car boot sale. The money made from the sale went towards funding club activities.
My Time Foróige Juniors, Co. Clare
A litter pick up in the community
After discussing ideas in the group, the young people of My Time Foróige Juniors decided to organise a litter pick in the community. They felt that this is a project that will benefit their local town, but also highlight the importance of protecting the environment. The group talked to the local Tidy Towns group to determine what area would benefit most from the litter pick, and they also contacted Clare County Council and the RSA to source the equipment such as litter pickers, gloves, bags and high vis jackets. They are enthusiastic about keeping their community clean, and making it a better place for everyone.
Kilkee Foróige Club, Co. Clare
A fundraising project for 'Happy Feet, Happy Minds'
Kilkee Foróige Club were approached by a member of the community and asked to fundraise for their local mental health organisation "Happy Feet, Happy Minds". They decided to have a bake sale that was held over two days. Those that attended were impressed by the quantity and quality of what they had to offer and all left happy with a smile on their face. Over the course of the 2-day event they managed to raise over €530.
About Foróige
Foróige is a leading youth development organisation. The charity works with over 50,000 young people and 5,500 adult volunteers annually, through a network of more than 650 Foróige clubs & cafés, 160 targeted projects and national programmes such as Entrepreneurship (NFTE), Health & Wellbeing, the Aldi Foróige Youth Citizenship programme and Big Brother Big Sister mentoring programme.