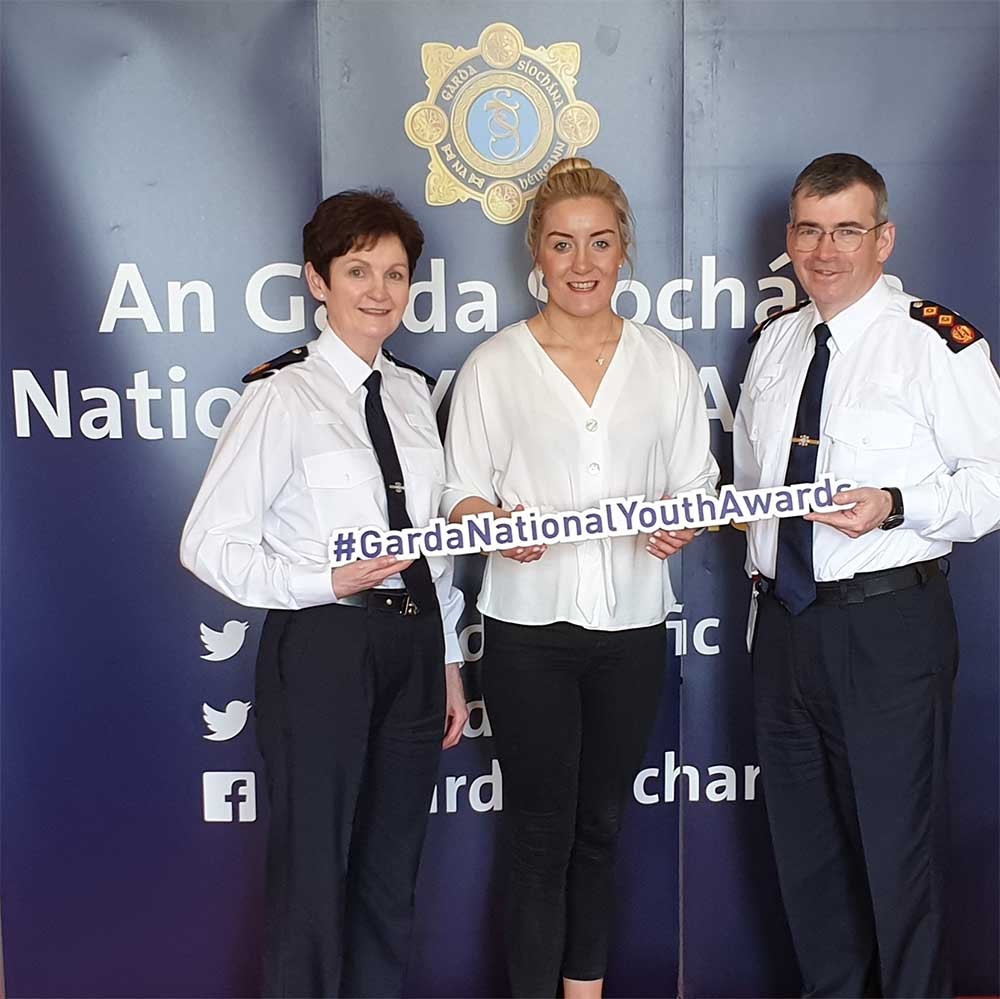 Following on from the Clare Divisional Garda Youth Awards, in conjunction with the Shannon Group, the first ever Garda National Youth Awards took place at the Midlands Park Hotel, Portlaoise on Saturday and Clare was the only Division with three National Winners.
There were 22 winners in total with some amazing stories.
Clare's new Chief Superintendent Michael Gubbins, Inspector David Finnerty and members of Clare Divisional Community Policing Unit were honoured to be a part of the awards and the winners were truly inspirational.
Individual Award
The individual award went to Razan Abdel Wahed who will be 20 years of age in June and is a Syrian Refugee who came to Ireland in January 2017. Razan lives in Ennistymon with her widowed mother and siblings and they are finding it hard to settle in Ireland.
She is a great support to her fellow refugees and is very open and helps with the young Syrian refugees who are also finding life difficult – she does this through her work with the Syrian Primary School Homework Club and also helped out at summer camps for Syrian children.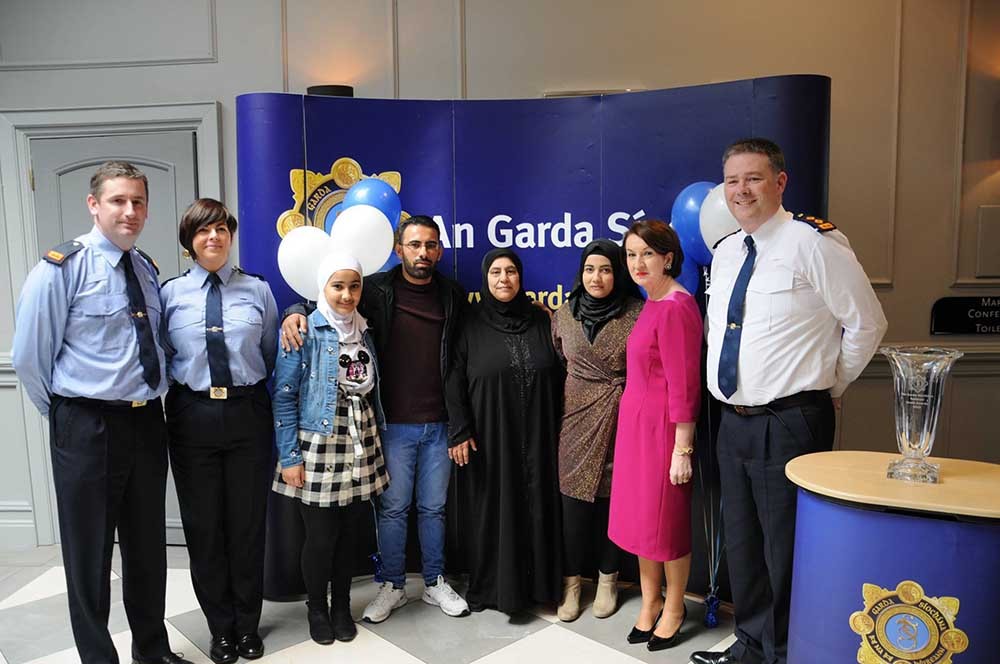 She sat her Leaving Certificate examination last June and is a role model to other teenage Syrian girls. For most Syrian girls, the focus is usually on getting married young and having children – Razan is encouraging these same girls to think about their future in terms of getting good jobs and education.
Razan is an open and friendly young lady who has an ability to make people relax and mingle with the native Irish, despite language and other difficulties.
She is an amazing young lady and in the words of her nominator Karyn O'Donovan 'a treasure in the Syrian Community in Ennistymon'. She is commended for her efforts in bridging the uneasy space between refugees and the host population.
Group Award
Clare Youth Action was started by a group of young active people who came together in 2014 in the Clare Family Resource Centre in Ennistymon as a means of getting involved in more positive activities within their local community.
The group recognised that some inactive young people were at risk of getting involved in the drugs and alcohol culture and in addition issues of mental and high levels of suicide were also of concern.
In 2016 the members realised that as they aged and completed school, took up jobs or went to college the group itself would go into decline. In an effort to stop the decline the group recruited from the ranks of 1st years and it is the current 2nd Years that were honoured on Saturday night.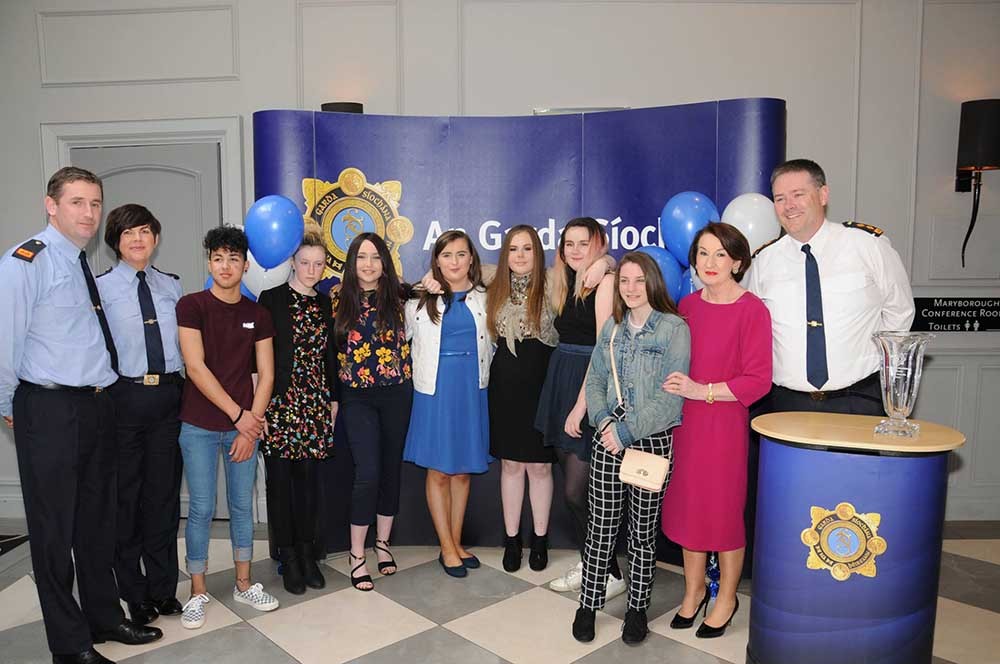 The group also made a film and created a mural based on their exploration of 'community' and what it means to them. Their second arts project looked at mental health and bullying issues under the theme of 'The Masks We Wear'.
The group identified an area of the town being used by teenagers to drink and smoke and possibly use drugs and they sought a grant from Clare County Council Waste Management Scheme and they cleaned up the area.
Clare Youth Action are part of a coastal community and fittingly, they also have undertaken an awareness campaign to highlight the disposal of plastics in our rivers and oceans. They produced a short film to drive home their message and have featured on Clare FM and TG4/RTE.
They are currently working on an anti-bullying campaign with a view to making a short firm on the issue.
Their nominators were Emma Sams and Michelle Lynch and their determination to address serious issues within their own community was applauded.
Special Award
The Special Award went to Orla Platten who was born in Southampton in May 1999 with congenital heart defects and was also deemed to be Down Syndrome. She lives in Cutteen, Quin.
Orla has had sixteen major surgeries in her life. She had her first open heart surgery at 4 months, her second at 13 months and had spinal cord compression surgery in July 2003. In December of the same year she had further surgery because of a blood disorder and in January 2004 she had another spinal operation.
In September 2004 she started primary school. She was back in hospital again the following January for a cardiac procedure and in October of that year she began stage one of a three stage surgery programme at the Great Ormond Street Children's Hospital.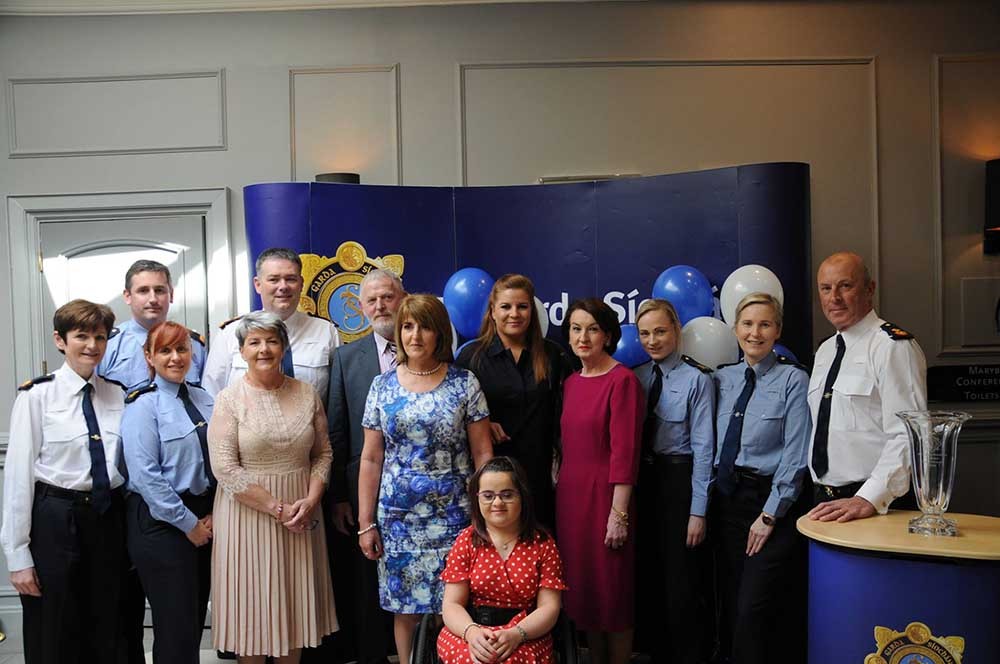 She made her First Holy Communion in May 2008 but was back in the Crumlin's Children's Hospital by June 2012. She began secondary school in 2013 and has completed her Junior Certificate and Transition.
Orla developed hip problems and was referred to the Mater Hospital in September 2016 and had further surgery for a hip replacement.
Orla enjoyed a period of good health between September and December 2018 and missed no day at school in Coláiste Muire, Ennis. However, she is wheelchair dependent. The good news is that Orla is due to sit her Leaving Cert Applied examination in June of this year.
This is her charitable work:
Fundraises for Down Syndrome Ireland
Takes parts in fundraising events in her school for charities
Orla is an avid Clare Supporter and never misses a match and Tony Kelly and Peter Duggan are her idols.
Orla is a brave young lady who gets on with life – she accepts her limitations but does not allow them to limit her dreams or aspirations. She has impressed everyone, staff and students at Coláiste Muire and has faced every challenge in her young life with optimism and courage. Nobody has suffered more – nobody complains less than Orla.
Orla is a most deserving recipient of this Special Award.