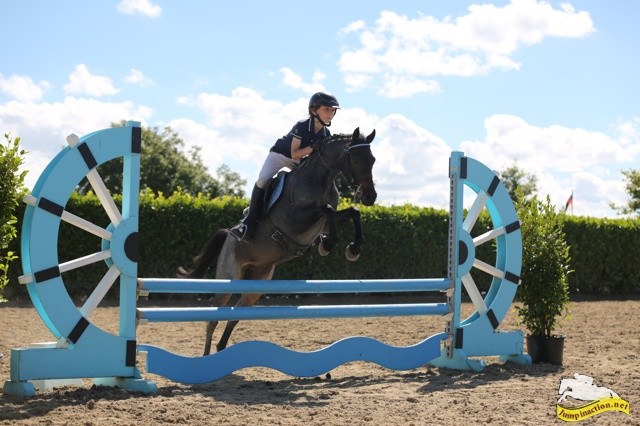 Ennis pony rider, Jack Conlon Gateau (13), from Gateau Stables, was on a high at Barnadown Showjumping Centrein Wexford at the weekend where over 500 combinations travelled from all around the country hoping to grab the last qualifying tickets for the Dublin Horse Show.
Jack had already secured 2 tickets for the 2019 Dublin Horse Show  – having previously qualified 14yr old French pony "River de la Courance" in  the U14 138 section at Maryville Equestrianqualifiers in Cork& the 8yr old Connemara "Gateau Hello Dolly" in  the U14 Equitation class at the Cavan qualifiers.
The last of the 4 rounds of the RDS qualifiers in Barnadown was a big success for Jack & Gateau Stables. On Saturdayonboard 6yr old Irish pony"Gateau Mr Blue" – Jack took the runner up spot ina very competitive U16 148 6/7 year old Qualifiers. The following day was the highly contested U14 Children on Horses Qualifiers.  Teamed up with 9yr old Dutch mare "Berlina KWPN" Jack gave it his absolute best and went for all the tight turns in the jump off.  When the clock stopped, along with his parents' hearts, he wasthe fastest rider to cross the finish line – securing Victory and a 4th RDS Golden ticket.
Commenting on his success over the weekend Jack said; "It's such a thrill to qualify for the RDS in August. There are so many good riders and ponies it is really hard to qualify, so I'm just delighted to have got my tickets now and can look forward to all the fun and craziness of Dublin in August. Qualifying 4 – the full quota – is really like a dream come through."
"Dublin Horse Show 2018 was incredible.  Winning in the Simmonscourt Arena the 128 A class & taking Reserve Champion in the main RDS arena the next day with my 128 pony Stallion "Blaengwen Kato Star" was unreal. Now I am very lucky to have that chance again so I am going to give it my absolute best – and hope the poles stay up and the clock stops at the right time!"