The Outing Festival, 'Love for Music, Arts & Matchmaking' – now in our seventh year, moves to the Inn at Dromoland in Co Clare this year.
The award-winning and world famous The Outing Festival is calling all singles, couples and groups – gay, lesbian, bisexual, trans, straight and their friends to join us for this fun-filled LGBT+ Weekend like no other in the world in the west of Ireland 27th & 28th September 2019.
The Outing Festival is on the move from the village of Love Lisdoonvarna after six year, as we share the Love when move to on the grounds of Dromoland Castle & take over The Inn at Dromoland, Co. Clare in the West of Ireland 27th & 28th Sept.
With a bigger location and even more in store as The Outing goes into our seventh year of the festival, we have new partners like vaping brand blu, who are coming on board as a platinum sponsor.
blu's Irish Head of Marketing Carmel Balala said; ''blu, Ireland's newest vaping brand, is about freedom of choice, of self-expression and about being who you are.  Therefore, we are proud to be supporting The Outing Festival. We will be giving people the chance of experiencing our new myblu range of products at the festival in September.''
Carmel went on to say; ''The Outing Festival is continuing to go from strength to strength with the indefatigable Eddie McGuinness at the helm and we are proud to be associated with it.''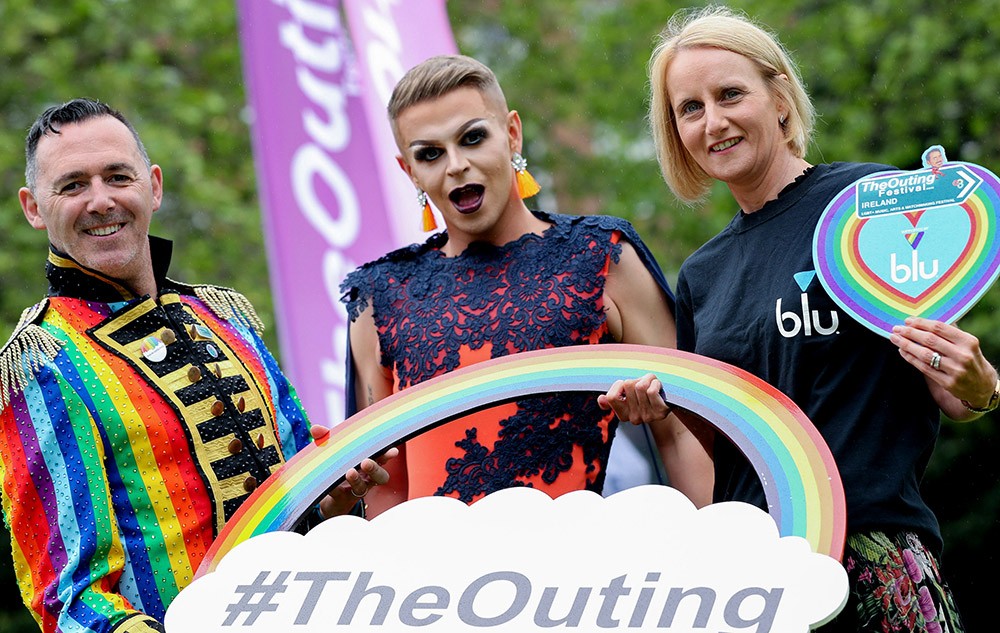 People have travelled from all over the world to the festival in previous years to enjoy pop-up clubs, drag performances, comedy, live music, arts, literary and film festivals and interactive events in Ireland's Hidden Heartlands. Of course, matchmaking plays a huge part of the festival but The Outing also acts as a celebration of the LGBT community so whether you're single or taken, gay, trans, straight or bi, all are welcome to this fun weekend.
"We came all the way over from the USA and had an awesome time. Who knew there were so many hot Irish people… BOOM!" said US visitor Chad Boulton and it's not just the visitors who have a great time, the performers love it too.
"WOW! Great Craic. Amazing to be part of something from the start. I could have song all night long the crowd were up for more. Thank you" commented Eurovision winner Niamh Kavanagh after her performance at the festival and she is returning in 2018 for even bigger show.Hosted by Drag Ringmaster Paul Ryder & Gay Matchmaker Eddie McGuinness,
Live on stage Johnny Logan, Mr. Pussy, Victoria Secret Dublin, Danny Beard, Evin Dennehy, Candy Warhol, Sparkle, Dj Ruth Dignam (The George Dublin, Club Tease), Brew Mbirika, Paul Middleton, Kiki St Clair, Club Gass, with Wet and Wild Sports Club, The Apple Blossoms, and lots more artist & performers plus with pool parties to Blind Dates, Speed Dating. You name it we will get up to it. We also have an Afternoon Tea and Crafts Fair…
As Panti Bliss said "The Outing takes something quintessentially Irish and dips it in glitter. It opens up the idea of "traditional Irishness" to the LGBT community and says, actually, yes, you can be LGBT and still be as Irish"
"An LGBT weekend away like no other", according to former festival host Panti Bliss, The Outing is a fusion of music, comedy, ceilí bands and some of Ireland's & International best Dj's, Performers and drag artists. But don't forget why you're here in the first place. This is a matchmaking festival and you're looking for love or friendship.
Yes 'You're Not The Only Gay in This Village' said Eddie McGuinness Festival Director & Gay Matchmaker.
The Outing is a spectacular weekend like no other that celebrates life, love, and diversity. We'll have news of the full line-up soon but in the meantime follow them on Twitter (@theouting_ie) and Facebook (@TheOutingFestival) to keep up-to-date with all of the latest announcements and get set for a wonderful weekend this 27th & 28th September 2019 The Inn at Dromoland, Co, Clare, Ireland.
Tickets on Sale Now. For Hotel Package & Weekend Tickets – Check out www.TheOutingFestival.com