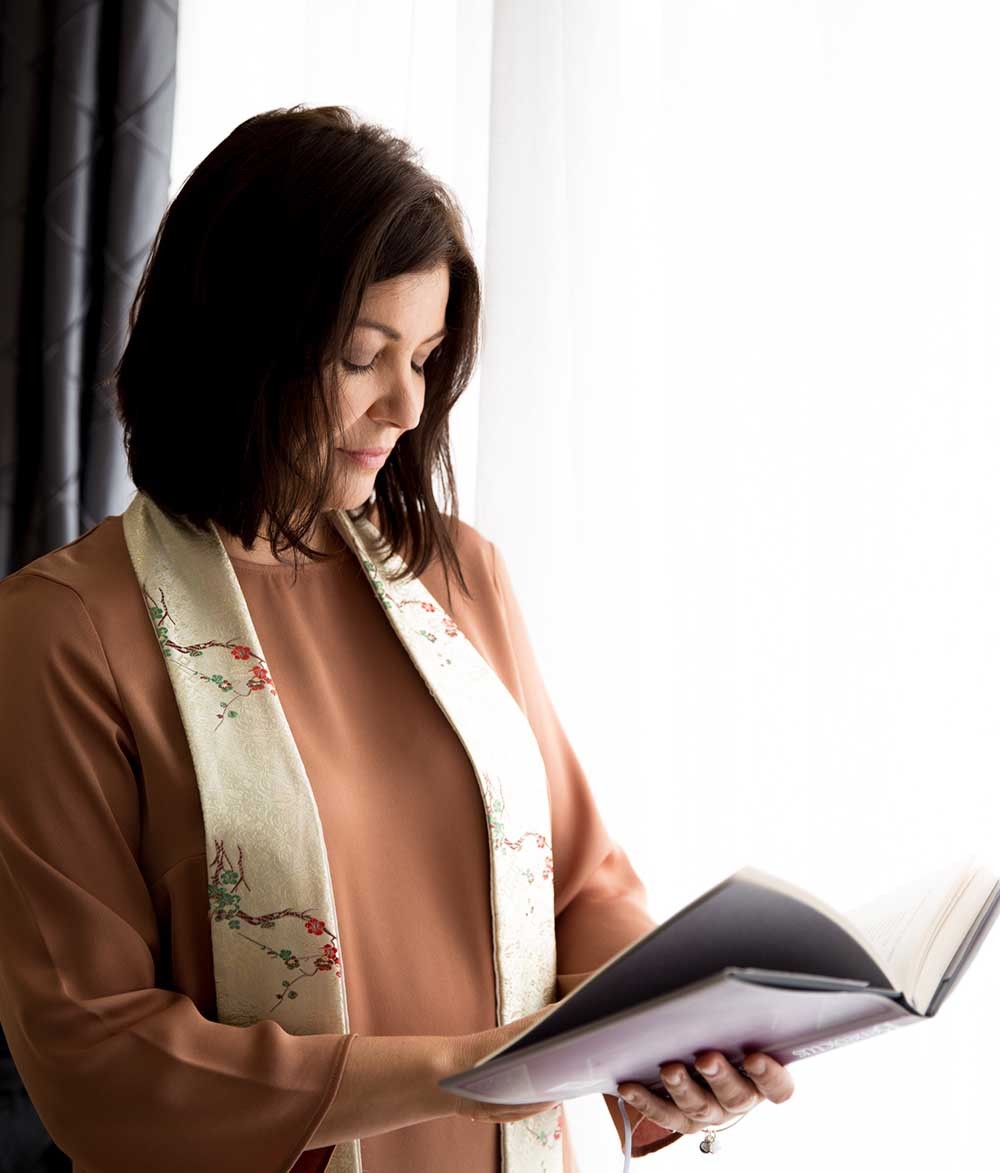 Lisa O'Brien is an Ordained OneSpirit Interfaith Minister now living in Co Clare with her family.
She describes herself as "not your average Celebrant" and performs legal wedding ceremonies, baby blessings and funerals for people of all faiths and none. She is a registered Marriage Solemniser with the HSE.
She began her training in Dublin as a Family Celebrant with the Irish Institute of Celebrants. After performing many ceremonies, she realised she wanted to bring more spirit and depth to her work.
So, she began two years of Ministry Training in London to become an InterFaith Minister and on 20th July 2019 I became an Ordained Interfaith Minister.
Lisa explained: "I am passionate about helping people to celebrate life's milestones in a personal and inclusive way.  I have, in the past, attended too many ceremonies that felt impersonal, and conveyor belt styled.  People deserve more and I want to give it to them!
I love being a Celebrant and I love ritual, poetry and ceremony.  I am honoured to be able to legally marry people of any, religion, no religion or sexual orientation."
"I am, on paper Reverend Lisa O'Brien, Ordained Interfaith Minister in Miltown Malbay.  But, if truth be told, I sometimes struggle with the weight of this title.  It may give the impression that I am very religious, but I consider myself more spiritual than religious," she said.
Lisa continued: "Entering Ministry has been a long road for me.  I suppose there were initial sparks of the calling there when I was, very enthusiastically, one of the first Altar Girls in Co. Wexford.  I loved being a part of the mass, and I loved participating in the rituals.  The fun wore off when I had to do 7.30 am mass for a whole week running."
"On moving to Dublin at 19, I found the work I enjoyed most was helping others, and I have spent most of my adult life working in the health service in some capacity.  I enjoyed the nightlife, the vibrancy, the exhilaration of city life, but as I grew older, and maybe a little wiser, I began to see that maybe there was more I could do to be a help to others. I considered how I would best do this is a manner that is true to who I am and who I want to be. This led me to investigate being a celebrant," Lisa said.
"Then, after the sudden death of my beloved brother Patrick, I was faced with the reality of how fragile life is.  It was an awakening to my own mortality. I felt that I had something good to offer the world, and I was going to go out there and do it, as scary as it may be.
I met my partner Mark, a County Clare native and with him, in his home town in West Clare, I found my home. I packed up my life and subsequently, we expanded our family with the birth of our amazing daughter Aurora.  This move and the birth of my daughter all reaffirmed how much joy life can hold," she added.
"I knew that the right path for me was with OneSpirit InterFaith Foundation, a completely inclusive community. OneSpirit Interfaith Ministers serve people of All Faith's and None.
I love and embrace the concept of respecting all religion, non-religion, secular beliefs.  And also, importantly, accepting all races, colour, nationalities, abilities, sexual orientation and gender.  I believe it is the way forward for the world because it respects all religious and secular beliefs," Lisa added,
"I want to help people in all aspects of life.  I can provide spiritual counselling as well as a large variety of ceremonies including Non-religious Funerals, Baby Blessings, House Blessings and Healing Ceremonies.  In fact, if you want a ceremony to mark anything at all I'm sure I can develop one to suit your needs.  We all deserve to mark life in the way we want to, and I want to serve you," she said.
You can find out all about Lisa, and make enquiries at CelebrantLisa.ie