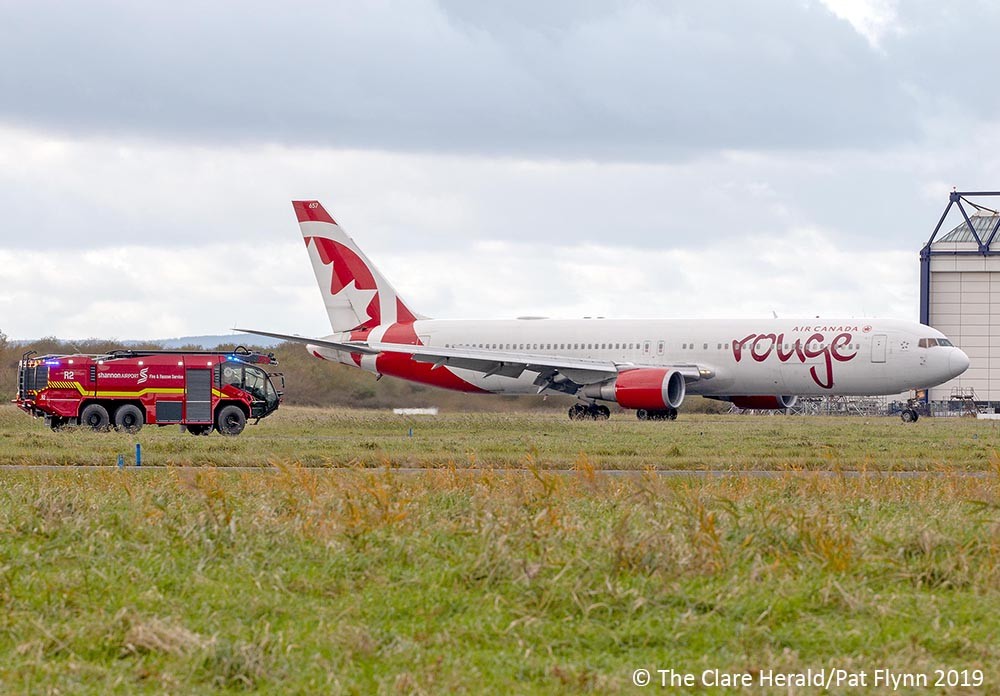 Emergency services were standing by for a transatlantic flight that diverted to Shannon Airport with an ill passenger this afternoon.
Air Canada Rouge flight ROU-1915 was travelling from Barcelona, Spain to Toronto Canada at the time. There were 282 passengers and crew of 8 on board.
The Boeing 767-300(ER) jet had already overflown Ireland and was about 250 kilometres northwest of Mayo when the crew made a U-turn.
The pilots had been in contact with air traffic controllers at the Irish Aviation Authority's North Atlantic Communications Centre at Ballygirreen in Co Clare at the time.
The flight crew had initially reported they had a 'medical situation' on board which was being 'evaluated' but later confirmed they wished to divert to Shannon.
On the ground, airport authorities and the National Ambulance Service were alerted. Airport fire and rescue crews were also scrambled to designated standby positions adjacent the runway at Shannon while an ambulance was dispatched to the airport.
The flight landed at 2.20pm and was met by fire crews who followed the aircraft to the terminal. The flight crew had indicated they would be making an overweight landing so firefighters carried out checks on the plane's brakes to ensure they hadn't overheated during the emergency landing.
A passenger was assessed by paramedics at the airport before being removed by ambulance to University Hospital Limerick for treatment. The flight resumed its journey shortly after 4.00pm.