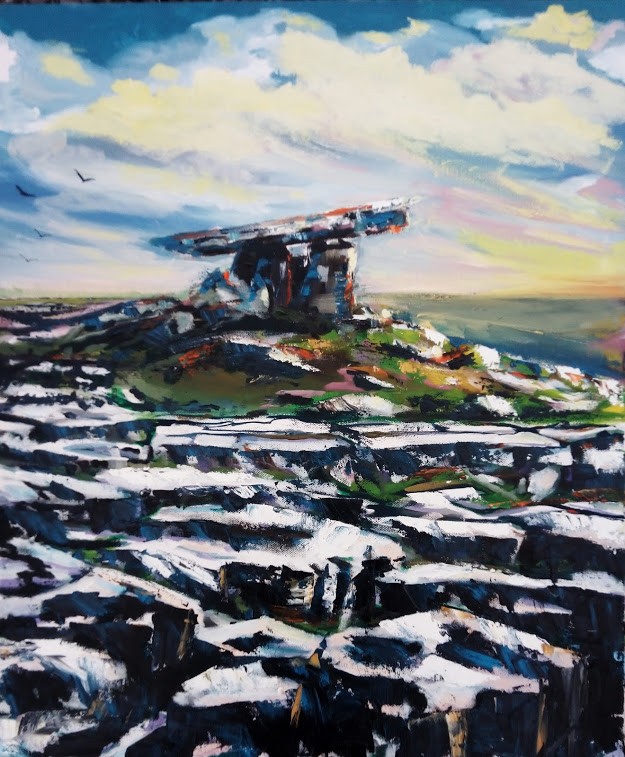 The Gallery at Scariff Library will host an exhibition by Patrick Kenneally,  whose current work is influenced by a sense of place and identity, exploring the land and landmarks of Clare to express mood, time and light.
Patrick draws inspiration from the physical surroundings of both the built and natural environment and blends memory from the past with thoughts on the future.
The natural and built environment of his "place" and its beauty serve to inspire and to seek out a pallet of bold colour and light. The familiarity of scenes visited time and time again brings about the desire to capture these moments of different colour, light, memory and mood on one surface be it a passing moment of light, a distant childhood memory, a warning of what's to come.
In the words of the artist, "My aesthetic toolbox at the moment contains colour, composition, light and perspective. The frequent use of a horizon line serves to create a sense of distance physically but also in time either memory or future"
He continues by saying "My series of block prints are a contrast to the bright colour scheme of my paintings and are a nod to my qualification as a printmaker. They represent studies of landmarks from Ennis and surrounding areas travelled by a thousand times. They are stern signposts in a familiar place"
Born in Co. Clare, Patrick Kenneally graduated from Limerick College of Art and Design with a degree (hons)  in fine art. He won the Taylor award for printmaking at the RDS and has had work shown both nationally and internationally.
Patrick exhibited in the KAVA Summer exhibition in Kinvara in July, followed by the "Windows" exhibition as part of Crinniu na mBád Festival in Kinvara in August 2019.  "Portraits" exhibition was held in the Courthouse Gallery, Kinvara, in September.
Patrick has been teaching art in Seamount College, Kinvara, Co. Galway since 2000 and his work is in private and public collections including AIB and Limerick City and County Council.
'Place' is organised by the Arts Office of Clare County Council and will run at Scariff Library, Co. Clare from November 28th 2019 to January 9th 2020. The official launch will take place on Thursday, November 28th at 7pm.