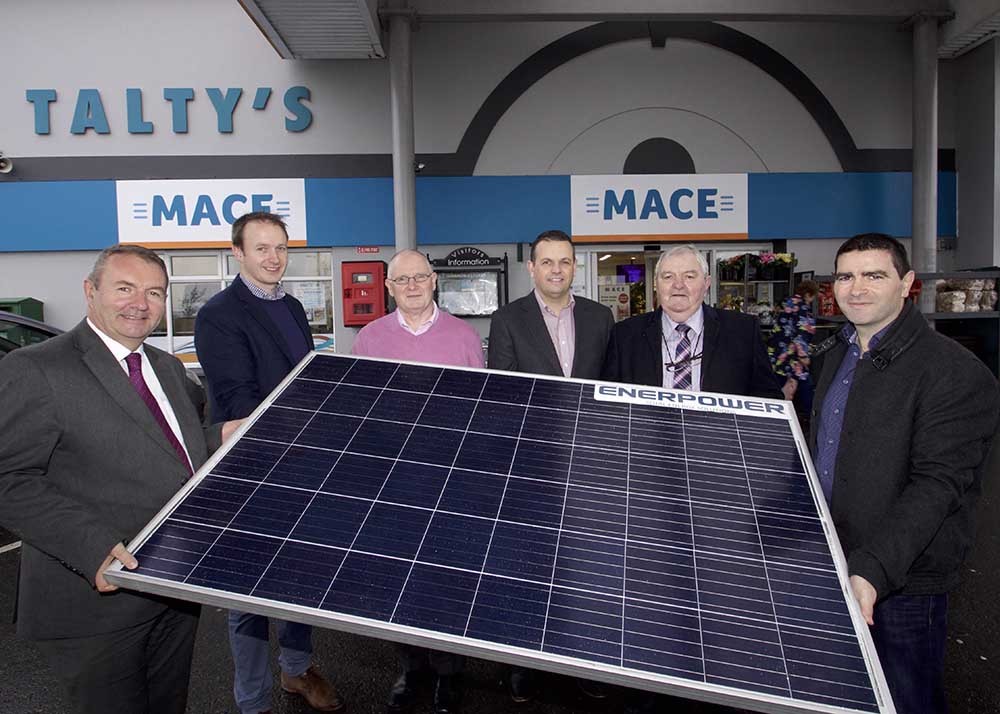 Talty's Mace in Lissycasey, Co. Clare has become the first MACE store in Ireland to install solar panels on its roof, which is expected to see a 15% reduction in the store's carbon emissions and a significant annual cost saving on energy bills of up to 15%.
Requiring normal daylight to function, the advanced solar panels have been deployed as part of a partnership developed by BWG Foods, owners of the MACE brand in Ireland, and Irish renewable energy efficiency company Enerpower. The project is part of BWG's commitment to reducing the environmental impact of retail businesses on their communities, and to encourage independent retailers to improve their green footprint.
The new installation is part of Talty's MACE Lissycasey's recent revamp of the iconic store marking its 45th birthday. The store has been trading in the local community since 1974 and this latest innovation is entirely in keeping with the store's commitment to constantly improving its offerings in order to develop an even better store with high quality services, in order to facilitate the growing customer needs in the area.
Cathal Talty said: "We are delighted with this addition to our MACE store. That we will benefit from significant savings while also helping the environment is a great bonus and I am thrilled that we are the first MACE in the estate to have this innovation." 
MACE Sales Director Daniel O'Connell said: "We are delighted that Talty's MACE in Lissycasey is the first MACE store to connect as part of this exciting partnership. As a leading retail brand, MACE is committed to seeking out new opportunities and innovations that will help us, and our retailers, to reduce our carbon footprint. I want to congratulate the Talty family on showing the enthusiasm to take this project on and wish them well continued success."