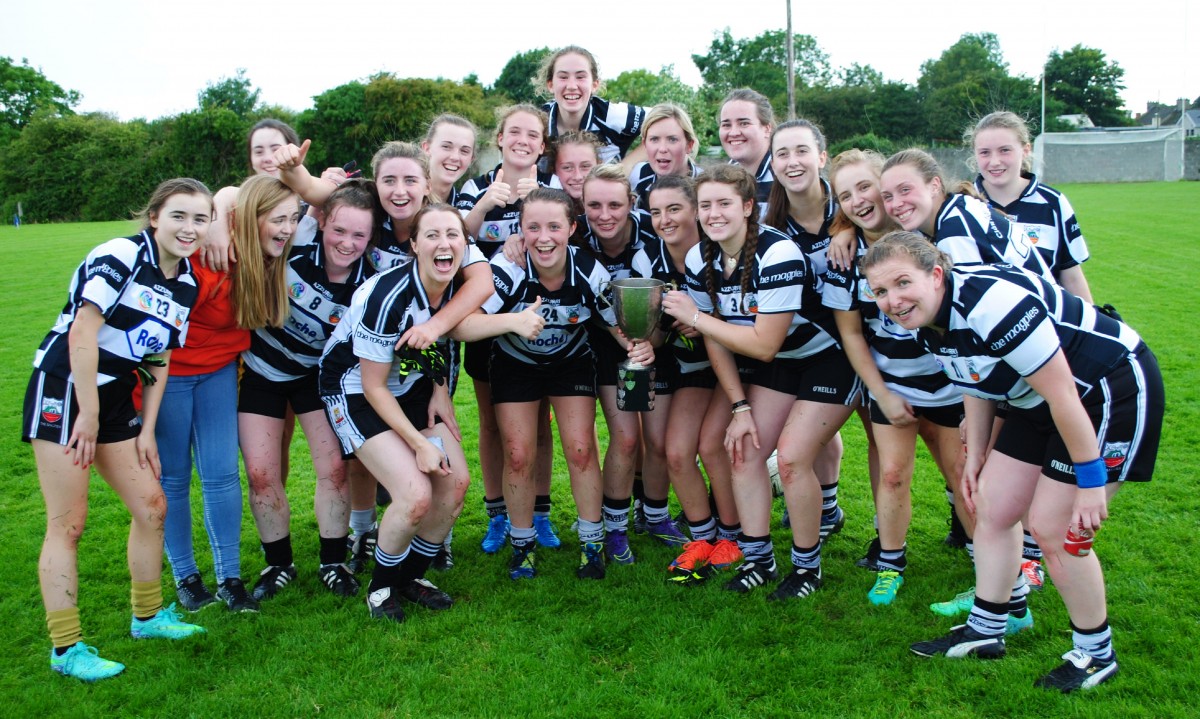 Clarecastle were crowned Clare Ladies Football Junior B Champions when they accounted for the challenge of the Banner Ladies' second string.
By Alan Copley
Clarecastle 6-23
Banner Ladies 3-06
Venue: Fr Murphy Memorial Park, Newmarket-on-Fergus
Clarecastle emerged as resounding winners with a second half performance that swamped their opposition. The opening exchanges were all launched by the Banner Ladies and before they scored the opening point from Chloe McNamara they had narrowly missed several scoring chances. When they finally broke out, Clarecastle ace forward Doireann Murphy hit the cross-bar and this started the Magpie pressure that ended up with three points being taken by Murphy (1) and Lauren Touhy (2 frees).
By the end of the first quarter, the Banner had rebalanced the scales and were level on three points apiece thanks to well taken points from Aoibheann Ryan and captain Mary Tierney. With Clarecastle's confidence growing, Murphy picked off three successive points, usually picked up way out on the wing and scored at the end of a meandering solo run.
Banner mid-fielders Aoife Cavanagh and Laoise Ryan then started a passage of play that ended up with the ball in Rachel Grogan's possession and after bypassing several hooped defenders buried a lovely goal past custodian Jane Scanlon to level again on twenty one minutes.
But arch-nemesis Murphy, who was well supported by her cohorts Joanne Potter, Lauren Touhy, Sharon Quinn and Rachel Collins, responded with a goal to push the Magpies three points ahead on twenty two minutes. Banner defenders, Roisin Clancy, Eabha Keane, Olivia Touhy and Siobhan Mahoney were busy but replied a lot of pressure as Clarecastle seemed get a strangle hold on the game.
A well worked passage of play that started with Michaela Roughan collecting a ball at height, laid off to Leah Talty who picked out Aoibheann Ryan for her second point of the day to bring the margin to two points. (1-4 to 1-6). A Chloe McNamara near-miss almost put the Banner Ladies in front but in the last few minutes of the first half, a staunch hooped defence including Sarah McGuane, Siobhan Hehir, Chloe Devitt end up with Murphy pointing twice and Touhy pointed her third free of the game. The half-time score was 1-09 to 1-4 in favour of Clarecastle.
When Michael Fitzpatrick resumed the game, Clarecastle went on to dominate the second half completely. Before the Banner Ladies pointed twice in the fifth minute through Chloe McNamara and Aoife Cavanagh, the Magpies had racked up 2-3 in the same timeframe, 3-12 to 2-5 for the Banner.
The remainder of the game saw a united Clarecastle performance picking off scores at will, with Murphy and Tuohy taking two goals each and Elaine Lyons taking one. The last few minutes saw the Banner respond with goals from Aoife Cavanagh and Michaela Roughan but this wasn't going to dent the Clarecastle tally. The game ended with Clarecastle taking the 2016 Junior B title on a scoreline of 6-23 to 3-6.
A solid all-round performance from Clarecastle channelled all their attacks to Doireann Murphy who was totally effective in despatching the Banner. Superb free taking and second half goals from Lauren Tuohy was just too much for the opposition. Several forsaken opportunities from the Ennis side early on may have changed the course of the game but the outcome was never in doubt.
Clarecastle: Jane Scanlon, Sarah McGuane, Hannah Dinan, Katie McEldowney, Maria Lyons, Siobhan Hehir, Ellen Barry, Mary Kate Moloney, Ally Flemming, Emma O'Connell (Capt), Chloe Devitt, Lauren Tuohy, Sharon Quinn, Joanne Potter, Doireann Murphy, Rachel Collins, Laura Mullen, Elaine Lyons, Sinead Reidy, Alex Potter, Mary Kennedy, Niamh Keogh, Kelsey Farmer, Sinead Cullinan, Emma O'Donoghue, Ciara Lynch, Ally Fleming, Carol Browne.
Banner Ladies: Tara McInerney, Siobhan Mahoney, Roisin Clancy, Olivia Tuohy, Eabha Keana, Nicole Talty, Roisin Martin, Chisom Ugwara, Aoife Cavanagh, Laoise Ryan, Mary Tierney (Capt), Rachel Grogan, Michaela Roughan, Leah Talty, Chloe McNamara, Aoibhinn Ryan, Clodagh Leonard, Nicole Roche, Laura Brennan, Grainne McNeilis, Shannon O'Donovan, Sonja Petric, Leah Sullivan, Erona Aliu, Albina Aliu,
Referee: Michael Fitzpatrick