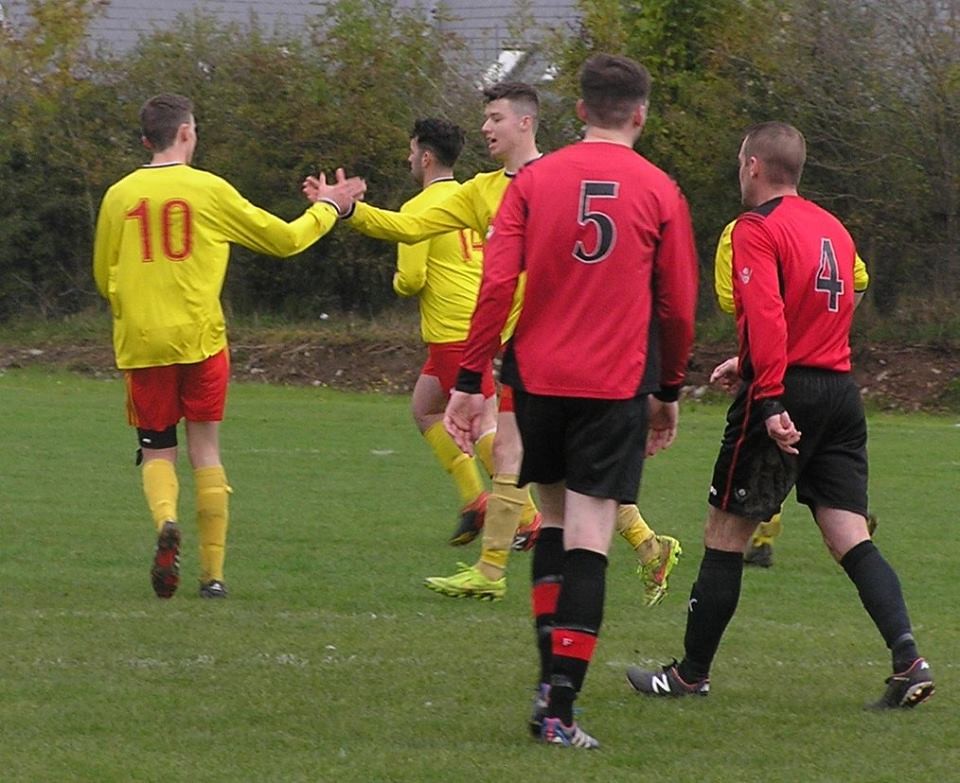 Avenue Utd and Newmarket Celtic both overcame Kerry opposition to advance to the fourth round of the FAI Junior Cup.
FAI Junior Cup Round 3
Avenue Utd 2-0 Tralee Dynamos
Avenue Utd advanced to round 4 of the FAI Junior Cup after two goals in the second half from substitute Ronin Kerin gave the Ennis side a good victory on the day.
They dominated possession in the first half but the best chances of the half fell to the visitors who had a shot hit the post and another well saved by Barry Ryan. Mark Roche went closest for Avenue with a shot that narrowly missed the target.
Avenue started the second half well and Conor Mullen went close with a header on 50 minutes from a Jamie Roche free kick. Tralee had a great chance to go in front on 58 minutes after they were awarded a penalty for a challenge just inside the box. Jason Fitzgibbon took the penalty but to the relief of the home side it hit the crossbar and Ryan got a vital touch to clear the ball on the line.
Ronan Kerin put Avenue in front on 65 minutes when he got up well at the back post to head home a ball across the goal from Mark Roche. Avenue introduced Dean D'Auria for the closing stages and he caused the visitors a lot of problems down the right wing. On 87 minutes a good run and cross from D'Auria found Kerin unmarked and he headed home his second to wrap up the victory for Avenue.
Avenue Utd A: Barry Ryan, David Herlihy, Shaun O'Flanagan, Conor Mullen, Kaylan O'Loughlin, Pa McDaid, Sean Doherty, Colin Smyth, Davy O'Halloran, Mark Roche, Jamie Roche. Subs: Ronan Kerin for O'Holloran, Aaron Greene for Doherty, Dean D'Auria for Mark Roche, Eamon O'Reilly for Smyth
Tralee Dynamos: Pa Fitzgibbon, Oliver Coffey, Scott Monaghan, Shane Brosnan, Jonathan Burrows, Jamie McIntyre, James Sugure, Jason Fitzgibbon, John Foley, Anthony Murphy, Eddie Duggan
Newmarket Celtic 4-0 Castleisland FC
Newmarket Celtic are through to round 4 after a comfortable victory over Castleisland at McDonough Park on Sunday.
Eoin Hayes opened the scoring for Newmarket from the penalty spot on 15 minutes with a well struck effort low to the corner after he had been taken down in the box. It was 2-0 soon after when Colin Ryan got on the end of a good move and struck a low left foot shot into the bottom left corner.
Castleisland had some good possession but some very strong defending from Stephen Kelly and Paddy Purcell kept them out. In the second half David McCarthy was introduced and he went very close with a right foot strike that was brilliantly tipped over the bar by the Castleisland goalkeeper. The third goal arrived when Eoin Hayes went round 3 defenders and buried his shot in what was a great effort from the in-form Irish international.
The victory was secured with a fourth goal when McCarthy raced through on goal and squared a ball for Ian Collins who had his shot saved but Ronan McCormack was on hand to slide home the rebound. Rob Shier made a brilliant save near the end when the lively Sean Brosnan had a shot that was going into the top corner before Shier got a hand to tip it over.
Newmarket Celtic: Robert Shier, Steven Carroll, Darren Cullinan, Stephen Kelly, Paddy Purcell, Ian Collins, Colin Ryan, Tino Nzvaura, Brian Monaghan, Cathal Hayes, Eoin Hayes. Subs: Eoin O'Brien for Cullinan, David McCarthy for Cathal Hayes, Alan Kelly for Ryan, Ronan McCormack for Eoin Hayes, Colm Treacy for Kelly
Maloney Garden Machinery Premier Division
Shannon Town 6-0 Tulla Utd
Goals from Colin Scanlan (2), Derek Byrne (2), Dave Cove and an own goal sent Shannon Town 6 points clear at the top of the Premier Division with victory over Tulla Utd on Sunday.
First Division League
Kildysart Celtic 2-3 Mountshannon Celtic
This First Division encounter, played on a blustery Sunday morning, was an entertaining exchange from start to finish with the East Clare side scoring the odd goal in five to seize all three points. The visitors got off to a dream start on 5 minutes when Michael Barrett placed his shot into the bottom right of the home net after being on the receiving end of John Scanlan's low cross. The visitors relinquished their control on the fixture when they conceded a spot kick 10 minutes before the interval. The penalty was coolly dispatched down the centre of the away goal. Kildysart gained the lead five minutes later when a loose ball broke on the six yard box after a corner and was clinically drilled home. Mountshannon showed their resilience and mustered a response just before the conclusion of the first half. Another quality low cross from John Scanlan was ricocheted inadvertently by a defender into the hosts' goal.
After the break, the away team pressed for a winner aided by a strong breeze. The decisive moment came midway through the half when Barrett led a counter attack and slipped in Niall Dear to finish across the keeper from the edge of the area and give Mountshannon the victory.
Mountshannon Celtic: Andrew O'Dwyer, Stephen McSweeney, Michael Scanlan, Niall Dear, Lukas Trocewicz, Cathal Moloney, Michael O'Brien, Michael Barrett, John Scanlan, William Glass, Oran Scanlan.
Subs: Colm Kavanagh for O.Scanlan, John Moloney for Trocewicz
Suttons Lighting Third Division
Moher Celtic 0 -1 Shannon Olympic
A goal from Niall George was enough to give Shannon Olympic a much needed victory at Liscannor on Sunday. Olympic got off to the better start and were unlucky not to take the lead when some good work by George set up Dean Rudd who went close an effort that just went over the Mohers crossbar. As the half went on Moher came more into the game but it was Olympic who took the lead when Daniel Cregan put a back pass to Ruairi Price who punted the ball long up the pitch to Niall George who found some space between the defender and Moher keeper and fired a shot to the bottom corner. The second half saw Moher with the better chances as they came close by hitting the bar in the closing stages but Olympic held on with some excellent defending for the three points.
Shannon Olympic B: Ruairi Price, Damien McGettigan, David Collins, Dean Courtney, Daniel Cregan, Dean Rudd, Kieran Kissane, Paul Cantillon, Dylan Kerr, Jason Fielding, Niall George. Sub: Shane Nihil for Cantillion
Inch Crusaders 2-0 Corofin Harps B
Inch Crusaders got the better of Corofin Harps B in an entertaining game at Lees Road on Sunday. Breanno Henrique put Inch in front after getting on the end of a Sean Hehir free kick. Enda McGuane scored a second for the home side after being put through by Mark Connellan. Corofin tried hard to get back in the game but could not break down an Inch defence that played well on the day.
Treacys West County Hotel Clare & District Soccer League Results
Sunday 23rd October 2016
FAI Junior Cup Round 3
Bridge Utd 5-1 Moher Celtic
Newmarket Celtic 4-0 Castleisland FC
Avenue Utd 2-0 Tralee Dynamoes
Killarney Athletic 5-0 Coole FC
Listowel FC 3-2 Rineanna Rvs
Dingle Bay Rvs 2-1 Ennis Town A
Maloney Garden Machinery Premier Division
Shannon Town 6-0 Tulla Utd
Corofin Harps 3-5 Sporting Ennistymon
First Division League
Kildysart Celtic 2-3 Mountshannon Celtic
Kilrush Rangers 2-4 Lifford
Kilkishen Celtic 0-4 Turnpike Rvs
Selprint Second Division
Tulla Utd B 3-0 Rhine Rvs
St Pats 0-4 Connolly Celtic
Suttons Lighting Third Division
Inch Crusaders 2-0 Corofin Harps B
Shannon Town B 3-3 Shannon Hibs
Moher Celtic B 0-1 Shannon Olympic B
Bunratty/Cratloe 2-1 Sporting Ennistymon B
Saturday 22nd October 2016
CDSL Youths League
Lifford 6-2 Shannon Town
Sporting Ennistymon 2-2 St Pats
Friday 21st October 2016
Selprint Second Division
Kilmaley Fern Celtic 2-2 Manus Celtic
Treacys West County Hotel Clare & District Soccer League Fixtures
Friday 28th October 2016
FAI Inter league Youths Cup
Frank Healy Park; Doora 7:30pm
Clare v Limerick
Mark Rellis(ref) Martin O'Brien,Terry Kennedy
Saturday 29th October 2016
Oscar Traynor Trophy Round 1
Frank Healy Park; Doora 5pm
Clare v Galway
Pa Gleeson(ref) Julian Sandford James Ferns
Sunday 30th October 2016
Munster Junior Cup Round 2
Lahinch: Moher Celtic v Shannon Town 11am James Ferns
Maloney Garden Machinery Premier Division
Olympic Pk: Shannon Olympic v Corofin Harps 11am Mark Rellis
First Division League
Cassidy Pk: Lifford v Avenue Utd B 11am Michael Rock
College Pk: Kildysart Celtic v Newmarket Celtic B 11am Julian Sandford
Bunratty: Bridge Utd B v Turnpike Rvs 11am John Grier
Fairgreen Track Pitch: Hermitage v Kilkishen Celtic 2pm Martin OBrien
Kilrush: Kilrush Rangers v Coole FC 2pm Mark Rellis
Selprint Second Division
Kilmaley School: Connolly Celtic v Tulla Utd B 11am Pa Gleeson
Ballycasey: Rineanna Rvs v West Clare FC 11am Trevor White
Lees Road: Ennis Town B v St Pats 11am Barry McCarry
Fairgreen Track Pitch: Manus Celtic v Rhine Rvs 11am Sean Kenneally
Suttons Lighting Third Division
Lynch Pk: Shannon Town B v Inch Crusaders 2pm Pa Gleeson
Riverside: Shannon Hibs v Corofin Harps B 11am Frank Coote
Cassidy Pk: Lifford B v Bunratty/Cratloe 2pm Padraig Sutton
Olympic Pk: Shannon Olympic B v Shannon Town C 2pm Lukasz Baranowski
Monday 31st October 2016
CDSL Youths League
Roslevan: Avenue Utd v Sporting Ennistymon 1pm Martin O'Brien
Corrib Drive: Shannon Town v Newmarket Celtic 2pm Mark Rellis
Bunratty: Bridge Utd v Lifford 2pm Julian Sandford
Note: All results to be with Donal Kirby on 085-1765828 immediately after games otherwise a €40 fine will be incurred.