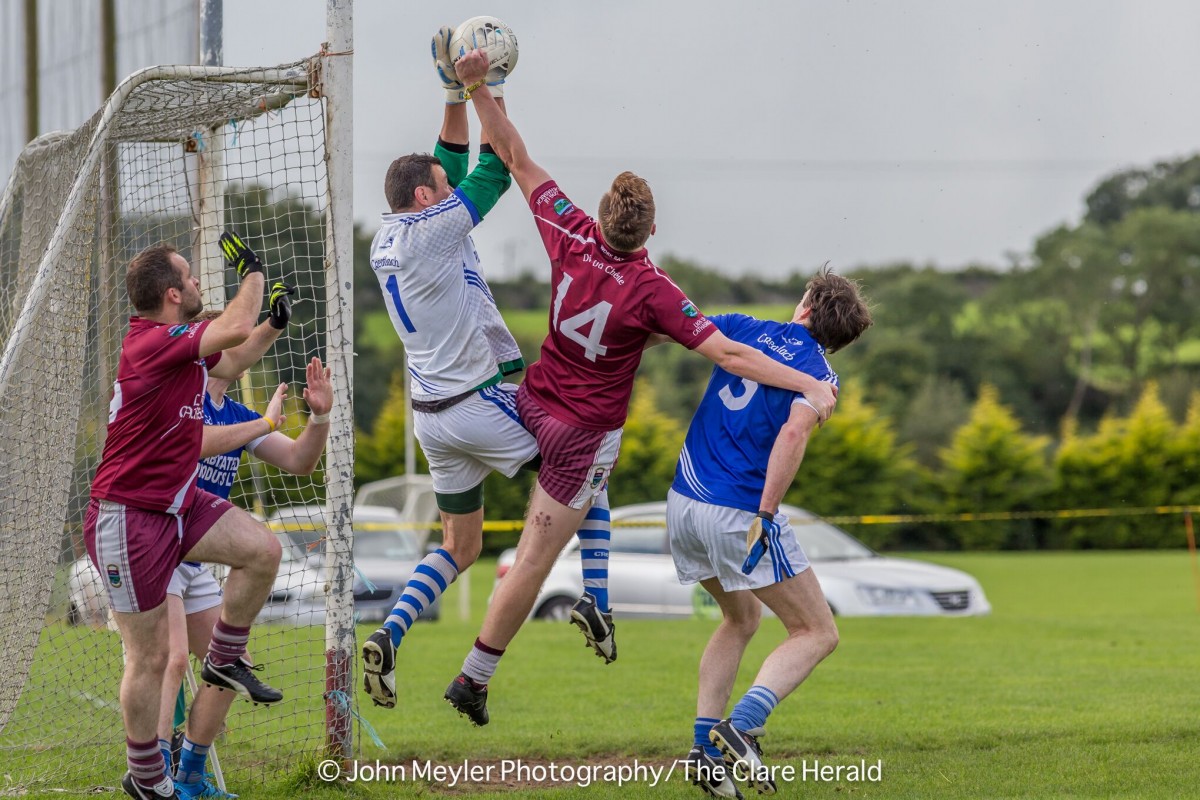 For as long as he can remember Pierce DeLoughrey has been envious of winning captains, he's always looked on wistfully as they raised trophies aloft no matter how big or small, if Cratloe prevail on Sunday he'll be the man lifting Jack Daly in front of the thousands of spectators in Cusack Park.
He'll wear the number one jersey as Cratloe go in search of their third ever Clare Senior Football Championship title. DeLoughrey can't wait for throw-in but for the first quarter of their semi-final against Miltown he questioned whether they'd get over the line but for a finish he points to the belief within the team for recovering to win after extra time.
"There was serious belief to be honest with you, we were in the dressing room at half-time and Sean Collins made reference to the Dr Crokes game in the Munster Final a few years ago, we were seven points down against arguably the best club team in Ireland and we managed to come back and even take the lead in that game so belief is something we're not one bit short of at all. We just made a couple of bad mistakes and got punished for them, we knew if we tightened up defensively, get as much ball into the forwards as quick as we can that then we'd do the damage back on the scoreboard then".
On Sunday the twenty eight year old will lead Cratloe into battle. It's something he takes great pride in. "It means a lot to me personally to be captain of the team but I didn't really have much of a role in the team, it might sound a bit clichéd but everyone's a leader, everyone's a captain on the field of play, it's not just a case of me always talking".
To captain a team to glory has always been on Pierce's wish list. "Even watching Oige, Liam and Mikey Hawes lifting the football and hurling trophies them time I honestly wished it was me doing it secretly and even when you see people lifting Munster Cups or the All-Ireland I'd think 'God I've love to be standing up in front of everyone and lift the cup".
More so this year than previous campaigns Pierce has opted for the short kickout rather than going for distance and seeing if one of his teammates would win the aerial duel. "Every keeper has been doing that for the last three years, going short and trying to hit a wing-back, obviously some keepers don't they prefer to go long. I suppose it depends on what the manager wants me to do, sometimes he could say to keep possession and sometimes to keep possession you're going to have to go short, you'd need serious work on it because sometimes it doesn't work out like against Miltown Malbay, you have to keep practicing and nail them down".
For when he decides to go long, the Cratloe netminder has plenty of options despite this year seeing midfield duo Fergal Lynch and Cillian Duggan return to their native Clooney/Quin. "John Galvin anytime he's in the middle of the pitch put the ball up with a bit of snow on it and he's underneath it, Conor Ryan is the same as him he's got a great pair of hands, Shane Gleeson is a great catcher of a ball so even as you go along the lads would be doing well, we're lucky that way that we replaced the two lads fairly well thank God".
He has been critical of his own performance that saw Miltown slot home four goals in the semi-final. In his conversation with The Clare Herald he is reminded of the 2013 season in which he didn't concede a goal in the entire Clare SFC, Pierce passes the praise for this statistic on to one of his experienced teammates.
"Yeah we got to the Munster Final without conceding a goal but to be honest about it I didn't have many shots, Barry Duggan the last day was a big loss, Barry played all of 2013 and he's a fair rock at full back, he brings experience that none of the backs have because Barry is playing so long so having someone like him there makes a big difference".
This weekend he finds himself coming face to face with a full-forward line containing some of the County's top forwards in Keelan Sexton, Enda Coughlan and Noel Downes. He won't prepare any differently for the challenge though. "I wouldn't prepare any differently anyway, all you can do is have a look at the goals we conceded against Miltown and work on that as opposed to preparing for what Keelan or any of the Kilmurry Ibrickane forwards might do, I'm looking forward to it because it's been a long time since I played against them in championship. When we played them a couple of years ago Jamie Joyce was in goals for the two or three games we played them so I'm looking forward to that".
Based in Limerick with the Army, DeLoughrey is currently on a ten week course in the Curragh, he will head to Lebannon with the Irish Army in over a year. For all the positives in increasing his fitness levels and mental toughness, there are negatives from the job for his playing commitments.
"It has its pros and cons, obviously you'd see a couple of hard days in the army when you're out doing tactics, its case of when you go overseas you're gone for six months so that's six months I'd be gone for the club and county, the same with courses I'd be away anywhere so it's affecting me it's more of a hindrance than anything because you're nearly always away you're missing training or matches".
Nicknamed The Monk, Pierce struggles to think of the origins of the tag. "I don't where I got that people think I'm mad for some reason" he laughed. Our sources inform us that the nickname is inspired from the 2001 film 'Mean Machine' where Jason Statham portrays an 'excitable' character who is also a goalkeeper.
One thing's for sure being dubbed 'The Monk' isn't due to a regular attendance at prayer services even though he may have said a few Hail Mary's in their last outing. "I'll tell you there was some amount of praying last Sunday, that was a fact and about fifteen minutes into the game and forty hail mary's got in, apart from that I wouldn't be the praying sort".
Prayers or not Pierce will be counting on the sun, moon and stars to ensure he is the man getting to climb the steps in Cusack Park and bring Jack Daly back to Cratloe.