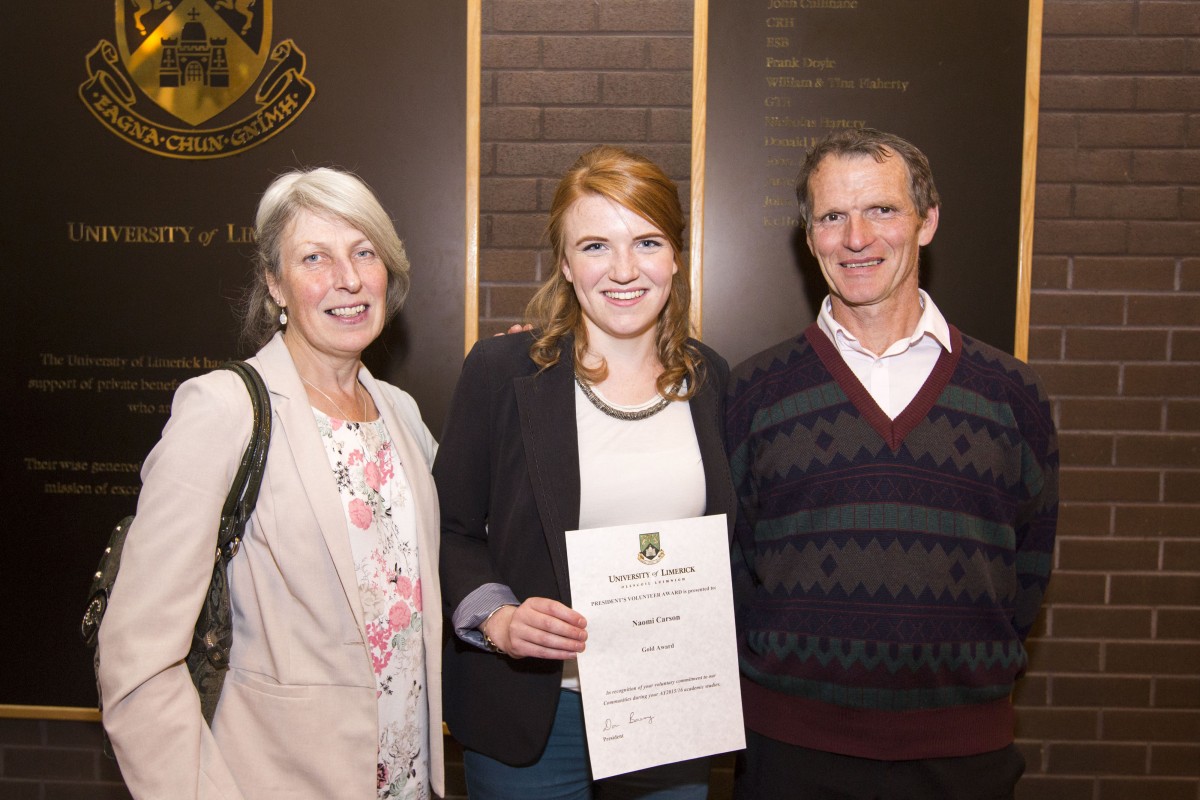 More than 270 University of Limerick students were honoured at the President's Volunteer Award (PVA) ceremony in UL recently.
Acknowledged students completed more than 17,000 hours of voluntary work across a range of civic and charitable organisations during the 2015/16 academic year. Since the establishment of the PVA six years ago, more than 57,000 volunteer hours have been documented and student volunteering continues to be the largest civic engagement activity in UL.
This year's ceremony also marked the launch of the new higher education student volunteering website, StudentVolunteer.ie.
Speaking at the event, UL President, Professor Don Barry said: "The President's Volunteer Award ceremony is a very special occasion as it offers us a wonderful opportunity to recognise the voluntary contributions our students are making to the broader community. During this past academic year UL students contributed over 17,000 hours to volunteering work".
The University of Limerick established the PVA programme in 2010 to encourage students to engage with their communities and become lifelong believers in social responsibility. The 277 PVA recipients hailed from across Ireland, Spain, India, Germany, Poland, Czech Republic, Japan, China, the USA and Canada.
Adi Roche, founder and voluntary CEO of Chernobyl Children International and recipient of an honorary doctorate from UL earlier this year, was special guest at the ceremony.
"I found out from an early age that there was a great blessing in my small giving, my small effort. I found out that it was a privilege to help out and that it was I who received the greatest blessing most of the time. I still enjoy that privilege and I would encourage everyone, particularly students, parents and lecturers to pass on that spirit of volunteerism, that spirit of 'love in action'," Ms Roche told students.
All pics by Oisin McHugh (True Media)
Paul Campbell took part in the PVA programme in 2011. He is founder of Half Way Art House which assists people who are homeless find a creative focus.
"In 2010, it was clear to me that Limerick's homeless network needed recreational activities and so my goal was to set up art classes and exhibit their artwork in a public exhibition. Through art we brought that voice back to the heart of the community. Their stories inspired me. For as much as any volunteer puts in, you will receive much more back. The small steps you take as a volunteer not only help those you work with; they can also inspire others around you. And every step you take on your journey will be one closer to making a real difference," he said, at the ceremony.
StudentVolunteer.ie is a national online platform which connects students wishing to volunteer with organisations offering voluntary positions. UL's Community Liaison Officer, Gabriella Hanrahan, worked with colleagues in NUI Galway Alive programme, Dublin City University in the Community and Campus Engage to deliver this student volunteer management system and database. There are now nine partner institutions signed up to StudentVolunteer.ie: UL; DCU; Maynooth University; NUI Galway; IT Tralee; IT Tallaght; Trinity College Dublin; University College Cork; and, University College Dublin.