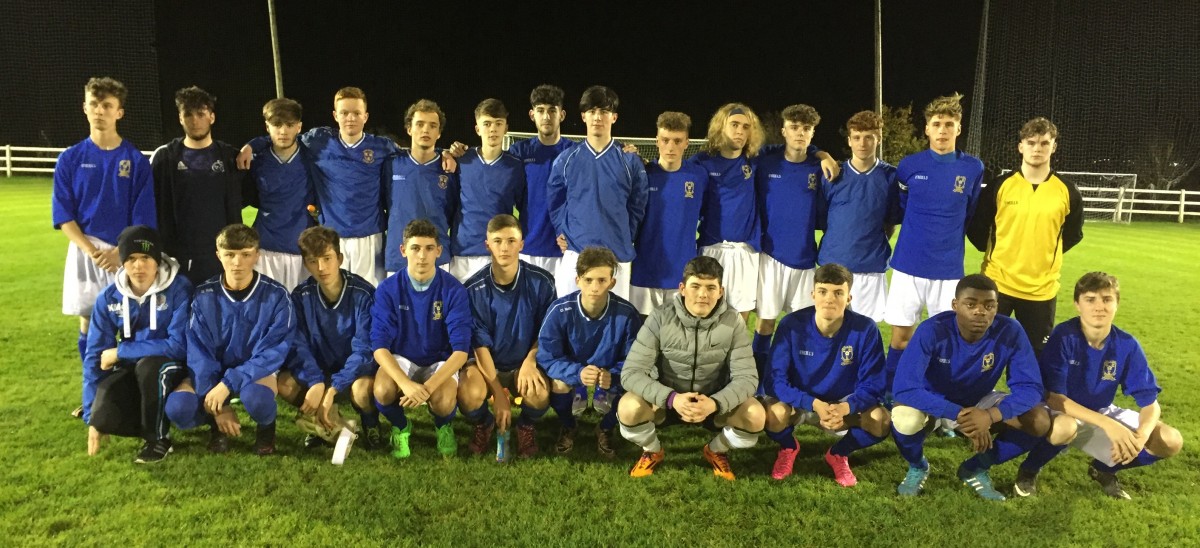 Shannon Town advanced to the fourth round of the Munster Junior Cup while Shannon Olympic collected three points at the expense of Corofin in the Premier Division.
Inter League Youths Cup
Clare 1-3 Limerick
Limerick got their Inter League Youths campaign off to a winning start after coming from behind to defeat Clare at Frank Healy Park on Friday night. Clare played well throughout but missed chances and mistakes proved costly against a very good Limerick side.
Limerick had the first chance on five minutes when Sean Feeney got some space in the box but Alan Naughton got down well at his feet to make a brave save. A great ball in from Jamie Roche went agonisingly wide for the home side on twelve minutes with Sean Doherty just missing out on a vital touch.
Clare went in front on twenty five minutes after a good passing move saw Oisin Cavanagh get some space on the left wing and he delivered a great ball in for Jamie Roche to score and give Clare a deserved lead. They should have been two clear on thirty five minutes after good work from Ikem Ugwueru on the right created a chance for Jack Devitt at the back post but his effort rebounded off the post and Roche saw his effort from the rebound go over the bar.
Limerick finished the half strong and Conor Coughlan had a fine effort from 25 yards rebound off the post on thirty eight minutes. Right on half time Limerick drew level when the hosts stopped playing expecting an offside decision and Shane Donnegan took full advantage to finish well to the top corner.
Clare started the second half well and a great strike from Robbie Waller from the edge of the box on fifty two minutes brought a brilliant save out of the Limerick keeper James Regan Magner. The Treaty side went close from a free kick from Dylan O'Neill on sixty five minutes that narrowly missed the target.
A mistake at the back for Clare on seventy five minutes was punished by Adam Foley and Limerick went in front. The Banner had a chance to draw level on eighty five minutes when a free kick from Lee Wall fell to Fergus Lyons but his effort was blocked and Limerick broke quickly from the back and Dylan Ryan finished well to secure the victory for the visitors.
Limerick: James Regan Magner, Liam Byrnes, Evan Lynch, Jack Dunne, Jason Cross, Dylan Sheehan, Shane Donnegan, Thomas Byrnes, Adam Foley, Conor Coughlan, Sean Feeney. Subs: Colm Barrett for Coughlan, Dylan O'Neill for Byrnes, Dylan Ryan for Feeney.
Clare: Alan Naughton, Jack Crowley, Oisin Cavanagh, Billy Clancy, Lee Wall, Christy Carey, Jack Devitt, Robbie Waller, Sean Doherty, Jamie Roche, Ikem Ugwueru. Subs: Dean Coughlan for Ugwueru (inj), Cian O'Rourke for Carey, Jordan Downes for Waller (inj), Fergus Lyons for Devitt, Danny Clancy for Doherty
Munster Junior Cup Third Round
By Jamesy McConigley
Shannon Town 2
Moher Celtic 1
Venue: Lahinch
Shannon Town's 100% win rate rolls on after they grabbed a late win against a well organised Moher Celtic side in Lahinch on Sunday.
Cup games have the imagination to toss up the odd surprise so Shannon Town knew they were in for a tough morning. Albeit a whole division and sixteen places between these two sides this game was easy on the eye. Shannon dominated possession early but it was the North Clare team that caused the early threat, Jimin Dooley found himself in space and arrowed his effort on goal but to his disappointment the ball flew off the crossbar.
Shannon found their feet and could have broke the deadlock early on when Colin Scanlon found himself in space, he bundled his way into a decent shooting position but Craig Flanagan who recently returned from Australia averted the danger and smartly diverted his effort away to safety.
The Premier League leaders didn't let up and Scanlon who is in majestic form found the net mid-way through the opening half, a long throw-in was hurled into the Moher Celtic penalty area and the Shannon striker flicked to the net to give the visitors the lead.
If being a goal down wasn't bad enough for Moher, Caoimhin Phillipson was dismissed for the home side and they had to battle the remaining half an hour without their centre half. Moher weren't in the mood to be walked upon and tactical changes were made in search of an equaliser. And they found it in the shape of substitute Mattie Kinch. Kinch known for his heading ability hammered home the equaliser and distilled energy into the home team.
With extra time looming, experienced heads were needed and Rob Wall and Derek Byrne in particular encouraged Shannon to push for a winner. On the eighty fifth minute Scanlon won it for the visitors, with a corner whipped in from the right-hand side, he rose like a salmon and headed past the helpless John Kerin.
Shannon Town: Darren Whelan; John Allen, Derek Byrne, Bryan O' Donoghue, Jack Carrig; Evan Glynn, Jamie Cullen, Andy Russell, Josh Lindsay, David Cove; Colin Scanlon. Subs: Paudie Hickey, Gary O' Connell, Rob Wall, Chris Lake, Aaron Rudd.
Moher: Craig Flanagan; Mick Davenport, Caoimhin Phillipson, Darren Nagle, Aidan McMahon; Cobhan Phillipson, Paul Cagney, Sean Garrihy, Jimin Dooley; Kevin Falvey, John Kerin. Subs: Mattie Kinch for Flanagan, Sean O'Malley for Garrihy, Willie Murphy for Aidan McMahon, Criostoir McCaw for Falvey.
Maloney Garden Machinery Premier Division
Shannon Olympic A 4-1 Corofin Harps A
Weather conditions were perfect for a football match. Corofin travelled to Olympic Park for this premiership fixture and it was the away side who settled on the ball faster and put the game to Olympic.
A couple of high balls over the top by Tola Crowe to Shane Constable kept the Olympic defence on their toes and caused a few problems. Corofin worked hard and in the first 10 minutes were winning a lot of 50/50s and second balls. Then on the eleventh minute a free kick for Olympic in their own half saw BJ Cantillon step up. He played a dangerous ball into the box and Ray Quigley almost got on the end of it but his presence was enough to put off David Phillips who was unable to deal with it.
Shortly after the restart an attack by Corofin was defended well and Rory O'Connell the left back took the ball and carried forward on a great run his pass found Ryan Kelly who put in a great cross and found Adrian Carew in advanced position and his header powered into the net to put Olympic 2-0 in front at the break.
Three minutes into the second half Corofin pulled a goal back and it was game on. Then on the 60th minute Adrian Carew made way for Jason Regan and he made a great impact. A great run through the middle then picked out Ryan Kelly out wide who put a great pass in front of Sean Burke who made no mistake to make it 3-1.
Substitute Rachid Amallah got on the end of a great pass by Jay Regan and his shot was parried by David Phillips but Sean Burke was quickest to react as he took the ball in and played a perfectly weighted pass infront of Jason Regan who finished well in the 80th minute. Olympic defended well in the closing stages to earn an important and deserved three points.
Shannon Olympic: Pierce DeLoughrey, BJ Cantillon, Dean Power, David O'Flaherty, Rory O'Connell, Derek Maxwell, Adrian Carew, Stephen Dolan, Ryan Kelly, Sean Burke, Ray Quigley. Subs: Jason Regan for Adrian Carew, Wayne Regan for Dean Power, Rachid Amallah for Derek Maxwell
Selprint Second Division
Ennis Town B 6-2 St Pats
Ennis Town had a deserved victory over St Pats at Lees Road on Sunday. Goals in the first half from Robbie Cantwell, Stephen Murphy, Ciaran Mac Mathuna and Conor Clohessy had the home side 4-2 up at the break. In the second half Ennis created numerous chances but then had to rely on a penalty save by Darragh Murphy to stop St Pats bringing the deficit back to 1. St Pats visibly tired and late goals from Ciaran Mac Mathuna and Jack Moran solidified the result.
Treacys West County Hotel Clare & District Soccer League Results
Sunday 30th October 2016
Munster Junior Cup Round 2
Moher Celtic 1-2 Shannon Town
Maloney Garden Machinery Premier Division
Shannon Olympic 4-1 Corofin Harps
First Division League
Lifford 4-2 Avenue Utd B
Kildysart Celtic 0-2 Newmarket Celtic B
Bridge Utd B 1-3 Turnpike Rvs
Hermitage 9-0 Kilkishen Celtic
Kilrush Rangers 2-1 Coole FC
Selprint Second Division
Connolly Celtic 6-2 Tulla Utd B
Rineanna Rvs 5-1 West Clare FC
Ennis Town B 6-2 St Pats
Manus Celtic 0-0 Rhine Rvs
Suttons Lighting Third Division
Shannon Town B 5-0 Inch Crusaders
Shannon Hibs 4-0 Corofin Harps B
Lifford B 2-1 Bunratty/Cratloe
Shannon Olympic B 2-2 Shannon Town C
Saturday 29th October 2016
Oscar Traynor Trophy Round 1
Clare 2-1 Galway
FAI U17 Cup Round 2
Newmarket Celtic 1-0 Killarney Celtic
St Brendans Pk 2-3 Avenue Utd (AET)
Friday 28th October 2016
FAI Inter league Youths Cup
Clare 1-3 Limerick
Treacys West County Hotel Clare & District Soccer League Fixtures
Wednesday 2nd November 2016
Maloney Garden Machinery Premier Division
Frank Healy Park: Shannon Olympic A v Newmarket Celtic A 7.30pm Terry Kennedy
Saturday 5th November 2016
CDSL Youths League
Mullagh: Sporting Ennistymon v Lifford 2pm Niall Quinn
Munster Youths Cup Round 2
Corrib Drive: Shannon Town v Avenue Utd 2pm Flan Sheedy
McDonagh Pk: Newmarket Celtic v Bridge Utd 2pm Trevor White
Sunday 6th November 2016
Munster Junior Cup Round 1
Riverside: Shannon Hibs v Sporting Ennistymon 11am Trevor White
Ballycasey: Rineanna Rvs v Inch Crusaders 2pm Mark Rellis
Maloney Garden Machinery Premier Division
Lees Road: Ennis Town v Corofin Harps 11am Michael Rock
Roslevan: Avenue Utd v Bridge Utd 11am John Grier
Cragg: Tulla Utd v Shannon Olympic 11am James Ferns
First Division League
Cassidy Pk: Lifford v Newmarket Celtic B 11am Martin OBrien
Lahinch: Moher Celtic v Turnpike Rvs 11am Terry Kennedy
Roslevan: Avenue Utd B v Kilkishen Celtic 2pm James Ferns
Scariff: Mountshannon Celtic v Coole FC 11am Julian Sandford
College Pk: Kildysart Celtic v Kilrush Rangers 11am Pa Gleeson
Bunratty: Bridge Utd B v Hermitage 2pm James Ferns
Selprint Second Division
Lees Road: Rhine Rvs v West Clare FC 11am Mark Rellis
Fairgreen Track Pitch: Manus Celtic v Connolly Celtic 11am Barry McCarry
Cragg: Tulla Utd B v St Pats 2pm Flan Sheedy
Lees Road: Ennis Town B v Kilmaley Fern Celtic 2pm Pa Gleeson
Suttons Lighting Third Division
Mullagh: Sporting Ennistymon B v Lifford B 2pm Sean Kenneally
Liscannor: Moher Celtic B v Corofin Harps B 11am Frank Coote
Corrib Drive: Shannon Town C v Bunratty/Cratloe 11am Dylan Shannon
Note: All results to be with Donal Kirby on 085-1765828 immediately after games otherwise a €40 fine will be incurred.