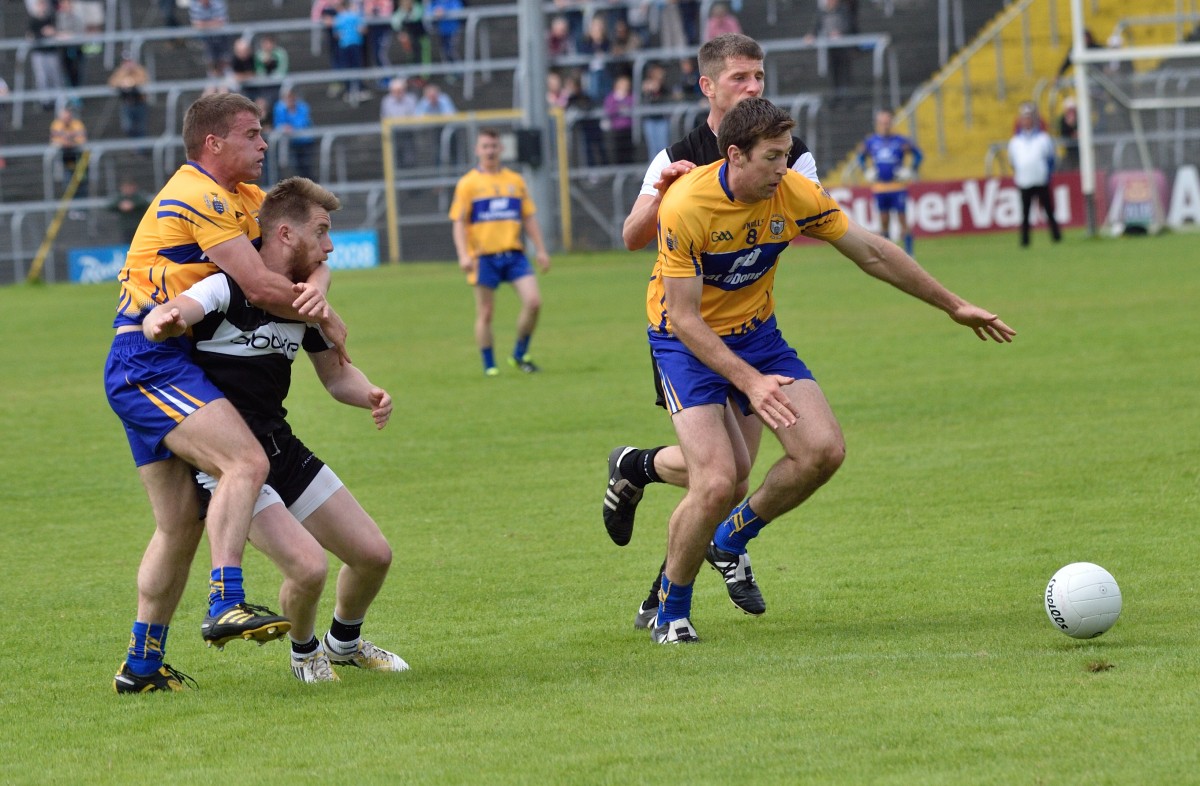 Clare's Gary Brennan was omitted from the fifteen man shortlist for the GAA/GPA All-Star Football awards.
Brennan was aiming to become only the second ever man from the County to pick up the football accolade following in the footsteps of Corofin's Seamus Clancy. Gary's performances for Clare in 2016 were widely praised as the Clondegad clubman led the Banner to glory in Division 3 of the Allianz National Football League and also saw Colm Collins' side contest their first ever All-Ireland SFC quarter-final.
Since the football selection was revealed this morning there has been shock at the absence of the St Flannan's Irish and PE teacher who was tipped to be selected at midfield on the All-Star team.
For fear readers may think The Clare Herald is being slightly biased we include a handful of tweets from people all over Ireland who expressed their disappointment at the decision not to award Gary an All-Star.
Clare are behind Dub Mayo & Kerry but Gary Brennan should be an #allstars. He carried Clare to 1/4 final and would start for any county #GAA

— Gearóid Óg (@gearoid_og) November 3, 2016
Donnelly had a good year but Gary had an exceptional year #injustice

— Brendan Bugler (@brendanbugler) November 3, 2016
how did Gary Brennan not get an all star!?

— Daniel Clarke (@DanielClarkee_) November 3, 2016
How do you put Philly McMahon and Mattie Donnelly in the all star team and leave out Cian O'Sullivan and Gary Brennan…

— Diarmuid (@diarmuidgavin15) November 3, 2016
No place for Gary Brennan on the all stars team? 100% should be there, the man worked like a Trojan all year! @RTEgaa @officialgaa #gaa

— Michael Doyle (@doylemichael50) November 3, 2016
@Woolberto feel very sorry for Gary Brennan. Playing for a bigger county he would have walked it

— Stephen O Gorman (@StephenOGorman8) November 3, 2016
Gary Brennan not getting an All Star is a disgrace, single handily got Clare to an AI QF. #GAA

— Kevin Lynch (@K__Lynch) November 3, 2016
Really is scandalous that Gary Brennan hasn't picked up an All Star #GAA

— JB (@jonathanj7713) November 3, 2016
There's a Gary Brennan shaped hole in the all star midfield #GAA

— Stephen Hughes (@StephenHughes93) November 3, 2016
How did Gary Brennan not get an All Star 🙈🙈

— Cathal Bailey (@Cathal_bailey) November 3, 2016
No All Star for Gary Brennan or Peter Acheson. What a fix of a system #Allstars2016

— Murtough Ware (@Murtough91) November 3, 2016
All-Ireland winners Dublin have six representatives on the chosen team, beaten finalists Mayo are rewarded with four individuals making the cut, Ulster champions Tyrone pick up two All-Stars while there is one each from Tipperary, Donegal and Kerry.
1. David Clarke (Mayo) – First time winner
2. Brendan Harrison (Mayo) – First time winner
3. Jonny Cooper (Dublin) – First time winner
4. Philly McMahon (Dublin) – (Winner in 2015)
5. Lee Keegan (Mayo) – (Winner in 2012, 2013 and 2015)
6. Colm Boyle (Mayo) – (Winner in 2013 and 2014)
7. Ryan McHugh (Donegal) – First time winner
8. Brian Fenton (Dublin) – (Winner in 2015)
9. Mattie Donnelly (Tyrone) – (Winner in 2015)
10. Peter Harte (Tyrone) – First time winner
11. Diarmuid Connolly (Dublin) – (Winner in 2014)
12. Ciaran Kilkenny (Dublin) – (Winner in 2015)
13. Dean Rock (Dublin) – First time winner
14. Michael Quinlivan (Tipperary) – First time winner
15. Paul Geaney (Kerry) – First time winner