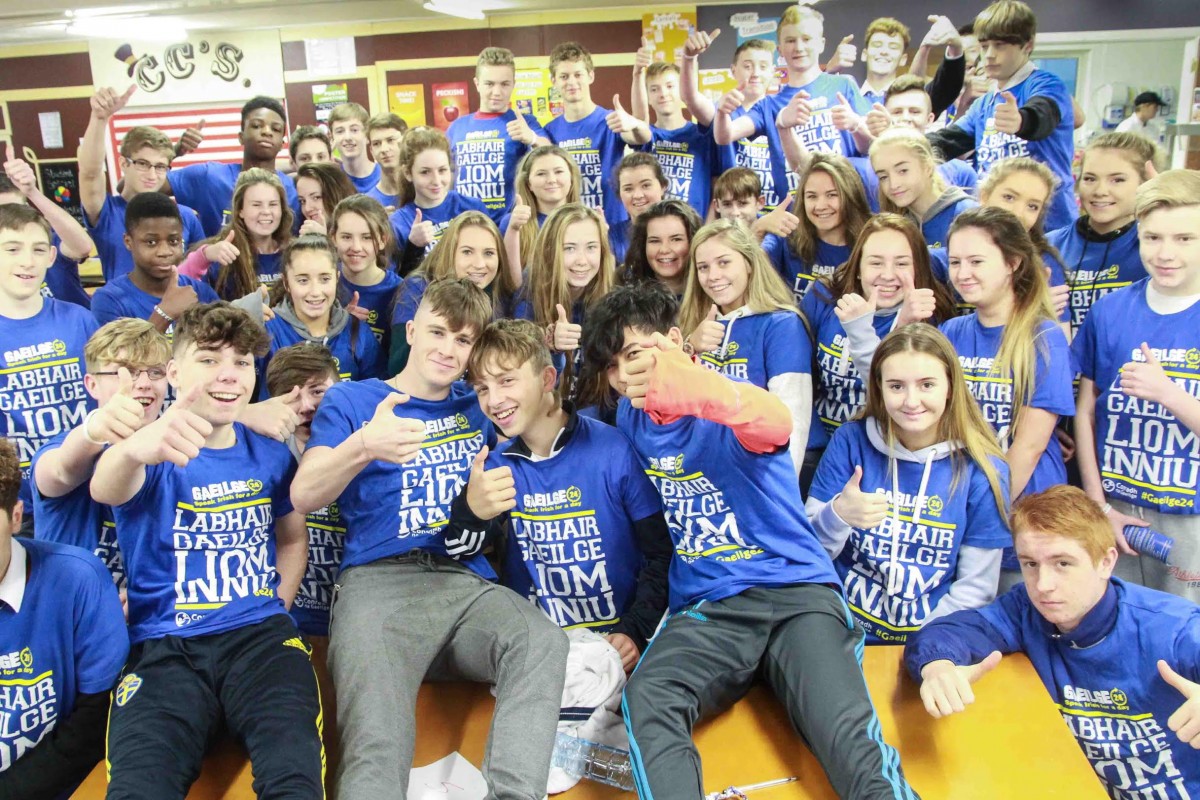 Over 30,000 pupils in more than 320 schools across Ireland are taking part in the Gaeilge24 challenge being run by Conradh na Gaeilge today (Tuesday, 15 November 2016).
It is an Irish-language challenge that sees students raising money for the promotion of the language by speaking only Irish for the duration of the day.
This is the fifth year of this unique annual challenge and Gaeilge24 continues to go from strength to strength: there are schools from almost every county in Ireland and more people than ever taking part in this year's Gaeilge24. The Gaeilge24 challenge helps to open the minds of young people to the language in a relevant and enjoyable way, and gives them a positive experience of using Irish in their own lives.
The aim of Gaeilge24 is to inspire young people to speak only Irish for 24 hours on a particular day, wherever they are and whatever they are doing: at school, at home, in shops and with local businesses, with their friends, around their hometown, in sports clubs, with their families, and with teachers. Students have received a phrase book for the day to help them out with suggestions to use in shops, at home and even on the pitch.
Aodhán Ó Deá, Director of Development with Conradh na Gaeilge and Manager of the Gaeilge24 challenge says: "Seeing 30,000+ students taking part in Gaeilge24 is a testiment to the rising levels of interest in the Irish language. There are twenty percent more students taking part this year than in 2015. This shows that young people are becoming more comfortable in using Irish in the daily lives, outside of the classroom."
It is the Gaeilge24 challenge participants themselves that promote and spread the use of the Irish language within whichever community they are part of, encouraging other people to talk to them in Irish and supporting everyone around them to use whatever few words of Irish that they might have throughout the day. Money is also raised on the day to help the promotion of Irish, and the global community have the chance to take part in the challenge online by using the #Gaeilge24 hashtag on Twitter as well.
English-medium, Irish-medium, and Gaeltacht primary and post-primary schools the length and breadth of Ireland are all taking part in Conradh na Gaeilge's latest challenge. Any profit from the day goes towards the registered charity Conradh na Gaeilge to support the promotion of Irish throughout Ireland.
---
Tá an dúshlán Gaeilge24 á reáchtáil ag Conradh na Gaeilge i gcomhar le níos mó ná 30,000 dalta i mbreis 's 320 scoil ar fud na hÉireann inniu (Dé Máirt, 15 Samhain 2016), áit a mbeidh na scoláirí scoile ag tiomsú airgid ar son chur chun cinn na teanga agus iad ag labhairt i nGaeilge amháin ar feadh an lae.
Is í seo an cúigiú bliain den dúshlán uathúil bliantúil seo agus tá Gaeilge24 ag dul ó neart go neart i gcónaí: tá scoileanna ó beagnach gach contae in Éirinn agus níos mó daoine ná riamh ag glacadh páirte i nGaeilge24 i mbliana. Cuidíonn Gaeilge24 le hintinn na ndaoine óga a oscailt don teanga ar bhealach spraíúil, ábhartha agus tugann eispéireas dearfach dóibh maidir le húsáid na Gaeilge ina saol féin.
Is í aidhm Gaeilge24 ná daoine óga a spreagadh chun Gaeilge amháin a labhairt ar feadh 24 uair a' chloig i ngach aon áit agus i ngach réimse saoil s'acu ar aon lá ar leith: ar scoil, sa bhaile, ag na siopaí agus le gnólachtaí áitiúla, le cairde leo, timpeall an bhaile, sa chlub spóirt, lena muintir, agus le múinteoirí.
Arsa Aodhán Ó Deá, Stiúrthóir Forbartha Chonradh na Gaeilge agus Bainisteoir an dúshláin Gaeilge24: "Tugann sé misneach domsa go bhfuil 30,000 duine óg fud fad na tíre ag tabhairt faoin dúshlán Gaeilge24 inniu. Is méadú 20% ar líon na ndaoine a ghlac páirt anuraidh, rud a thugann le fios go bhfuil níos mó daoine óga compórdach a gcuid Gaeilge a úsáid lasmuigh den seomra ranga."
Is iad rannpháirtithe an dúshláin Gaeilge24 féin a bheidh ag scaipeadh agus ag spreagadh úsáid na teanga i measc an phobail pé áit ina bhfuil siad, ag spreagadh daoine eile le labhairt leo i nGaeilge agus ag tacú le gach duine chun a gcuid cúpla focal féin a úsáid tríd an lá. Chomh maith leis sin, bailítear airgead le cabhrú leis an nGaeilge a chur chun cinn ar an lá, agus bíonn deis ag an bpobal ar fud an domhain páirt a ghlacadh sa dúshlán ar-líne tríd an haischlib #Gaeilge24 a úsáid ar Twitter freisin.
Tá idir bhunscoileanna agus mheánscoileanna Béarla, Gaeilge agus Gaeltachta ó cheann ceann na hÉireann ag glacadh páirte sa dúshlán Gaeilge24 is déanaí de chuid Chonradh na Gaeilge inniu (15 Samhain 2016). Téann aon bhrabús ón lá i dtreo na carthanachta Conradh na Gaeilge chun tacú le cur chun cinn na Gaeilge ar fud na hÉireann.