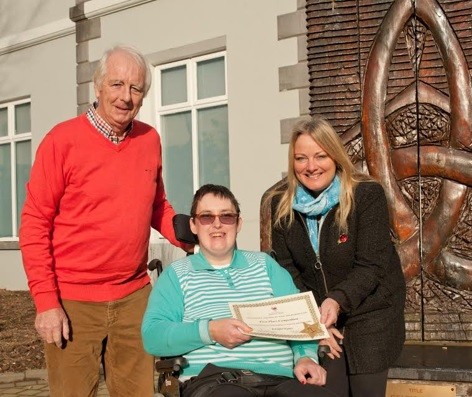 Ennistymon native Jennifer Hynes was recognised internationally for her artwork in 2016.
This week she was presented with her award for winning first place overall in the 2016 International Competition for Artists with Disabilities run by Phoenix Sister Cities in Arizona.
Each year, people over the age of nineteen with a disability residing in the state of Arizona or in one of Phoenix's ten Sister Cities; Calgary (Canada), Catania (Italy), Chengdu (China), Grenoble (France), Hermosillo (Mexico), Himeji (Japan), Prague (Czech Republic), Ramat- Gan (Israel), Taipei (Taiwan) and Ennis which is where Jennifer lives.
In 2015 she also won an award for International Writer with Disabilities with her poem called 'Everyone needs a helping hand'. She was ecstatic with the success. "I do not believe in letting the deterioration to my health stop my involvement in the community. "Life is for the living and I get as much out of each and every day. I am delighted at winning this competition".
Cllr Mary Howard who sits on the Ennis Phoenix Twinning Board presented the award to Jennifer this week and congratulated her on her success. "She has brought great honour to the town of Ennis and Co Clare. We all could learn so much from Jennifer and her 'can do' attitude, Jennifer has faced so many challenges over her life but one by one she overcomes them".
TJ Waters also of the Ennis Phoenix Twinning Board said "it is great to see Jennifer's piece of work being acknowledged on the world stage. Jennifer's focus and determination is the perfect example to us all of how regardless of what the day holds, to get up and get on with living- wise words from a wise young lady. We on the Twinning Board would encourage others to get involved and follow Jennifer's lead".