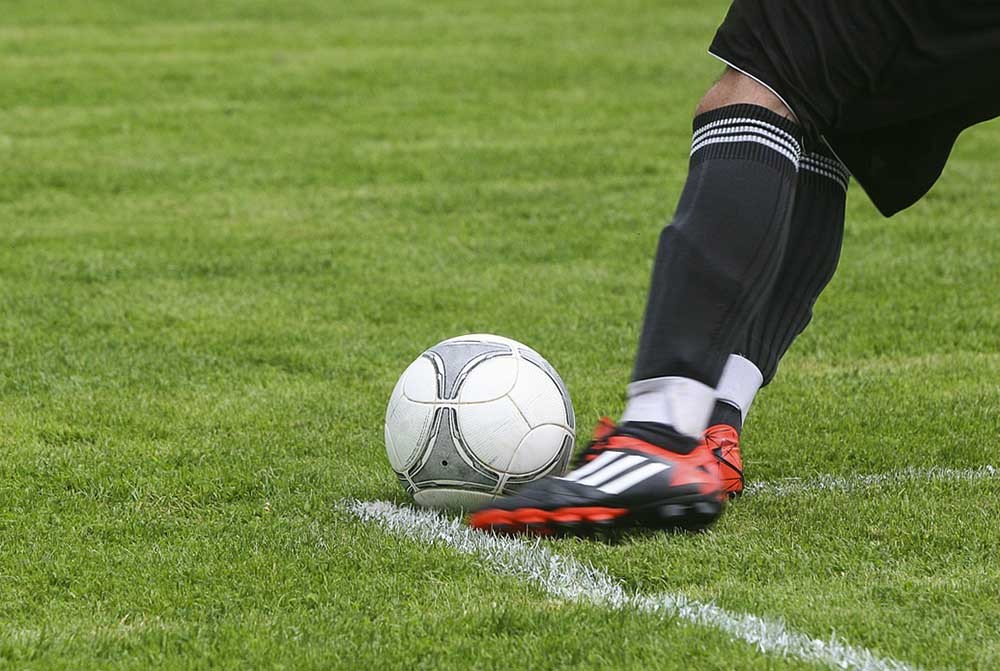 The Clare Herald takes a look back at the weekend soccer action with Oliver Fitzpatrick and Jamsey McConigley
Rineanna Rovers 3-1 Kilkishen Celtic
Rineanna started well in their Kappa Sportswear Clare Cup Round 1 clash with Kilkishen Celtic and created a lot of chances in the opening 20 minutes but couldn't find the net.
As the game went on Kilkishen grew in confidence and started creating chances of their own and got the first goal of the game from a corner that found its way past Ross Dunne at the front post. Although Rineanna were the better team in the first half they found themselves 1-0 down at half time.
The second half started the same as the first half as Rineanna put the pressure on Kilkishen. Efforts from Darren Lindsay and Niall George couldn't find a way past the Kilkishen keeper who was pulling off a lot of good saves.
On 60 minutes Kilkishen caught Rineanna on the break but a great save from Ross Dunne kept the score at 1-0. Rineanna kept creating good chances and finally got their equaliser on 76 minutes when Thomas Reidy found himself one on one with the Kilkishen keeper and finished well into the bottom corner.
On the 80th minute mark Rineanna were awarded a penalty and Darren Lindsay stepped up to slot it home to give Rineanna a deserved 2-1 lead. With only 2 minutes left in the game Rineanna made sure of progressing to the next Round when Paul Butler finished a well taken free kick from the edge of the box.
Rineanna will now face Coole FC in the next round.

Sporting Ennistymon A 4-3 Ennis Town A
By Jamesy McConigley
Duo Liam Keane and Sean McConigley helped Sporting Ennistymon to an important win with a brace of goals while the loss ultimately leaves Ennis Town at the foot of the Maloney Garden Machinery Premier Division with three games to play.
Goals from Keane and Mc Conigley secured that Sporting Ennistymon will feast again at the Clare Premier Division in the 2017/18 season. Coming off the back of a crushing defeat to relegation rivals Bridge Celtic in their last outing, the Ennis side knew that a win was a must in a damp Lahinch. The visitors started the game on the front foot and took an early lead via Shane Daniels. Moments before they hit the front, Ennis Town full back Adrian Walsh was dismissed for dissent towards referee Shane Hayes.
Mid-way through the opening half, Joseph Gallagher could only watch as Shane Daniels free kick flew into the top corner. But as the game grew on, the numerical advantage for Sporting told and on the stroke of half-time, Killian Malone's assisted Sean Mc Conigley who showed composure with a cool finish. The teams were deadlocked at the break but the visitors could feel a bit hard done by.
Ennis Town showed great endeavour and regained the lead just after the restart. Gary Greene latched on to a treaded ball, smashing his effort past Gallagher at his near post. That lead was short lived however with Micheal Duffy was on hand to set up Liam Keane who slotted the ball on his left into the bottom right hand corner. Ennistymon's Mc Conigley and Duffy were a constant menace for the visitors causing Ennis town problems throughout the 90 minutes. Sporting went ahead with 20 minutes remaining on the clock, when Cathal Mc Conigley knocked on a header into the on rushing Liam Keane who chipped the townies netminder.
Ennis Town nearly grabbed an equaliser, Joe Collins hammered his effort goal wards but the man affectionately known as 'the cat' Gallagher pulled off a fine save that would prove to be the catalyst for an attack that would result in Ennistymon's fourth goal. Sean McConigley wrapped it up for Sporting when a beautiful flick on from Liam Keane sent McConigley through to round the keeper and slot it home. Daniels scored late on to make the final minutes nervy for the home side but they held out to compound the woes of the Ennis side who have work to do to survive with three games remaining.
Sporting Ennistymon: Joseph Gallagher; Michael O'Dwyer, Eoin Brennan, Mark Burke; Ciaren Monoghan, Killian Malone, Micheal Duffy, Cathal Mc Conigley, Patrick O'Dwyer; Liam Keane, Sean Mc Conigley
Subs: Jack O'Dea for Eoin Brennan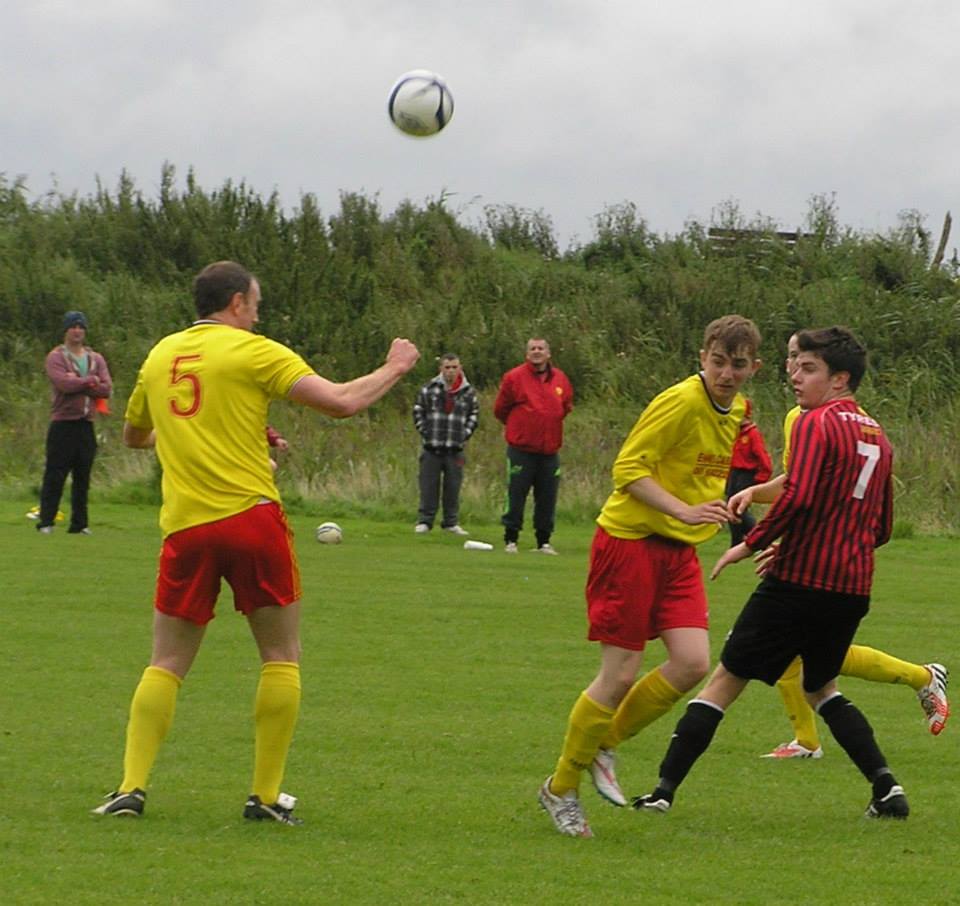 Avenue Utd A 1-1 Shannon Town A
A draw was a fair result in this very competitive game played on Sunday morning at Roslevan.
A point keeps Shannon Town well in the race for the Clare Premier League title with 3 games remaining. There was very little chances in the opening 20 minutes until Colin Scanlon got on the end of through ball. He managed to get his shot off under pressure from Conor Mullen and it rebounded off the bar.
Referee Michael Rock adjudged that he was fouled in the box and awarded a penalty.
Scanlon made no mistake from 12 yards to put the visitors in front. After 35 minutes of play Shannon Town were reduced to 10 men after Fergal McCarthy picked up a second yellow card and red card.
Avenue equalised 5 minutes before half time after good work down the left saw Paddy O'Malley and Colin Smyth combine well to set up Mark Roche for a tap in from 5 yards.
Shannon Town did well in the second half and a string of corners from Chris Lake saw Avenue's defense under pressure. Avenue had a shout for a penalty waved away when Mark Roche was fouled but referee Michael Rock who was in a good position awarded a free kick on the edge of the box.
Minutes later it was 10 v 10 as Jamie Roche was given a straight red for a challenge on Gary O'Connell. The play was getting stretched now as both teams went for it. Avenue looked for a penalty when Mark Roche went down inside the area but again their claims were waved away. The last chance before full time fell to Davy O'Halloran. Ronan Kerin created a break away and found O'Halloran's whose shot went agonisingly over the bar for the home side.
Avenue Utd: Barry Ryan, David Russell, Conor Mullen, Kaylan O'Loughlin, Colin Smyth, Jamie Roche, Paddy O'Malley, Mark Roche, David Herlihy, Shaun O'Flanagan, Ronan Kerin
Subs: Gary Flynn, Davy O'Halloran.
Shannon Town: Darren Whelan, Derek Byrne, Fergal McCarthy, Darren Griffin, Eoin Guinan, Jamie Cullen, Jack Kelly, Evan Glynn, David Cove, Colin Scanlon, Chris Lake
Subs: Aaron Rudd for Cove, Gary O'Connell for Cullen, Evan Barry for Kelly, Robbie Wall for Guinan.