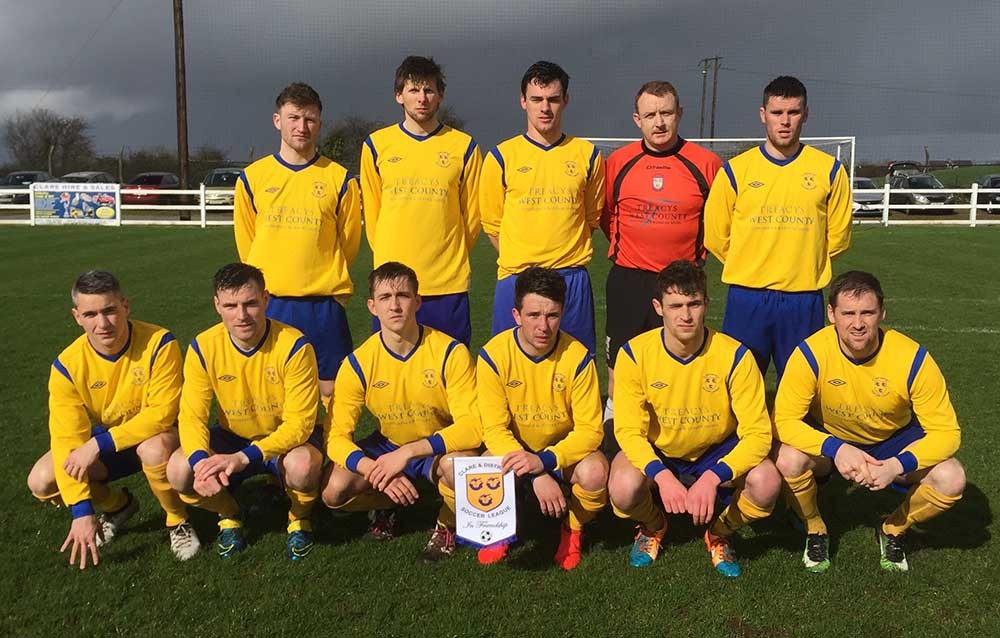 Clare 6 Leinster Senior League 0
Defending Champions Clare turned in a very impressive performance to defeat the Leinster Senior League in the Oscar Traynor Trophy Quarter-Final at Frank Healy Park on Sunday.
In a repeat of last years final where Clare won 5-2, David McCarthy followed up his four goals in 2016 with a hat-trick in this game to help the Banner side advance to the semi-final.
Clare started well and Eoin Hayes went close inside the first minute with a good run and shot that just went the wrong side of the post. Conor Mullen got on the end of a free kick from Eoin Whelan on 3 minutes but his header was saved by Mickey Quinn.
Clare kept the pressure on and David McCarthy went close again on 5 minutes after a good run and shot that went narrowly wide of the left post. The Leinster Senior League had their first attack on 10 minutes when a well delivered cross from Gavin O'Toole was punched away to safety by Barry Ryan. Good play from Clare on 20 minutes saw a cross from Colin Smyth flicked on by McCarthy to Hayes who met it on the volley but his well struck effort went over the crossbar.
Clare went close again on 28 minutes when a cross from Niall Whelan was narrowly missed at the back post by Tommy McKeown. The deadlock was finally broken on 33 minutes when a long throw from Colin Smyth was flicked on by Paddy O'Malley to McCarthy on the edge of the box and McCarthy fired home a spectacular volley to the top corner of the Leinster Senior League net to give Clare a deserved lead. It got better for Clare on 34 minutes when they were awarded a free kick 30 yards from the Leinster Senior League goal.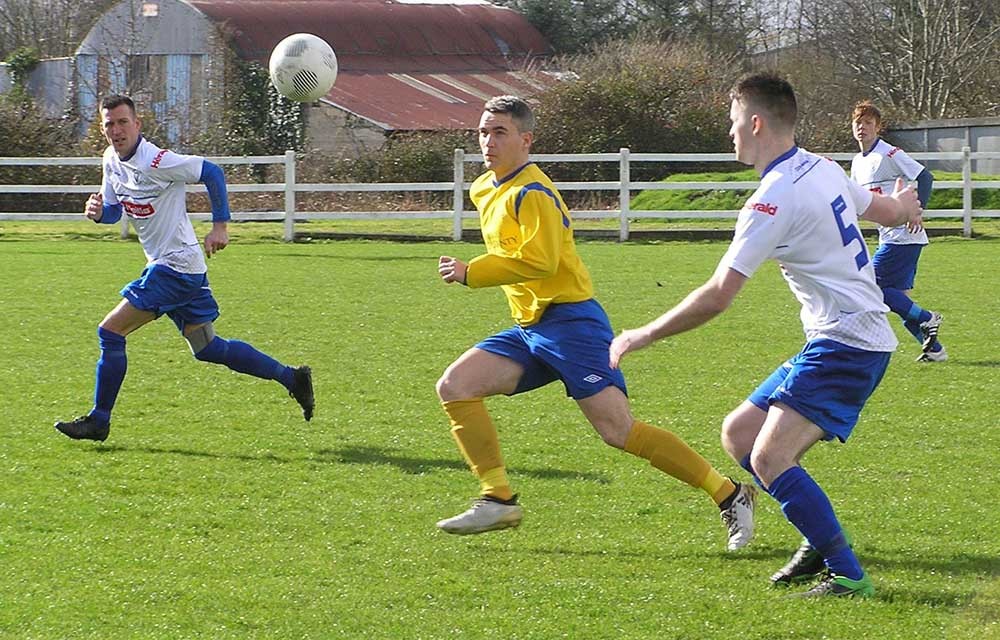 McCarthy brimming with confidence now stepped up and hit an unstoppable effort to the back of the Leinster Senior League net. It was 3-0 to the home side on 43 minutes when Eoin Hayes got on end of well placed through ball from Tommy McKeown and finished well as Quinn advanced off his line. It got even better for Clare right on half time when David McCarthy completed his hat trick with powerful header at the back post from a well delivered corner from Paddy O'Malley.
The Leinster Senior League tried hard early in the second half and had an effort from Nathan Benson rebound off the crossbar on 52 minutes. Any hope of a revival was over on 55 minutes when another well delivered corner from Paddy O'Malley was headed home by Niall Whelan to put Clare 5 goals clear. Tommy McKeown rounded off the scoring for Clare on 60 minutes when he linked up with Eoin Hayes and finished well with a header from just inside the box. Clare continued to dominate the final 30 minutes to see out the victory and can now look forward to the semi-final draw on Tuesday.
Clare: Barry Ryan (Avenue Utd), Colin Smyth (Avenue Utd), Eoin Whelan (Tulla Utd), Eoin O'Brien (Newmarket Celtic), Conor Mullen (Avenue Utd), Colin Ryan (Newmarket Celtic), Tommy McKeown (Tulla Utd), Niall Whelan (Tulla Utd), Eoin Hayes (Newmarket Celtic), David McCarthy (Newmarket Celtic), Paddy O'Malley (Avenue Utd)
Subs: Steve Carroll (Newmarket Celtic) for Smyth, Brian Monaghan (Newmarket Celtic) for O'Malley, Joe Collins (Ennis Town) for McCarthy, Jamie Egan (Shannon Hibs) for Hayes, Kaylan O'Loughlin (Avenue Utd) for Colin Ryan
Subs Not Used: Arek Mamala (Coole FC), Daragh Corry (Tulla Utd)