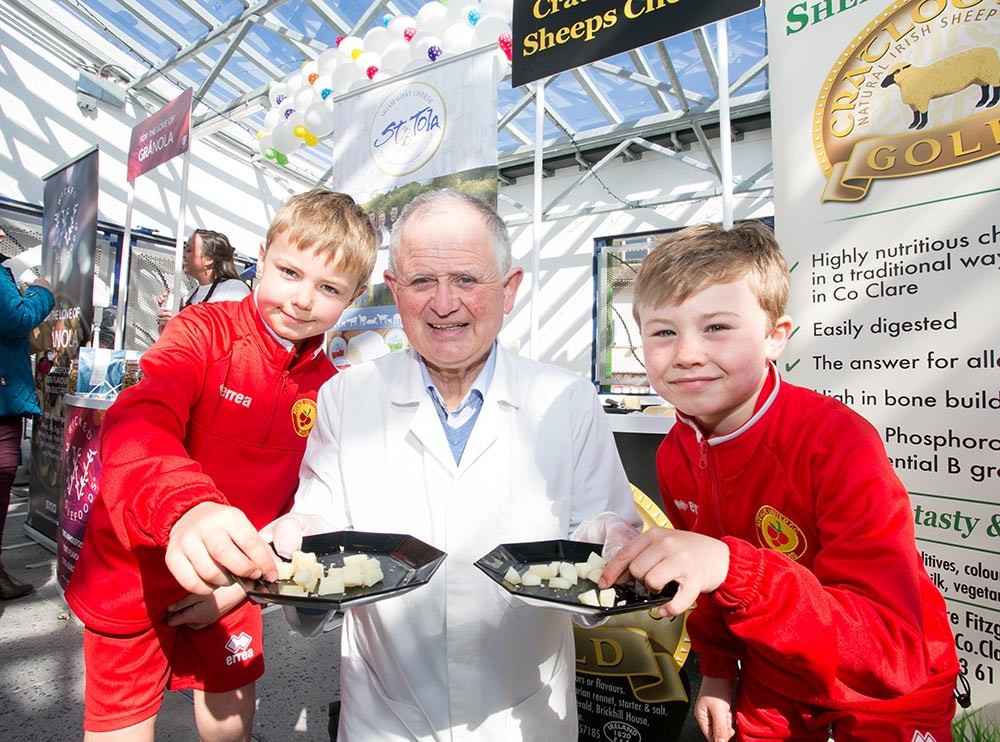 Three Clare food businesses who made pitches to Musgrave Group representatives last month and who have secured shelf space for their products in Supervalu stores will take part in Bia Fest at Ennis Market today (Saturday) from 10.00 a.m. to 1.00 p.m.
Each of the businesses are participants of the Clare Food Academy Start Programme, an initiative of Bord Bia, Supervalu and Local Enterprise Office Clare, which is aimed at nurturing start up food companies and providing them with the opportunity to gain shelf space in Supervalu stores.
The businesses, who join 17 Clare Food Producers who have successfully established themselves in business following their success in this Programme, include Cary's Premium Ice Cream (set up by Cary Languaird, the company produces Premium Dairy Lactose Free Ice Cream made from all natural ingredients and no additives. Ice Cream flavours include Madagascar Vanilla and Belgian Chocolate.), D'Vine Nut Butters (set up by Mercedes Kevill, these handmade organic nut butters are lovingly made on the shores of Lough Derg and are an easy and delicious way of incorporating healthy nuts into your diet. The range includes almond, hazelnut and cashew butters. Mercedes was also a finalist at the local IBYE competition) and Guru Tea House (set up by husband and wife team Thomas and Luiza Kostkova, who are two tea lovers wanting to share their passion for tea, the business provides over 70 unique blends of loose tea varieties).
"We would like to congratulate each of the businesses involved who have been presented with a unique and valuable opportunity to develop their businesses and sales. The participating food companies will also be able to engage with numerous consumers first hand as well as host in-store tastings," said Padraic McElwee, Head of Enterprise, Local Enterprise Office Clare.
Commenting on the Clare Food Academy Start Programme, Mr. McElwee stated: "We were delighted to work with Lahinch-based Food Trainer Carmel Connaire, Bord Bia and Supervalu in providing a consistent level of food marketing knowledge to new and early stage food businesses. The programme was delivered through workshop-style training and supported by Supervalu in guiding businesses from start up to retail listing."
Meanwhile, Bia Fest returns following last month's successful pilot event which featured the produce of local small to medium-sized artisan food producers from across the county.  Local Enterprise Office Clare, which is organising Bia Fest, says the event is being held following the positive feedback received from local food producers and the general public.
Mr.  McElwee said "We were delighted with the response from the local producers and general public to the first event held. It showcased the high quality food produce in Clare as well as the public's interest in connecting with their local producers."
"More than 15 local artisan food producers are expected to participate, including Rathlir Farm, Magic Mayan Chocolate, Wicked Wholefoods, St Tola's Cheese, Martins Mustards and D'Vine Nut Butters. We are hoping for a repeat of the support received from the public last month," added Mr. McElwee.
The Local Enterprise Office Clare, Áras Contae and Chláir, Ennis, Co. Clare, can be contacted on 065-6821616 / localenterprise@clarecoco.ie. Further information on the Clare Food Academy Start Programme is available from www.localenterprise.ie/clare.