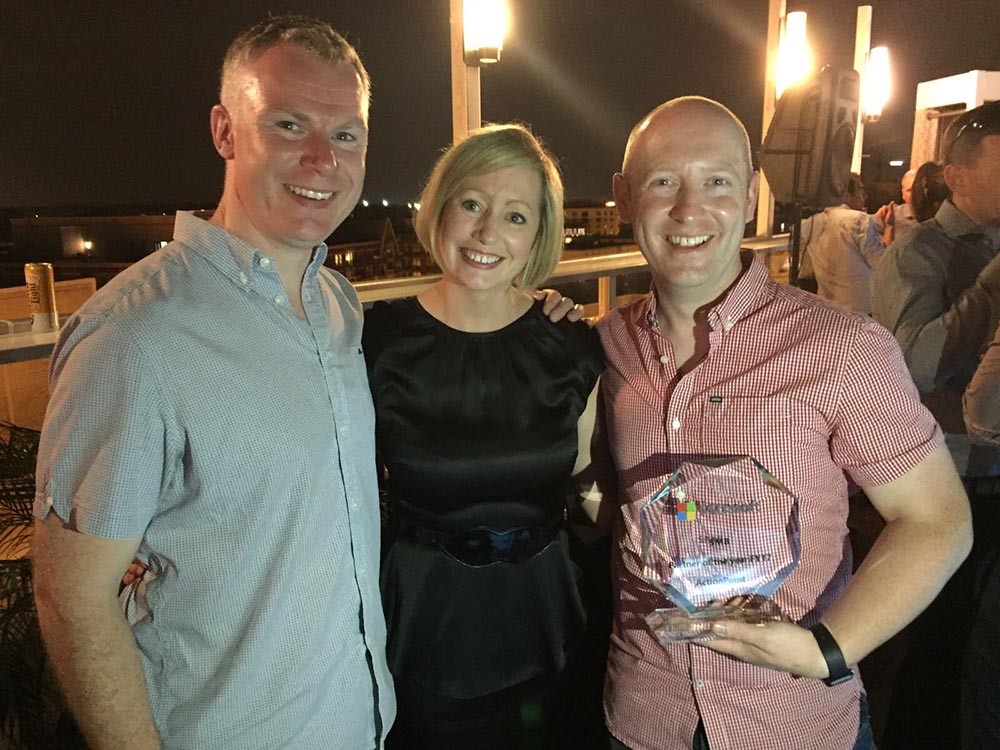 One of the fastest growing indigenous technology companies in Ireland, Action Point, has been chosen as Microsoft's 'SMB Partner of the Year' at the global giant tech company's annual lead gathering of international partners. 
The Limerick headquartered company, with offices also in Dublin, Galway, London and California, has partnered with Microsoft on its Azure and Hololens technologies, most recently with the launch of its Idea Factory software development service for HoloLens.
Action Point, whose co-founder and CEO is Clonlara based David Jeffreys, was selected to address two separate sessions at the Microsoft Inspire global gathering at the Walter E. Washington Conference Centre and used the opportunity to discuss its latest innovation, IoT-Predict, as an example of a solution that is lowering the barriers for IoT implementation. IoT-Predict is an out of the box IoT solution fully operational within 10 minutes.
The company was later named Microsoft's Irish 'SMB Partner of the Year', which is testament, its CTO John Savage said, to the company's laser focus on delivering 'Cloud First' solutions for their customers and further validates Action Point's position as a leader in the delivery of Microsoft technologies including Office 365, EM+S, Azure and Hololens.
Speaking after the event, Mr Jeffreys said, "Microsoft Inspire is one of the most exciting gathering of technology companies annually. Attendees get insights into where Microsoft is going over the coming year as well as network, share best practices and experience the latest cutting edge innovations. This is the third year we have travelled to this event in Washington and to come away with an award for the SMB Partner of the Year in Ireland is very pleasing indeed. We were also invited to meet with Microsoft's Global Leadership team, including Vice President of IoT Device Experience Rodney Clark and Hololens Global Sales Lead Mark Day and gained insights from a partner operating at the cutting-edge of IoT. This all says a lot about the impact Action Point is now having as a business.
"We attended a number of invite-only gatherings at the event and not alone are we quite proud to attend but we also had the honour of being selected to address not just one but two of the Conference workshops. The workshops focused on IoT and Smart Manufacturing, areas that Action Point have developed a strong reputation in. On top of that, we get this award as their top Irish partner.  This all reflects very positively on our progress as a company but also on the ecosystem generally we have in Ireland, one that allows indigenous companies to scale up and impact globally, including with giants of technology like Microsoft."
He continued: "Our goal coming here was to get insight into Microsoft's global strategic direction which enables the company to continue creating best in class solutions for their customers.  This, in turn, will help drive the continued growth of our business and drive job numbers at our bases in Limerick, Dublin, Galway, California and London."
The 'SMB Partner of the Year' award was presented by Aisling Curtis, Commercial Director of Microsoft Ireland.
Action Point's Head of Microsoft Cloud Solutions, Finian Nally said, "We are delighted with this award as it is the result of relentless commitment from an extremely talented team across Ireland and the US. It also recognises Action Point's ability to implement best in class solutions for our customers powered by Microsoft's suite of technologies."