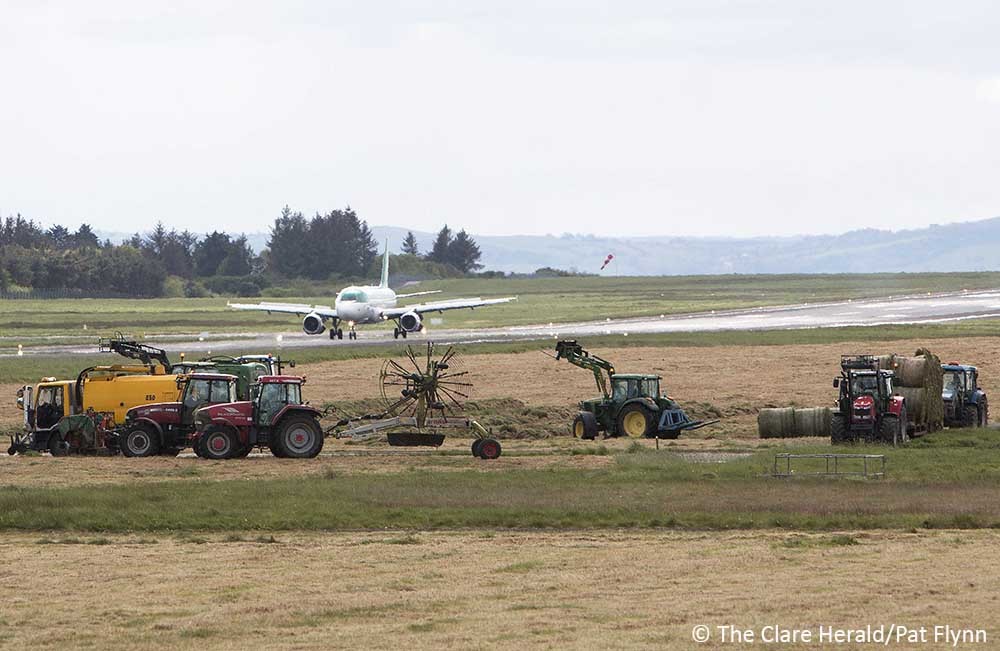 Farmers from Kerry to Tipperary and Clare to Limerick suffering from this years fodder shortage got a well-deserved reprieve this week as they received bales from the 1,200 plus crop harvested at Shannon Airport.
Three days of grass cutting ended on Sunday evening at the airport, with the 1,265 bales despatched throughout the weekend to worst hit farmers across the region.
The silage harvesting began on Friday morning and continued right through to Sunday as the airport acceded to the request from the IFA to allow grass across its 400 acre site to be cut.
Speaking at the end of a busy weekend, Shannon Airport Director of Operations Niall Maloney said:  "It was busy few days but we're used to a lot of activity at the airport this time of year.  What we are not used to is the type of stress that farmers have endured due to the fodder shortage.
"They have been under severe pressure due to the fodder shortage and when we sat down with the local IFA and they confirmed they wanted to avail of our grass again, like in 2013, we had no hesitation.
"Our grass management plan for this year was to do some topping during the summer months, but in the circumstances we threw our plans out the window in order to assist. The farming community is hugely important to this region and are huge supporters of Shannon Airport and we were delighted really to have been able to help them at this time of need."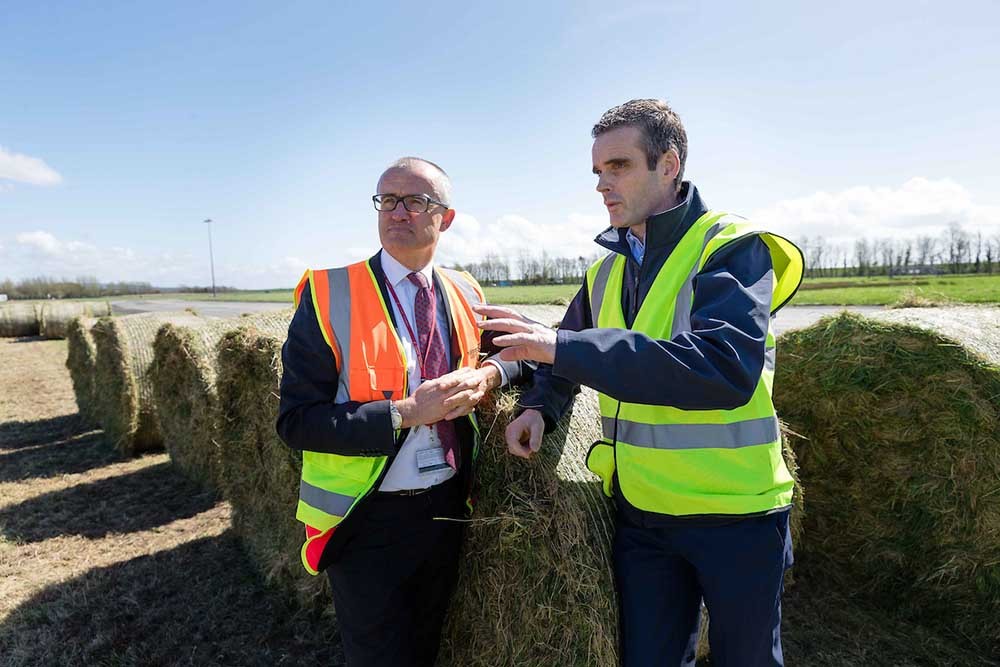 By and large the bales were loaded on articulated lorries at Shannon and delivered to regional locations from where they were divided amongst the worst hit farmers but some local farmers also came directly to the airport to take home bales for their own and neighbours' herds.
Among those to visit Shannon over the weekend was the country's leading farm leader, IFA President Joe Healy who said that the airport's willingness to step in at a time of need will not be forgotten.
"It's great. This puts farmers into good form, when you see the sunshine shining and see the mower working and the baler working and the bales stacked up here because farmers have just endured the worst winter on record.
"Those bales are a godsend and a life saver; the difference between farmers going to bed feeling very stressed and farmers going to be happy knowing that their animals have enough for tonight and tomorrow and next week.
"Normally it's farmers helping farmers but for the likes of Shannon to come in and offer this, it shows the goodwill of Shannon Airport towards the farming community."
Among the farmers who came to collect bales directly from the airport was Joe O'Connell from Parteen, Co. Clare and speaking from the airfield he said:  "This is important because there are people with a lot of damp land around us. It will just carry them over, until we get a fine week and it will ok again.  My son is milking cows and I have sucklers.  We had to put in the cows by night since last September and they've been in since. We had a lot of extra fodder but, with the long winter, we've ran out now and it has cost us a lot of money with feed and meal.
"I've been getting calls this morning about this and will be bringing this load back for my own and neighbours' farms.  There's great credit due to Shannon Airport and the IFA to put all this together to help out the local farmers."