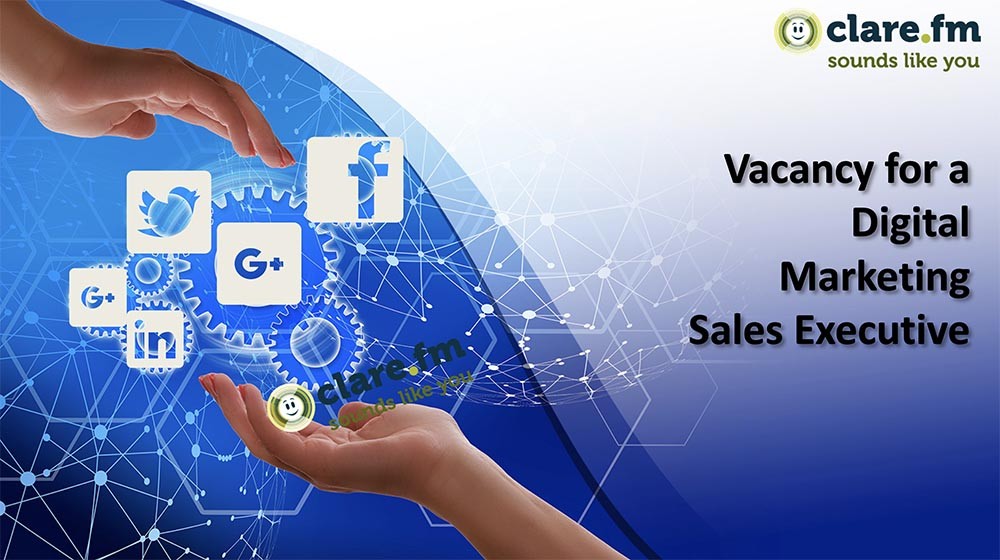 Clare FM is looking to expand its team and currently has a requirement for a Digital Marketing Sales Executive.
The ideal candidate will have a passion for digital marketing and sales. You will be well-versed in the concepts surrounding digital marketing and how the Internet can become a strong asset to securing growing revenue. You will be tech-savvy and intuitive with great ideas to reinforce our marketing campaigns to Clients.
You will be joining a highly respected and award-winning brand where pride and passion are at the heart of everything we do.
Job Specification
Plan and execute all digital marketing, including SEO/SEM, marketing database, email, social media and display advertising campaigns.
Design, build and maintain our social media presence.
Measure and report performance of all digital marketing campaigns, and assess against goals (ROI and KPIs)
Implement campaigns, events, and promotional activities within the Station ensuring process efficiency and effectiveness
Work collaboratively with Sales and Programming Teams to ensure campaigns and events are implemented.
Monitor and report results, analyse and recommend action plans to maximise performance and share results with stakeholders
Establish, deliver and maintain customer relationships.
Requirements
Proven track record within a sales and marketing environment
Excellent knowledge of e-commerce, web design and digital marketing of major benefit
Familiarity with CRM practices along with ability to build productive professional business relationships
Highly motivated and target driven.
Excellent communication and negotiation skills along with  time management and organisational skills
Ability to create and deliver presentations tailored to audience needs
Full, clean driving license.
If you believe you have what it takes, then send your CV with cover letter to hr@clare.fm by Wednesday October 2nd.