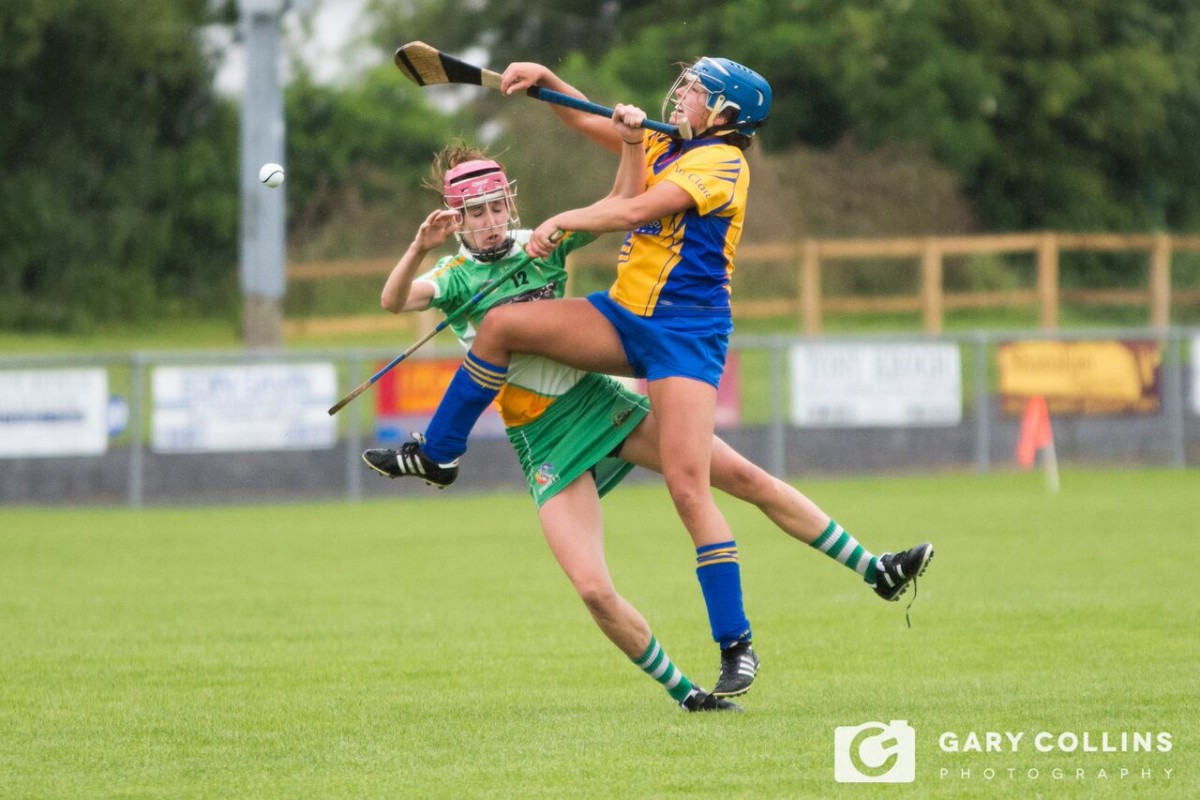 Home advantage counted for nothing as Offaly ruled the roost to collect a shock win in their first group game of the Liberty Insurance All-Ireland camogie series over a poor Clare side.
Offaly 1-16
Clare 1-11
Venue: O'Garney Park, Sixmilerbridge
Expectation was high that now was the time for Clare's senior camogie team to deliver, those who expected anything were left incredibly disappointed and dumfounded leaving Sixmilebridge on Saturday evening. This and more is why it was one of the darkest hours in the history of camogie in the County.
Going into the tie Offaly had never defeated Clare at senior level, in their league meeting earlier this year seven points separated the teams as the Banner were victorious in Corofin so a win for the hosts was the general prediction, Offaly had different ideas and left their s opponents shell-shocked once the ball was thrown-in.
The nature of this championship with five games in as many weeks means momentum is integral to the success of teams. That is why Clare's display is all the more frustrating given that a win would lift the spirits of the squad for the whole campaign. Weather conditions were bad but it didn't deter Offaly whose touch was far superior to their counterparts who committed unforced error after unforced error.
Freetakers Michela Morkan and Chloe Morey traded scores early on before Morkan added two on the bounce. Wolfe Tones' Zoe McInerney responded but placed balls from Siobhan Flannery and Morkan saw Offaly extend their advantage to three points with eight minutes played.
Offaly's workrate was key to the first goal of the game as Chloe Morey was forced under pressure and saw her shot blocked, the resulting break fell to Tina Hannon who left the Clare defence for dead before handpassing past Denise Lynch to completely take the wind out of the home side's sails.
From here it went from bad to worse as the visitors outscored the Banner 7-3 in the remainder of the half. Birr's Arlene Watkins caused a lot of trouble in the Clare half as she hit four points in the final quarter of the half, all of which came from play.
There was some respectability in the display of the Trish O'Grady managed outfit in the second half as they upped their game but not enough to challenge the dominant Midlanders. Frees from Chloe Morey were followed by a point from captain Orlaith Duggan.
It took Offaly fourteen minutes to get off the mark in the second half and their account was opened by Morkan from a placed ball. Aoife Keane and Morkan swapped scores as did Morey and Watkins to leave a gap of nine points with seven minutes remaining. Inagh/Kilnamona's Keane raised another white flag while Morey struck for goal from a free which left a margin of five points at the sounding of Cathal Egan's full-time whistle.
A tactic operated in the opening half by the Adrian Clancy managed victors was to give their full-forward line as much space as possible, this was most effective in a fifteen minute spell that saw a total of 1-05 scored by their inside line. Five points doesn't give a fair reflection to how ahead of their opponents in all aspects of the game they were.
Their workrate over the hour has to be applauded and when it came to winning the breaks they were the victors once more by a clear majority. Arlene Watkins, Siobhan Flannery, Orlaigh Kirwan, Tina Hannon and Marion Crean stood out for Offaly.
Maire McGrath was a big loss in the Clare team but they should be able to cope without the Cratloe native as labelling the Saffron and Blue as a one woman team is only an insult. In her absence very few of her teammates stood up to the mantle. On countless occasions they coughed up possession under little or no pressure and their inability to execute a handpass was very worrying.
Trish O'Grady and her management opted to throw a number of young players into the mix, while they should be applauded for giving youth its chance, the conditions in Sixmilebridge were not suitable for their younger girls and it was a case of throwing them in at the deep end. Only twelve scores were got by the Banner which was the equivalent of the amount of scores got by Michela Morkan and Arlene Watkins alone, three points were amassed by Clare's attackers and this needs to be rectified urgently.
For some reason or another 2015 captain Kate Lynch is no longer part of the Clare panel, experience is needed ahead of a hectic four weeks, for the sake of camogie in the County, the Kilkishen woman must be offered the opportunity to return to the panel. Next up is an away trip to Cork while Offaly host Wexford, a significant improvement is needed from O'Grady's outfit if they're to even compete with the Rebelettes.
Teams:
Offaly; Eleanor Clendennen (Kinnity); Fiona Stephens (Drumcullen), Jean Brady (St Sinchills), Deirdre Cashen (Birr); Aisling Brennan (St Cillians), Siobhan Flannery (St Rynaghs) (0-01 1f), Marion Crean (Shinrone); Christine Cleary (Shinrone), Orlaigh Kirwan (Birr) (0-01); Lorraine Keenan (Kilcormac/Killoughey), Linda Sullivan (St Rynagh's), Michela Morkan (Shinrone) (0-07 6f); Mairead Jennings (Birr), Arlene Watkins (Birr) (0-05), Tina Hannon (Naomh Brid) (1-01). Subs: Cailin Fitzgerald (St Cillians) for Sullivan (48), Grace Teehan (Naomh Brid) for Keenan (51), Gillian Irwin (Birr) for Jennings (57), Sarah Harding (Birr) for Hannon (59).
Clare: Denise Lynch (Kilmaley); Emma O'Connell (Ballyea), Laura McMahon (Newmarket-on-Fergus), Carol O'Leary (Newmarket-on-Fergus); Roisin McMahon (Newmarket-on-Fergus), Chloe Morey (Sixmilebridge) 1-07 1-06f 1'45), Kathleen Horgan (Truagh/Clonlara); Orlaith Duggan (Clooney/Quin) (0-01), Laura Foley (Truagh/Clonlara); Ellen Horgan (Truagh/Clonlara), Niamh O'Dea (Kilmaley), Zoe McInerney (Wolfe Tones) (0-01); Aoife Keane (Inagh/Kilnamona) (0-02), Aoibheann Malone (Corofin), Doireann Murphy (Clarecastle). Subs: Clare Hehir (Inagh/Kilnamona) for L McMahon (HT), Michelle Caulfield (Truagh/Clonlara) for McInerney (47), Eimear Kelly (Truagh/Clonlara) for Murphy (50), Aoife Griffin (Newmarket-on-Fergus) for K Horgan (59), Amy Keating (Inagh/Kilnamona) for E Horgan (59).
Referee: Cathal Egan (Cork)
All photos by Gary Collins