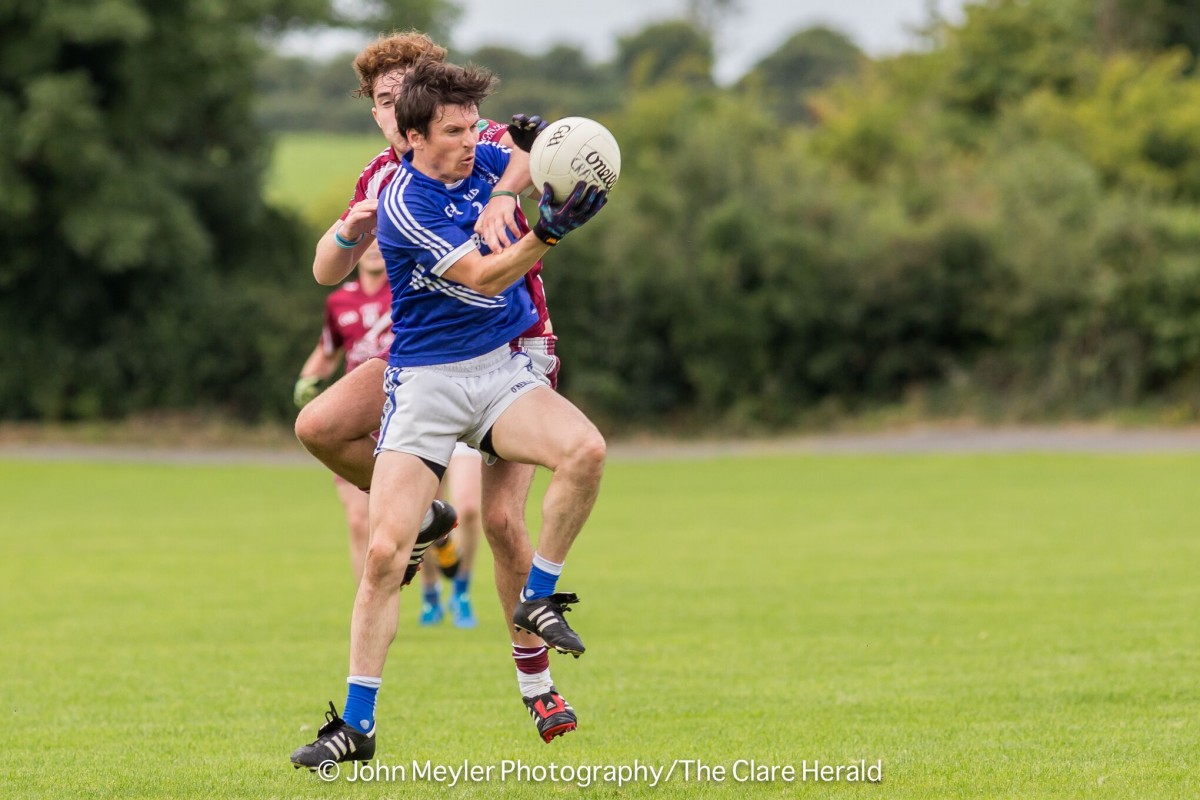 It took extra time but the extra twenty minutes won't bother Cratloe who came back from the dead to seal their place in the final of the Clare SFC.
Cratloe 2-15
St Josephs Miltown 4-05
Venue: Cusack Park
Eleven points down with twenty minutes played it was certainly a case of Cratloe doing it the hard way as they ousted reigning champions Miltown from the race for the Jack Daly in a game that went to extra time.
Miltown got off to a blistering start with four goals inside the opening twenty minutes as they laid down their intentions. However throughout the contest they failed to keep the scoreboard ticking over. It may have been slow and steady from Cratloe who just like the tortoise in Aesop's Fables eventually won the race.
Daragh McDonagh raided the Cratloe defence and struck for goal with eighteen seconds played as some supporters in Cusack Park were still arriving. Conor McGrath and Cathal McInerney got their side out of the blocks to leave a single score between them with four minutes played.
Michael Neylon's men struck another sucker-punch when the Cleary twins combined to rippling effect. A free from Conor bounced over members of the Cratloe defence and fell to Eoin who stuck the ball to the top left corner of Pierce DeLoughrey's goal.
Conor Cleary had a chance to increase the gap but his free went to the left of the goal and wide. The resulting kickout went straight to Aidan McGuane who drew the tackle of some opposing defenders before offloading to Daragh McDonagh and he made no mistake in collecting his second goal.
Eoin Cleary kicked over his first point to increase Miltown's lead. A breakdown in communication between DeLoughrey and Anton McFadden was punished as Kevin Keavey flicked the ball past the pair and into the back of the net for their fourth goal.
Eleven points down with seventeen minutes played Cratloe had an uphill battle to force their way back into proceedings but they kept their opponents scoreless for the remainder of the half as efforts from Sean Collins and Cathal McInerney reduced the deficit to seven points at the sounding of the half-time whistle.
Cathal McInerney and Kevin Keavey traded efforts on the resumption while Eoin Cleary also added to his account with another point. Miltown were reduced to fourteen men with the dismissal of full-back Seanie Malone. Further efforts from McInerney and Conor McGrath narrowed the gap but it was an superbly created goal from Podge Collins that brought Cratloe back to life on the forty sixth minute.
From here Colm Collins' men did enough to send the tie to extra time as McGrath along with Sean and David Collins split the posts. The youngest of the Collins brothers was given his marching orders for a second bookable offence.
Both sides had their full complement of players for extra time with Barry Duggan and Aidan McGuane entering the fray. Cratloe started the better with Conor McGrath goaling on the sixty second minute. Eoin Curtin and Eoin Cleary replied but corner-back Sean Chaplin popped up in unfamiliar territory and made no mistake to leave the South Clare side two points up at the break. All it took was points from Sean Collins and Sean Hynan to seal their win in the second period of additional time.
After such an impressive start it all went wrong for Miltown. They only managed to score five points in eight minutes which is very poor considering their capability. On top of that the 2015 champions were guilty of putting their feet on the brakes after netting their fourth goal. Seanie Malone's dismissal was a blow but it shouldn't have been as damaging.
Eoin Cleary is one of the most lethal forwards in the County yet was starved of possession for the majority of the game, management did try to bring him out the field but it his teammates who failed to provide a regular supply of ball. Gordon Kelly, Enda O'Gorman, Brian Curtin and Eoin Cleary when in possession did best for the West Clare men. They were worthy champions but they must learn from today's failings if they're to return to the summit.
Cratloe are back in the County Final after a year's absence and they've plenty of work to do before the big day. They've yet to produce the performance that's in them but despite playing within themselves the 2014 champions are still getting over the line. They struggled in the opening half and had Miltown pushed on it would have been game over.
When the chips were down it would have been easy for this side to give up but quitting is forbidden in Cratloe. There was an incident between Pierce DeLoughrey and Anton McFadden after the concession of the fourth goal, it was a mix-up in communications that led to the goal but words were exchanged and a push ensued, while it may have shown a team under pressure it also highlighted the high standards the teammates set for each other. In the two weeks leading up to the final their concentration will be split between the two codes but with their high standards this won't be a problem for Colm Collins' men for whom Oige Murphy, Conor McGrath, Sean Collins and Sean Chaplin did best.
#ClareSFC SF (FT/ET) Cratloe 2-15 (21) Miltown 4-5 (17) #GAA Unbelievable comeback. Up there with one of the proudest days. #character

— Cratloe GAA Club (@CratloeGAAClub) September 25, 2016
Cratloe: Pierce DeLoughrey; Sean Chaplin (0-01), Michael Hawes, Anton McFadden; Oige Murphy, Liam Markham, Enda Boyce; John Galvin, Conor Ryan; Podge Collins (1-00), Sean Collins (0-05 2f), Conor Cooney; Cathal McInerney (0-04 4f), Conor McGrath (1-03), David Collins (0-01). Subs: Sean Hynan (0-01) for Cooney (55), Conor Cooney for Boyce (70).
St Josephs Miltown: Sean O'Brien; Gearoid Curtin, Seanie Malone, Enda O'Gorman; Colin Hehir, Brian Curtin, Gordon Kelly, Eoin O'Brien; John Meade, Conor Cleary; Kevin Keavey (1-01), Joe Curtin, Aidan McGuane; Eoin Cleary (1-03 1f), Daragh McDonagh (2-00). Subs: Eoin Curtin (0-01) for Meade (34), Damien Lafferty for J Curtin (43), Graham Kelly for Hehir (45), Sean Malone for McGuane (48), Joe Curtin for Keavey (60), Brendan O'Brien for McGuane (67), John Meade for J Curtin (70), David Talty for G Curtin (79).
Referee: Rory Hickey (Éire Óg).