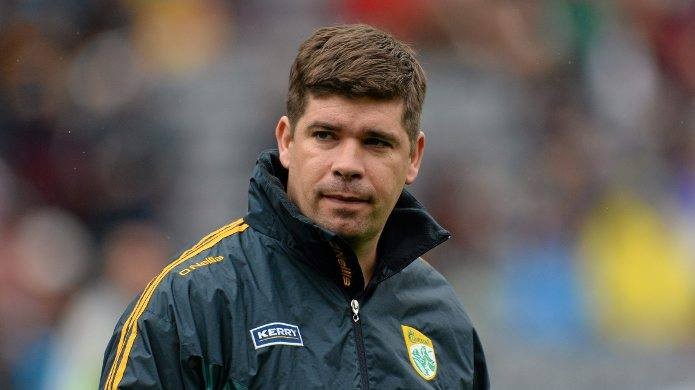 In his four years as manager of the Kerry Senior Footballers, Éamonn Fitzmaurice has yet to taste defeat at the All-Ireland quarter-final stage, this Sunday they take on the challenge of Clare.
Since the pairing was confirmed on Saturday evening there has been widespread comment nationally at the "farcical" structure of the All-Ireland SFC due to the fact that Kerry may reach the last four having played only two opponents; Tipperary and Clare. Fitzmaurice has hit out at these claims and the "disrespect" shown to the Banner County.
"It's very disrespectful to Clare and to Tipperary, particularly with regard to Clare the people are giving out, I think there were words like 'farcical' being used and 'it's a joke and all this kind of thing' because we're playing Clare a second time but Clare are there on merit, they've beaten Laois, they've beaten Sligo, they've beaten a Division 1 team in Roscommon so they've earned their spot in the All-Ireland quarter-finals and we're playing them on merit" he told Radio Kerry.
An All-Ireland winning manager in 2015, the secondary school teacher is adamant Kerry will be punished if they show any signs of complacency. "It's a big game for us, it's an All-Ireland quarter-final, if we can go up to Croke Park and do a professional job and get into an All-Ireland semi-final it's where we want to be so if there's any complacency on our part from a management perspective or from a playing perspective we'll be beaten because Clare are a good team.
He continued "We've put a lot into this year and we'd be very disappointed to allow that to happen at this stage, there won't be, I know from a management point of view there is no complacency because we're treating this challenge very very seriously and the players are the same they're well used to getting tuned into games and they know what championship games especially championship games in Croke Park nothing is going to be handed to you so we're going to be very focused".
His championship career with the Kingdom spanned a decade and Fitzmaurice is expecting a serious challenge from the Colm Collins managed outfit.
"I think people that are giving out about the structures and the way it is and this and that, I think they're not showing Clare any respect for their achievements, like I said they've earned their right to be there, a lot of people seem to place a lot of store in the National League and I think this year of the team's that played in Division 1 only two haven't been beaten by a team from a lower division that's ourselves and Dublin, Clare are there on merit and we know they're going to be a serious challenge".