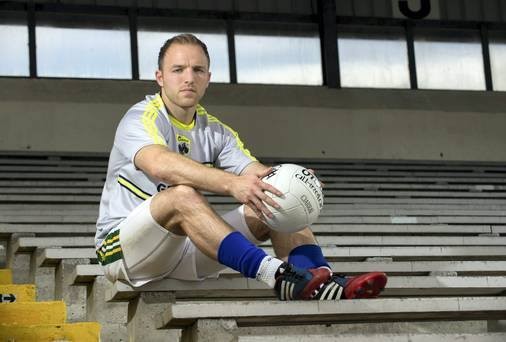 Darran O'Sullivan will line out at corner-forward for the Kerry footballers when they take on Clare in the All-Ireland quarter-final today, he feels the men from the Banner County have proved a lot of people wrong in 2016.
It's the second time the sides will meet in this year's championship which is a flaw in the structure of the competition according to O'Sullivan. "It's not ideal the fact it was only a game or so we played them but that just shows the flaws of the championship and we can't do anything about that".
At the beginning of June, Kerry had a twelve points to spare over Clare in their Munster semi-final tie. The lively attacker doesn't feel complacency will be an issue in their camp. "It's a quarter-final you're in Croke Park and for me this is where the real serious stuff starts and it doesn't matter who you're playing, it's a quarter-final a chance to get to a semi-final and that's what it's about this time of year beating whoever is put in front of you it doesn't matter who it is".
In championship the sides have met three times since 2012. Darran says a visible improvement has been evident in Clare in their recent encounters and believes the whole country is beginning to acknowledge that based on their qualifier run. "Clare have proved a lot of people wrong this year, I suppose we've played them a good bit the last few years and we've actually seen the improvement year on year and I think the rest of the country is starting to see that now".
Although they're unbeaten so far in the 2016 championship, O'Sullivan and his teammates are dissatisfied with their performances to date.
"Obviously there were areas of our game first round of Munster we weren't happy with and there were areas of the game in the Munster Final we weren't happy about so I think every game you go out you're trying to improve that small bit so from a personal and team point of view you don't really focus in on who you're playing, it's about improving every day you go out".
Pointing to the style of play both Clare and Tipperary operate off, the Glenbeigh-Glencar man is of the view that more players will be motivated to try and make the county squad. "If you look at the way Clare and Tipperary are playing their football at the moment younger players in the County must be thinking 'I want to be on that team', they're very much hurling counties but you can imagine the way they're playing football young fellas are looking on forward to push on and try get on those teams".
"Any team can get fit and get strong, I think most teams are doing the strength and conditioning but not every team is trying to play football in a certain way and I just think fair play to Clare and Tipperary and a lot of teams in Munster that's the way they're trying to go about it, obviously everyone is trying to get fit and strong but that's only half the battle I think the football Clare and Tipperary have played up to now has been top quality and they're using their strengths"