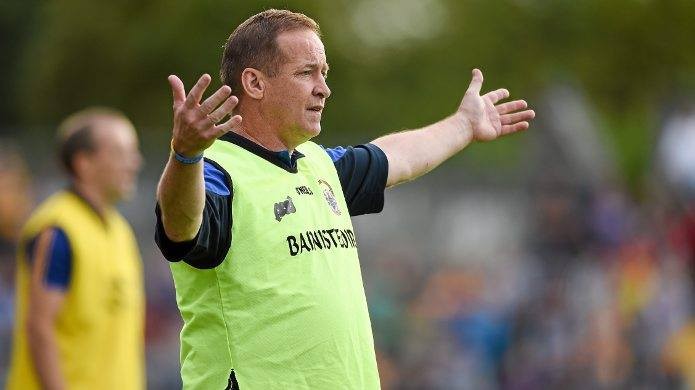 Education comes at a price these days and the sporting world is no different as Colm Collins and the Clare footballers will attest to.
Clare's rise in the football rankings can only improve by facing the top teams, Kerry are one of those outfits and although it is of little consolation their eleven point defeat will stand to them.
Manager Colm Collins says the quarter-final clash shows the level that they must get to. "I think it magnifies the work that we need to do and the level you need to play at. In club football in Clare you can get away with a lot of things which you will not get away with out there and the level the football is played at, the tackling, the strategies all those things they're all education and unfortunately you've to pay for education and we paid for it today".
Three points makes a big difference in this game even more so when you're the outsider. Once Clare conceded Donnchadh Walsh's goal the Banner boss knew the blow would be fatal. "To me getting beaten is getting beaten, a twenty point victory or one point there's still only one team going through to the semi-final and ok we didn't get the goals I still felt while the score could have been a little closer Kerry would have won the match, I didn't think at any stage after they got the goal that we'd trouble them".
"You'd have to say that we didn't play well today we played very poorly I thought today but I suppose you can look at two ways, you can look at your own team or you can look at the quality of the opposition and how well you're allowed to play so we turned over ball today we didn't convert chances sloppy in a lot of ways and in parts some players looked a little dead on their feet for whatever reason. There's no hiding from it the better team won and fair play to them and you're only as good as you're allowed play".
Getting drawn against the Kingdom may have dampened the spirits of the Clare team after recording victories over Laois, Sligo and Roscommon according to Colm. "There's no reason not to have it (energy), obviously when you get beaten the first thing that everybody will come up with is you had to play four weeks in a row, I don't think it was necessarily a factor, these fellas play football that's what they do they love playing football and they love the light training sessions between games so I don't know, there was a big high after beating Roscommon I don't know was there a bit of a downer when it was discovered that it was Kerry we were playing".
He's not using it as an excuse but Collins is envious of the four week break Éamonn Fitzmaurice and his Kerry charges had to work on for various aspects of their game. He feels Kerry have improved since the sides met in Munster but is confident Clare will work on what they need to over the winter.
"They've put a lot of work into it, there's two sides to it. One is they've had no serious match and the other is you've a lot of time to prepare and do the nitty gritty and it's hard to keep players focused doing that stuff but it's nice to get the time to do it and you'd say the run we were on the only little criticism you'd have of it, a lot of the little stuff that you'd love to get time to correct we didn't get time to correct but we've plenty of time now".