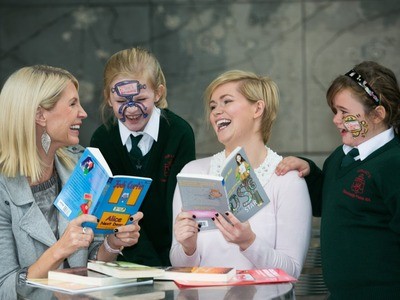 "Thank you for reading" is the message from Multiple Sclerosis Ireland to all the young readers in County Clare who took part in the MS Readathon last year, raising funds to help local people suffering from the disease.
MS Ireland also extended thanks to the families, schools, teachers and principals who supported them. Last year young readers in County Clare joined more than 15,000 others across Ireland in the MS Readathon which is now in its twenty ninth year. The 2016 campaign will open for sign up in September ahead of the reading month, which will run from October 7th until November 7th 2016.
While the world is marking 100 years since the birth of Roald Dahl, MS Readathon remembers when the great children's author honoured young readers in Ireland to launch the very first MS Readathon. Heading towards 30 years, MS Readathon is a hugely supported campaign that encourages reading and at the same time, raises funds for vital services. To increase awareness about Multiple Sclerosis for young readers, MS schools ambassadors were introduced. This saw people living with MS visit their local schools and talk about the complexity of the condition and the nature of relapses, or attacks when symptoms flare up.
The theme for the 29th MS Readathon is all about adventure with a burst of reading 'helping children to live a zillion adventures in a month'. Irish authors supporting MS Readathon each year highlight these adventures:
MS Readathon is supported every year by Ireland's authors and illustrators including Sarah Webb, Cecelia Ahern, Oisin McGann, Nicola Pierce, Judi Curtin, Alan Early, Matthew Griffin, Sheila O'Flanagan, Claudia Carroll, Marisa Mackle, and Pauline McLynn.
An estimated 9,000 people have MS in Ireland, with thousands more family members affected. Multiple sclerosis is a chronic, often disabling disease, the most common disabling neurological condition affecting young adults in Ireland. MS is usually diagnosed between the ages of 20 and 40. There is no known cause or cure for MS.
Ava Battles, Chief Executive of MS Ireland, congratulating young readers in County Clare commented: "MS Readathon is the key annual fundraising campaign of Multiple Sclerosis Ireland, the only national services, information and advocacy organisation supporting people with MS and their families. We are very grateful for the dedication of young readers, their schools and local libraries to this campaign. Funds raised support vital services, for example the MS Ireland Information Line, enabling one-to-one support for those newly diagnosed, physiotherapy and exercise classes to help stay independent, and respite care."
Young readers can get their reading lists ready by checking the 2016 lists on www.msreadathon.ie featuring great books for kids from the new to the classics.
For participating schools around the country, the 29th MS Readathon will provide:
Information leaflets, stickers and posters for each class
A reading certificate for each participant
Many fantastic rewards and prize draws
Up to 10 per cent of funds raised by each participating school may go towards the individual school