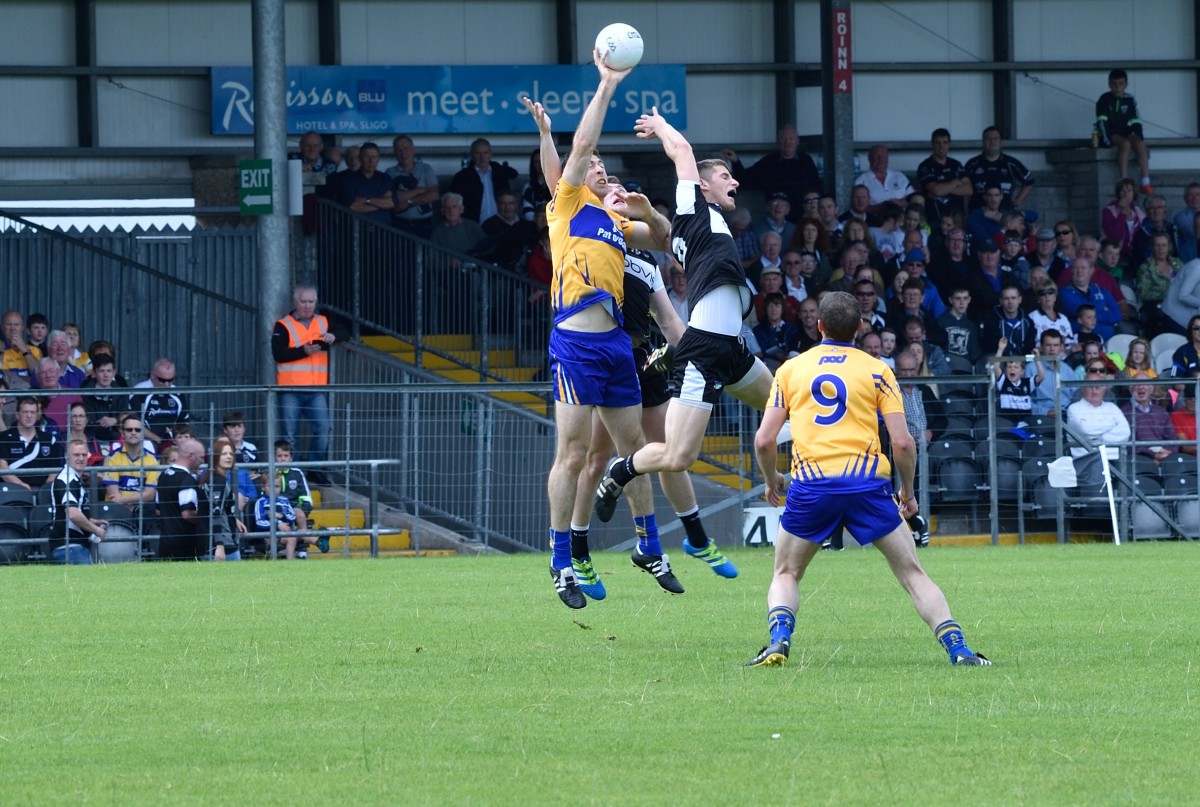 Clare Senior Football captain Gary Brennan has been nominated for an All-Star.
After a memorable season in which the County competed in its first ever All-Ireland quarter-final in the Senior Football Championship, Brennan has been rewarded for some stunning performances with a place in the forty five man shortlist.
He is the first footballer from the County to receive a nomination since 2000 when Frankie Griffin was in the running. Three years previous Griffin along with Lissycasey's Martin Daly were nominated. Seamus Clancy stands alone as the only footballer from Clare to be chosen as an All-Star, he was awarded the accolade in 1992.
Gary is up for one of two midfield positions, other players in the mix include Dublin's Brian Fenton, Peter Acheson of Tipperary, Galway's Paul Conroy plus Tyrone duo Matthew Donnelly and Colm Cavanagh.
Clondegad man Brennan lined out for Ireland in the International Rules in November 2015. His displays this year in particular his showing against Roscommon earned rapturous praise from spectators and pundits alike.
Dublin duo Ciaran Kilkenny and Brian Fenton are possible recipients of the Player of the Year award, Mayo defender Lee Keegan is also in contention. Tipperary pair Josh Keane and Jimmy Feehan are up against Mayo's Diarmuid O'Connor for Young Player of the Year.
NOMINEES
Goalkeepers
1. Evan Comerford (Tipperary)
2. Stephen Cluxton (Dublin)
3. David Clarke (Mayo)
Defenders
1. Jonny Cooper (Dublin)
2. Brendan Harrison (Mayo)
3. Keith Higgins (Mayo)
4. Cian O'Sullivan (Dublin)
5. Lee Keegan (Mayo)
6. Colm Boyle (Mayo)
7. Philly McMahon (Dublin)
8. Ryan McHugh (Donegal)
9. Cathal McCarron (Tyrone)
10. John Small (Dublin)
11. Patrick Durcan (Mayo)
12. Shane Enright (Kerry)
13. Declan Kyne (Galway)
14. James McCarthy (Dublin)
15. Kevin McLoughlin (Mayo)
16. Paddy McGrath (Donegal)
17. Robbie Kiely (Tipperary)
18. Killian Young (Kerry)
Midfielders
1. Brian Fenton (Dublin)
2. Peter Acheson (Tipperary)
3. Matthew Donnelly (Tyrone)
4. Gary Brennan (Clare)
5. Paul Conroy (Galway)
6. Colm Cavanagh (Tyrone)
Forwards
1. Ciarán Kilkenny (Dublin)
2. Diarmuid Connolly (Dublin)
3. Dean Rock (Dublin)
4. Kevin McManamon (Dublin)
5. Paul Geaney (Kerry)
6. Michael Quinlivan (Tipperary)
7. Andy Moran (Mayo)
8. Conor Sweeney (Tipperary)
9. Aidan O'Shea (Mayo)
10. Paul Murphy (Kerry)
11. Cillian O'Connor (Mayo)
12. Damien Comer (Galway)
13. Diarmuid O'Connor (Mayo)
14. Peter Harte (Tyrone)
15. Danny Cummins (Galway)
16. Patrick McBrearty (Donegal)
17. Seán Cavanagh (Tyrone)
18. Niall Sludden (Tyrone)