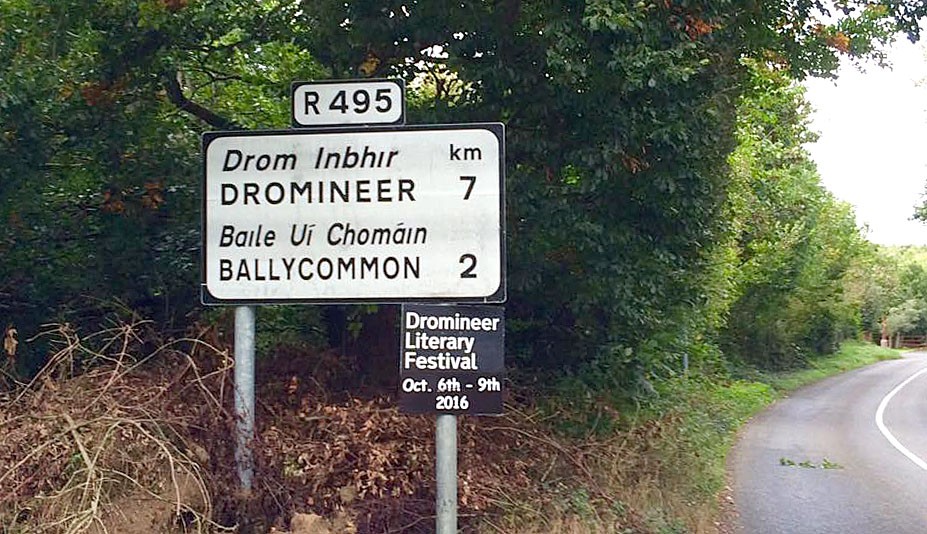 The annual Dromineer Literary Festival will take place on this weekend (October 6th – 9th).
From its inaugural festival in November 2004, the Festival has grown into a much loved and warmly anticipated event on the autumn literary calendar.
The 2016 programme reflects the diverse and rich talent in today's international literary scene. Our visiting artists include: Fiction Laureate and Booker Prize winner, Anne Enright; a highly regarded poet and whom many consider the inheritor of Heaney's legacy, Northern Irish poet Colette Bryce; from Chicago, poet Don Share, editor of the oldest extant poetry journal in English, Poetry; and of course in the centenary of 1916 we consider events from a woman's perspective with Marita Conlon McKenna and her warmly received novel Rebel Sisters.
The first event of the festival, October 6, is the highly acclaimed Sweet Fire – The Joni Mitchell Project. We will hear the very best of Mitchell's songs translated into Irish and performed by singer Caitríona O'Leary and her band, with the addition of stunning screen projections of the lyrics, created by Margaret Lonergan.
We are excited and honoured to have internationally acclaimed poets Don Share, Colette Bryce and Robert Peake read at our Poetry Evening at Dún Mhuire house, Nenagh, Friday, October 7. This event is a must for poets and poetry readers alike.
A key philosophy of the Dromineer Literary Festival is to celebrate the creativity of emerging writers. This year, Clodagh Beresford Dunne, recipient of the Arts Council Emerging Writer Bursary, will open the poetry evening with three poems from her manuscript in progress.
In what promises to be an extraordinary evening of discussions and readings, multi-award winning authors Anne Enright, Anthony Glavin and Aideen Henry will talk about their writing with RTÉ's Rick O'Shea, at our Meet the Authors event, Saturday evening, October 8 at St. Mary's Church of Ireland, Nenagh.
On Saturday afternoon in Lough Derg Yacht Club poet Don Share will introduce The Launching Party; readings by three poets who launched poetry books this year: Catherine Ann Cullen, Mark Fiddes and Eleanor Hooker, all thrilled to be invited to read at the festival.
The award-winning writer and editor Kathy D'Arcy is hosting our Transition Year writing workshops this year. Kathy will introduce the group to a valuable approach to writing techniques as well as inspire and enthuse the participants towards future writing.
Competitions encourage new writing, and we have had some worthy winners over the years including Danielle McLaughlin, a participating author this year. Our secretary, Debbie Powell tells us that entries this year came from, Ireland, UK, India, Australia, USA, Germany and Canada.
Prize-winning short stories and poetry may be enjoyed at the awards ceremony on Saturday afternoon at Lough Derg Yacht Club. This year our judges are Colette Bryce for poetry, and Anthony Glavin for flash fiction. Poet and author Geraldine Mitchell is judge of the Primary Schools Competition. This is a very popular event, so be sure to come early for a good seat.
On Sunday afternoon, October 9, Marita Conlon McKenna will talk about her novel Rebel Sisters, based on the real life Gifford sisters – Muriel, Grace, and Nellie, three young women at the heart of the 1916 Rising. This event will take place in the highly atmospheric and recently restored Nenagh Castle. The organisers advise that attendees dress warmly for this event and that this venue has no wheelchair access.
"For the highly popular Afloat event on Lough Derg, we are delighted to have the two talented award winning short story writers Danielle McLaughlin and Órfhlaith Foyle, who will select their favourite short story by the other and provide a critique for the audience," said Eleanor Hooker.
"Our festival exhibition, Forgotten Time, is by Limerick based artist, Robert Ryan. Lough Gur is a source of inspiration for Ryan's evocative, otherworldly paintings, which will be available to view and purchase upstairs in Lough Derg Yacht Club throughout the festival weekend," Ms Hooker added.
Event venues this year include – with its breathtaking backdrop, daytime events will be held in Lough Derg Yacht Club, Dromineer as well as afloat on Lough Derg and in the historic Nenagh Castle. Dún Mhuire (note, stairs access only) on Pearse St. and St. Mary's Church of Ireland, Nenagh will provide a warm environment for our evening programme. For bookings please email info@dromineerliteraryfestival.ie or book online on our website www.dromineerliteraryfestival.ie or call our booking line 086 4401613