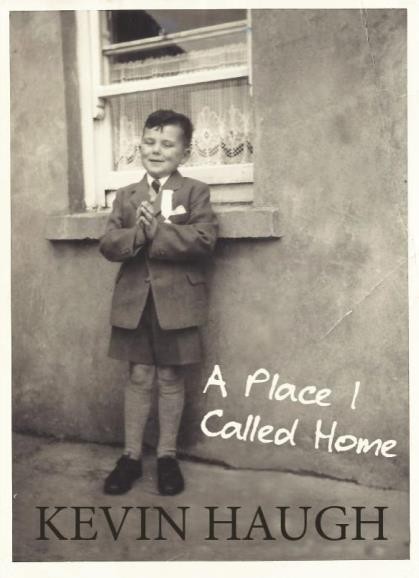 Sally Vince, The Clare Herald's resident book reviewer looks at books about Clare or by a Clare-based author. This time Sally reviews A Place I Called Home by Kevin Haugh.
'A Place I Called Home is a memoir by Kevin Haugh of his childhood in the Loop Head Peninsula from the late 1950s to the mid-1970s. It encapsulates how many of the social norms of that time, religion and immigration had an impact on both his and the lives of the wider community. He shares a treasury of memories and tales handed down to him by the older generation together with some salient nuggets of local history, social life and work on the land.
'Kevin's affinity with his native place and its people is encapsulated in his own words: "The beauty of the landscape and the power of the sea in the Loop Head Peninsula are to be found in the souls of the people there."
Kevin Haugh was born in 1954 and lived on the family farm in Lisheencrony on the Loop Head Peninsula until he was a young man in the 1970s. He and his siblings were the eighth generation to live on the farm and he can trace his family roots on the land back to 1690. Kevin now lives in Co Limerick, but his brother still farms the home place.
This is a story that will have many familiar elements to anyone growing up in rural Ireland in the fifties, sixties and seventies. That familiarity will be a nostalgic read for those with a similar upbringing, but this book is so much more than a cosy trip down memory lane. It will interest social, rural, GAA and education historians as well as anyone – Clare-based or otherwise – who enjoys reading memoir.
Rather than being in strict chronological order, the book is split into twenty-three chapters, each dealing with a theme, starting with a short overview of the family from the 1650s and ending with the time-scale of the book set in a world perspective. There are, for example, chapters on religion, threshing days, school days and social life.
Personal anecdotes reflect the life of many in rural Ireland. In days of no TV, the radio was of immense importance, neighbours visited each other and the local dances were the social highlight.
Before widespread mechanisation of farming, horses were vital for helping with farm work, and neighbours joined together for the meitheal to get the harvest in. Turf cutting was an annual job to make sure there was fuel to heat the house in the winter, and older children went into school early to light the fire to keep the classroom warm, using turf parents had donated.
Each chapter is very readable and is written with humour and warmth. Kevin looks back on his early life with appreciation and affection. He clearly has huge respect and love for his parents, siblings and friends.
There are a number of black and white photographs, not only personal ones but also of the locality (from Loop Head to Kilkee and Kilrush) and artefacts from the Museum of Irish Rural Life in Kilrush. Kevin also includes quotes, songs and poems, as well as some local folklore.
I very much enjoyed this book and recommend it to anyone with an interest in Ireland's past.
Available from:
Kilbaha Gallery, Kilbaha
Ennis Book Shop and other local outlets
Kenny's, Galway (with worldwide free shipping)
Find the author:
Facebook
Listen to a talk by Kevin Haugh based on A Place I Called Home given to the Kilkee Civic Trust in July 2016.
Kevin Haugh has also written An Imperfect Storm, an account of his journey with cancer, available from the Ennis Book Shop and other local outlets.
If you are a Clare author or have written a book about Clare that you would like to see reviewed on The Clare Herald, contact news@clareherald.com.