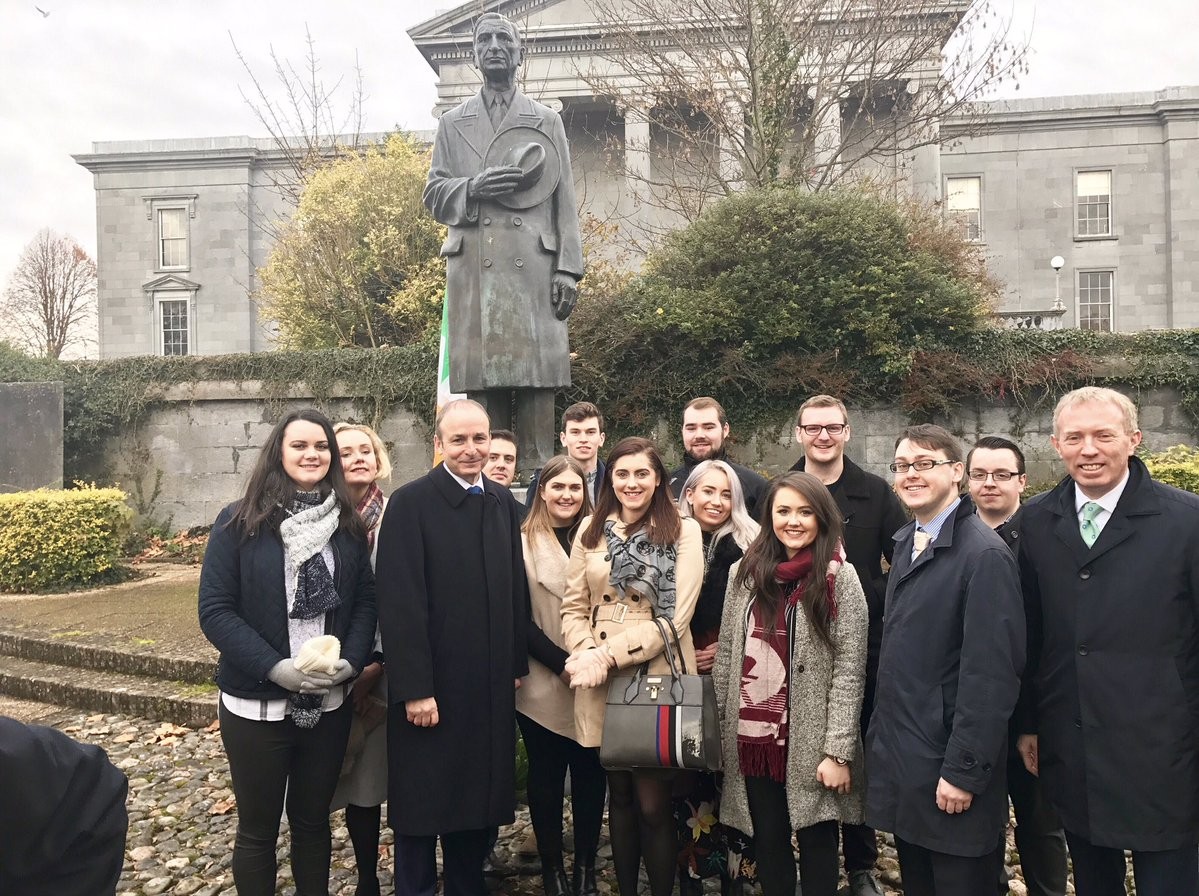 Tributes were paid to the legacy of Éamon de Valera at a special commemoration in Ennis this weekend.
Ireland's third President and former Taoiseach de Valera is the founder of Fianna Fáil was honoured by speakers at a commemoration which took place in Co Clare this weekend. Members of the Fianna Fáil party were in attendance at the event.
Fianna Fáil leader Micheál Martin spoke at length of the contribution de Valera had on Irish life and politics. "In this year when we have marked the centenary of the Easter Rising it is right that we gather here to honour a man who was not only a leader in that rising but who also helped lead our country for many years afterwards" Martin began.
"Eamon de Valera was a great Irishman who we should remember with pride and gratitude. He was a statesman who helped us to win our freedom and to build a state on the values of democratic republicanism. Like all humans he had his flaws, but the scale of his positive achievements are profound by any measure.
"De Valera did not have the benefit of wealth or status as a young man. What he had was much more important – an inquiring mind and a belief in the cause of his country's welfare. He was part of a great generation which was responsible for a national renaissance which was an inspiration to many throughout the world. Eamon de Valera could have chosen a route of quiet comfort, teaching mathematics and exploring our complex history and culture. Instead he chose a life of action, showing great bravery and absolute commitment".
He added of the former Clare TD "Through our revolutionary war de Valera was a leader without equal in the support he commanded at home and the respect he earned abroad. He was much more than a figurehead, he was a powerful and successful spokesman for Irish republicanism. Few historical figures have been subject to the scale of biased misrepresentation directed towards his motivation and actions after the truce. The facts show that he first sought to avoid conflict and then sought to end it.
"De Valera's was a forward-looking republicanism. He was not seeking to endlessly replay the past or to give past generations a veto over the means or objectives of republicanism. He was a practical patriot and he saw a country whose government showed no interest in tackling deep social and economic problems. New circumstances demanded a new approach and that is what they delivered.
"No one has matched the dynamism and radicalism of de Valera's early governments. This was a time of the Great Depression. Massive conflicts and sinister authoritarian regimes were found in much of the world. It was a moment of grotesque intolerance and crimes unequalled in world history.
"While the economy has been growing it faces serious threats which cannot be ignored .Tackling the plight of homelessness has to be the country's priority. We must also begin tackling the impact of the rising cost of living on far too many families.
"The escalating cost of insurance is a scandal and is causing real damage. Many people have no choice but to accept outrageous prices which have no clear justification. No doubt legal costs and awards are a problem – and there is no credible justification for why they are so much higher than in other countries. However this does not explain the scale of the increases which are up to 40% and why insurance prices here are now so much more expensive than elsewhere.
"It's time to intervene, to use whatever powers are required to obtain all of the financial information of our insurance market. If there is evidence of cartel behaviour then we must act. If the excuses are genuine then let's act to impose reduced costs and limit clearly excessive awards. What we can't allow is more of the same.
"When Eamon de Valera began the drafting of Bunreacht na hÉireann he sketched out the main provisions and handed them to officials. By any measure it was the sign of a great and thoughtful mind and a clear vision. One of these provisions was that we should protect the independence of the judiciary and ensure respect for the law.
"Through nearly 80 years this constitutional provision has delivered us a system of checks and balances which has worked. On countless occasions the judiciary has been willing to defy government. Equally it has been willing to stand for rights in the face of public indifference or opposition" the Cork TD stated.