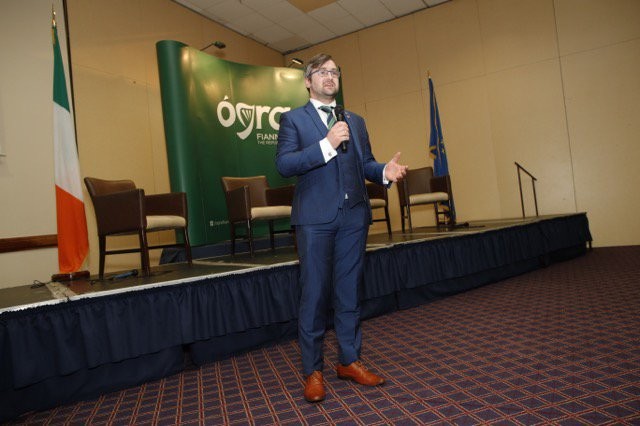 Ballyea man Eoin Neylon has stepped down as President of Ógra Fianna Fáil after serving two years in the role.
A desire to focus on his own personal life along with the fact that Neylon is approaching the age limit for the political youth movement were reasons for his departure. He stepped down last weekend.
Eoin told The Clare Herald "It had come to the point after two years in the role and quickly approaching the age limit of Ógra, I turn thirty one in May and the upper age limit is thirty, time has come to step away from it and hand over the reigns to someone else.
"I thoroughly enjoyed the time I was in there, two years of quiet hard work, an eventful two years between referenda and general elections so plenty to keep me on my toes. I was happy with the work that was done, set out to achieve certain goals and I achieved most of them not all of them. It came to the point after two years of running around the country that it was time for someone else to take up the mantle".
During his time as President, Neylon refers to the same sex marriage referendum as his greatest highlight. "Personally I have to go back to May of last year and the run up to the marriage referendum. It was one place in particular where I though Ógra really stood up to the plate in canvassing and campaigning, everywhere I went around the country there was an Ógra team around knocking on doors, leafleting town centres. It really showed the power of campaigning that exists within Ógra so much so that Micheál Martin himself in media interviews afterwards paid special tribute on several occasions to the work Ógra had done during the campaign".
"That was the most enriching experiences in my twelve years in politics, the whole campaign and positivity of it, more so than anything the huge youth activism that is spurned on and hopefully that's something the next generation can hold on to and keep going through for the next few years and on into the future, that was evident in the general election gone by, there were new activists all over the country so much so that every single candidate I visited throughout the campaign had several Ógra members as key parts of their team and that just goes to show the huge high regard Ógra was held in by the party".
On top of his commitment as President he balanced his occupation as a structural engineer. "After two years of working two full time jobs almost it does wear you down after a while. I did it for the love of it more than anything, politics is always something in the back of my head that I had a passion for so to get an opportunity to lead the largest youth political movement on the island of Ireland was something I wasn't going to turn down very lightly and was made work for it by some other candidates I ran against for the competition who held me to account and made sure I did the job right.
"It's definitely a job I loved doing but after a couple of years of basically very little sleep and a lot of work the time has come to concentrate on my own career and give the engineering my full focus for the next time being. I'm at that age at thirty that settling down and looking towards my own personal life that has to take precedence for a bit rather than all the voluntary roles I have. I'll still stay somehow but not to the same level for the immediate future".
He contested the Seanad elections earlier on this year but was unsuccessful in this campaign. Eoin does hope to stay involved in politics on a lighter scale and for now he has no intentions of contesting the next local elections for a seat on Clare County Council.
"At the moment it's not in my mind's eye, I wouldn't be rushing into it as I say my own personal life I'm at a juncture there and I think that requires my focus my own engineering career in particular, at this stage I've been putting off doing my engineering chartership for the last three years because I simply didn't have the time so it is coming to a point that I have to make a decision for the short term anyway and for the short term I'm going to focus on my engineering career and my own life. It's something down the line that I might revisit but at the moment anyway I'm going to give it a skip this time".
Big change in 10 years! Addressing conference 1st & last time. Great way to sign off from @OgraFiannaFail at #FFNYC16 last weekend! pic.twitter.com/xDRekkMOLm

— Eoin Neylon (@eoinneylon) November 9, 2016