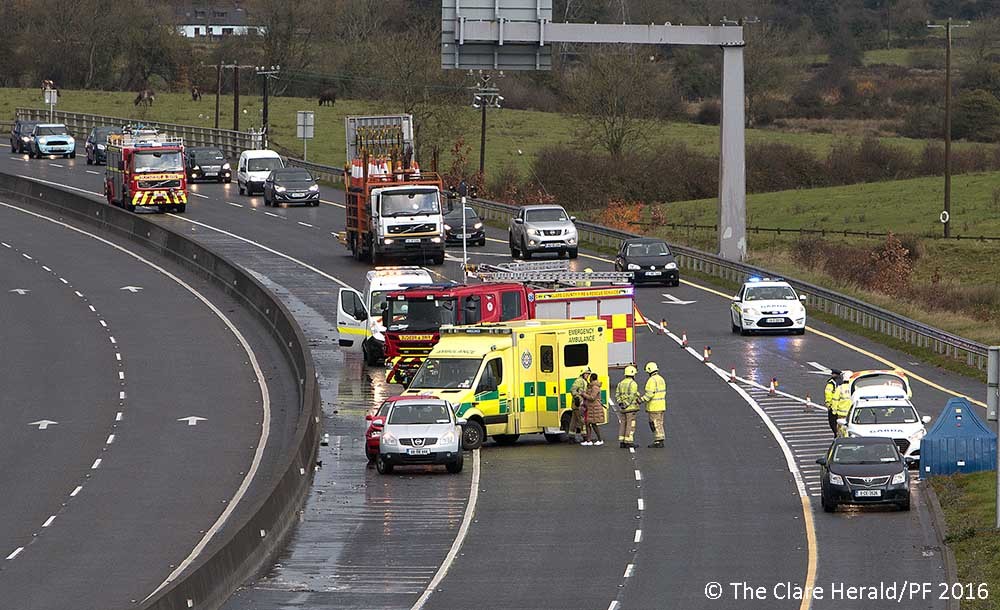 The poor weather conditions continue to catch motorists by surprise on the M18 motorway with another collision taking place this morning.
The latest accident happened at Junction 11 (Dromoland) in the southbound lanes of the motorway at around 9.20am.
Three units of the fire brigade from Ennis as well as an ambulance and rapid response advanced paramedic unit responded to the incident. Several garda units were also sent to the scene.
Two cars were involved in the collision which occurred in the overtaking lane. Both drivers were assessed at the scene but were found to be uninjured.
Traffic was held up for a time before vehicles were escorted by gardaí along the off-ramp in order to avoid the scene.
Yesterday, two people were injured following separate collisions that occurred at the same time and in the same area of the M18 near Crusheen. The first two-vehicle collision happened in the southbound land and soon afterwards, two other cars last control on the other side of the motorway.
Gardaí have warned motorists to driver with care and to take conditions into account.
Several other collisions have been reported around the country since yesterday.