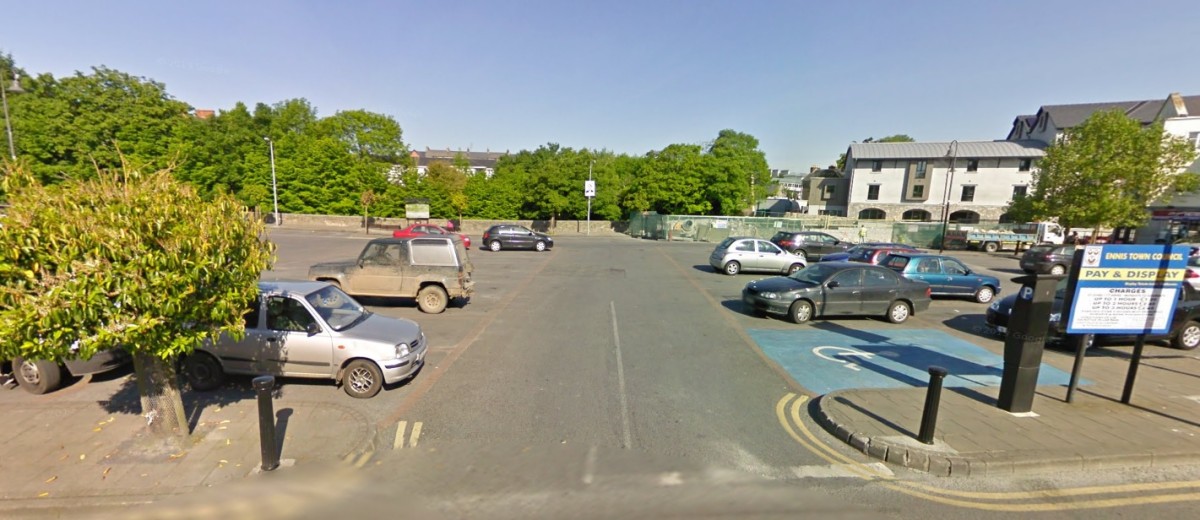 In a bid to attract more shoppers to Ennis, a free parking scheme is to be implemented over the Christmas period.
From Thursday December 8th until Sunday January 8th there will be free parking in Ennis every Thursday, Friday and Saturday from 3pm.
Clare County Council announced details of the incentive at Friday's meeting of the Ennis Municipal District. Addressing members of the district, Ger Dollard, Director of Service with the local authority referred to a previous scheme that saw free parking before 12pm but it proved to be ineffective in getting customers to the town.
Following on from discussions with Jean McCabe, President of Ennis Chamber, Dollard agreed that a different time slot would be needed to attract more visitors to the town. He pleaded with employers and employees to park in outlying car parks during the busy period to leave spaces for shoppers.
Mayor of Ennis Ann Norton praised the Council for their initiative. "Very positive response to both the retailers and customers, it is very important that the Municipal District Councillors are seen to be supporting both the retailers and customers that come in and shop in Ennis". She feels it will encourage local shopping and urged people to sample the town during the festive period. "Spend some time in and around Ennis there's a lot going on, it's very important that people see the town for what it actually is".
Fianna Fáil Cllr Tom McNamara said the scheme will help to promote Ennis as a shopping destination. He stated that footfall in the town on Saturdays is growing continuously and that Clare County Council will benefit in the long run for introducing the free parking.
Mary Howard was very pleased to hear the developments. "Parking incentives in Ennis are the same as Santa Claus is to Christmas". She spoke of the work done by retailers in improving their businesses in preparation for the Fleadh last August and felt this was a way in which the local authority was showing some gratitude. Mary appealed to staff to park further from their workplace to allow shoppers have "adequate parking". She asked the Council to consider introducing midnight shopping.
According to Cllr Clare Colleran Molloy this initiative is "very positive and absolutely necessary". She added "Use this opportunity to dispel the notion that some councillors are more sensitive to this than others". Clare revealed that she was personally offended to receive calls from traders who accused her of failing to support local businesses. Colleran Molloy applauded the Council for introducing the free parking and called on the media to get the message out "loud and clear".
Independent Cllr Johnny Flynn also spoke of criticism he got in the past. "I got it in the neck on the street in Ennis", he said an impression exists that elected members don't support local businesses. Flynn added that this was "saving jobs and creating part-time jobs" and that every €10 spent in the town circulates. He believed the retail sector has taken a big hit. "This is about people putting on the jersey and supporting Ennis businesses".
"Christimas time is the bread and butter time for traders in any town" stated Pat Daly. In his view Ennis is competing geographically with Galway and Limerick, a call echoed previously by Mary Howard. Daly wants to see staff members looked after with parking in the future.
Fine Gael Cllr Paul Murphy also welcomed the free parking scheme and is hopeful it will help businesses that had a disappointing Fleadh.
As the last councillor to speak on the matter James Breen also applauded the announcement "as a country man coming into town". He asked Ger Dollard to seriously consider seeking extra parking in Waterpark and he was told the Council will look into the matter.
It was also announced that the local authority will be availing of twenty additional parking space currently occupied by Dublin Coach outside The Temple Gate Hotel. Dublin Coach were contacted by the Council to see if they could utilise the space during the Christmas period and they received a positive response.