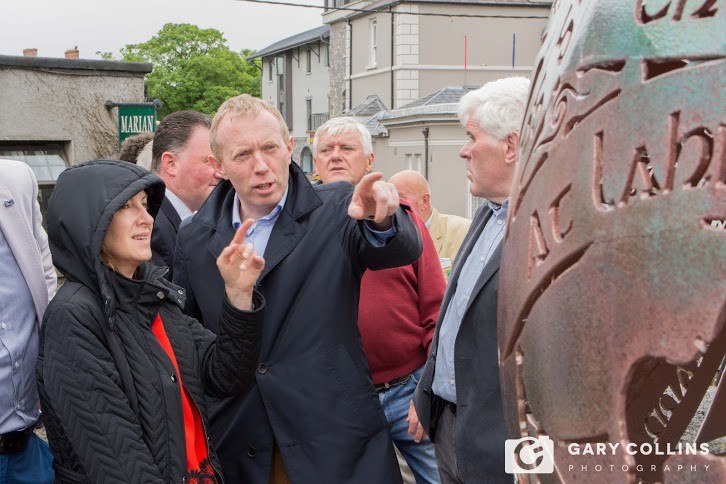 Hospital staff and management are overstretched says Clare TD Timmy Dooley who wants to see fifty beds in Ennis General Hospital opened up to tackle the overcrowding of health services in the Mid-West.
A protest took place earlier today at University Hospital Limerick with an estimated one hundred people showing up. Last weekend close to three hundred men, women and children gathered at the Daniel O'Connell monument in Ennis seeking that the accident and emergency unit at the county hospital be reopened.
"Clearly by your presence like many other people you're deeply annoyed and frustrated by the way in which so many people have had to remain on trolleys for extended periods of time at the accident and emergency unit in Limerick in recent weeks, it's unacceptable and we've got to do something about it. There is no short-term or simple solution to any of these issues but there are a couple of things that can be done immediately that would help to alleviate some of the pressure that's there", Deputy Dooley told the crowd.
"Most of the time when a doctor sends somebody to hospital they have to go through a process of diagnosis to establish what treatment they should receive, GP's in this community are often more qualified that the junior doctors that they meet on the other side and it seems wrong to me that Dr Harty and other GP's are not in a position to refer people directly to the diagnostic facilities, there are facilities that need to opened for much longer within our hospital network and indeed there are facilities in some of the private hospitals that can be used at this particular time that will require the government putting in place the necessary funding to support that".
He feels a greater allocation of funding is needed to assist elderly patients living on their own who have been discharged from hospital. "I'm deeply disappointed that a government Minister in the guise of Shane Ross suggested in a flippant and off the cuff way that the solution to this was 'to give a kick in the ass to some of the staff and management in hospitals'. I think that's appalling, I know and have visited the hospitals during the week, people are absolutely overstretched both at management and staff level and it requires money and it requires planning to address that".
Dooley pointed to an increase in the age profile of the Irish population as one reason for the overcrowding in hospitals all over the country. "There is a necessity for more beds in the region and that's as a result of a growing population and an increase in the age profile, it is a fact that as people grow older they have a greater necessity to interact with the health services and require hospitalisation on occasion and as a result in the change in demographic there is a need for more beds, ninety seven have been identified and I think we need to go directly to planning in that we don't need another paid management review or another bed capacity review we need the beds".
While he didn't go as far as to call for the reopening of the Ennis A&E, the Fianna Fáil spokesperson on Communications advised the organising committee of the protest that fifty beds are available in Ennis to help alleviate the pressure on UHL.
"What I would say to the committee and I will work with you on it, some of those beds can be provided at the facility and on the campus at Ennis. There's a fifty bedded block there at the moment made up of two twenty five units and I would think that of the ninety seven beds that were proposed by the region at least twenty five of those beds could be provided on the hospital campus here in Ennis and I think your presence here today will show support for and I hope we can move with that".
Greater resources within communities will lessen the need for people to go to hospital, Dooley said "In addition there needs to be a much greater level of resourcing into community care, the GP community here in the county has the capacity to do more work if they're properly resourced and if doctors' positions are filled in line with best practice, much much more of the work can be done in the community which will negate the necessity for people to go into hospital in the first instance, it's always the case that if you can deal with people early they will have a much better chance of preventing the requirement of going to hospital".
"I look forward to working with my elected representative colleagues and your committee to try and ensure that we're not back here next year having so many patients gone through just to repeat it again. I will be working with all parties to ensure that this crisis is not repeated this time next year", he concluded.
Ennis General Hospital bed numbers were reduced from 125 to 88 in 1988 under a Fianna Fáil powered government with Charles Haughey as Taoiseach. Changes to Ennis' A&E were first introduced in 2009 when Timmy Dooley was a member of Brian Cowen's Fianna Fáil led government.
Speaking in 2011, the late Peadar McNamara former Chairman of the Ennis General Hospital Development Committee said "The services now offered in Ennis are 10% of services available in 2002. In 2007, Trevor Sergent, Green Party Leader, undertook the provision of 24 hour per day and seven day per week A&E, consultant-led services at Ennis General Hospital and the honouring of the £16 million investment for the extension and development of Ennis General Hospital. The three Fianna Fáil candidates, Brendan Daly, Tony Killeen and Timmy Dooley, issued an undertaking that there was no circumstances in which a Fianna Fáil-led administration would remove Acute Care Services from Ennis General Hospital. These undertakings now ring very hollow".