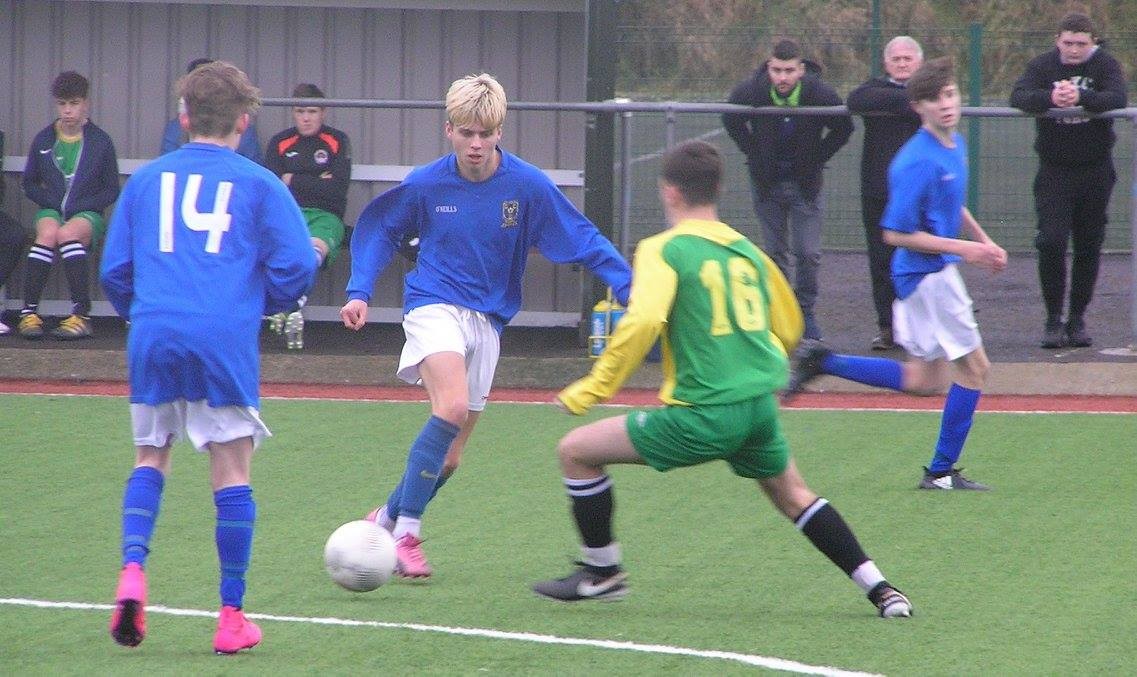 Clare qualified for the knockout stages of the Inter League Youths Cup with a comprehensive victory over Kerry.
Inter League Youths Cup
Kerry 0
Clare 5
Venue: Mounthawk Park, Tralee
A win was needed for Clare as they made the trip to Mounthawk Park on Sunday and they turned in a five star performance to defeat Kerry and qualify for the knockout stages of the Inter League Youths Cup.
This match was played on an excellent astro surface which really suited this skillful and pacy Clare side. Clare put the pressure on early and a well worked corner between Oisin Cavanagh and Jamie Roche created a chance for Jack Devitt who finished well to put them in front.
It got better on 8 minutes when Roche made no mistake from inside the box. Doherty went close again for Clare on 15 minutes with a shot that Evan O'Brien did well to deflect wide of the goal.
Great play from Clare on 20 minutes created a chance for Robbie Waller but he was denied by a great save from Moran. Waller went close again on 28 minutes with a shot from outside the box that brought another good save out of Moran. They got a deserved third goal on 37 minutes when good work from Roche down the left wing created a chance for Devitt who fired home his second of the game.
Kerry had their first chance of the game on 42 minutes when a well delivered free kick from Thomas Burke was put over the bar by Darren Mansell. Clare ended the game as a contest just before the half time whistle when good work from Roche again created a chance for Ikem Ugwueru who finished well to give them a 4-0 lead at the break.
Colm Ryan's started the second half well and a good through ball from Roche found Sean Doherty in space and he raced through before firing low past the advancing Moran to make it 5-0 to the visitors.
Conor Lowe had a good effort for Kerry well saved by Alan Naughton on 53 minutes. Good work from Dean Coughlan on 66 minutes created a chance for Devitt who was unlucky to see his well struck effort rebound off the post. Coughlan went close with a shot on 70 minutes that was well saved by Moran.
Kerry kept battling to the end but there was no stopping Clare on this day as they can now look forward to a meeting with Galway at Eamonn Deacy Park in the knockout stages.
Clare: Alan Naughton (Lifford), Callum Keely (Shannn Town), Oisin Cavanagh (Newmarket Celtic), Billy Clancy (St Pats), Kevin McSweeney (Tulla Utd), Christy Carey (Bridge Utd), Ikem Ugwueru (Avenue Utd), Robbie Waller (Shannon Town), Jack Devitt (Lifford), Jamie Roche (Avenue Utd), Sean Doherty (Avenue Utd)
Subs: Dean Coughlan (Lifford) for Doherty, Jordan Downes (Bridge Utd) for Waller, Mark Shannon (St Pats) for Devitt, Kevin Tubidy (St Pats) for Ugwueru, Kevin Considine (Hermitage) for Roche
Subs Not Used: Johnny Ryan (Avenue Utd), Fergus Lyons (Lifford), Luke Whelan (Shannon Town), Danny Clancy (St Pats)
Kerry: Killian Moran, Evan O'Brien, Dylan Fitzgerald, Mark McDonnell, Aaron Kelly, Darren Mulcahy, Darren Mansell, Niall Downey, Cian Casey, Daniel Feehan, Thomas Burke. Subs: Conor Lowe, Conor Mitchell, Callum McSweeney, Ethan Brosnan, Kevin Mahony