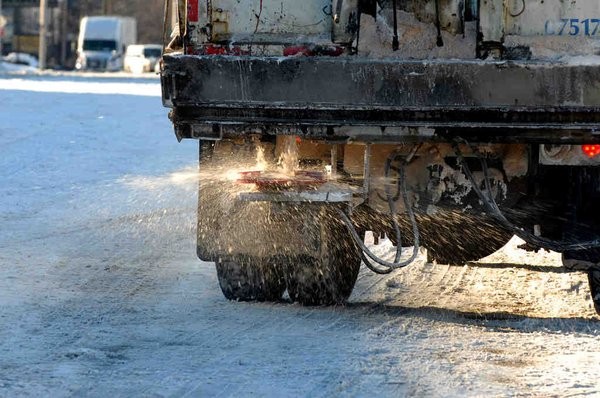 Resources are preventing Clare County Council from implementing a policy of gritting all roads adjacent to primary schools in the county during frosty weather.
Shannon councillors, PJ Ryan, John Crowe and Pat McMahon requested that a review of the winter maintenance schedule that would see the roads of all primary schools in Clare included in the gritting of roads.
"While the Council does carry out salting of routes alongside quite a number of schools throughout the County by virtue of the fact that such schools are adjacent to scheduled salting routes there are many schools which aren't in such a situation and so don't benefit", said senior engineer, Tom Tiernan.
According to Tiernan, the scheduled routes would have to become much longer, the quantities of salt required would be considerably greater and the time involved in completing the road treatment work on the ground would be much greater if a new policy was put in place. "The Council does not have the resources to be able to extend the winter maintenance service in the manner sought by this notice of motion".
Cllr PJ Ryan queried if members of the public that then decided to spread salt would be held accountable should there be any accidents. Tiernan informed councillors that "the whole notion of liability takes a back seat in instances like this".
Fine Gael's John Crowe was unhappy with the initial response from the engineer. "I know financing came into it but when you take national schools safety is of the utmost importance". He wanted a closer look to be taking at the costings, saying "every problem can be got over and we can surely get over this".
Pat McMahon was the third councillor to propose the item and the Newmarket-on-Fergus man emphasised that "young children are the most vulnerable people when the weather changes". Schools must now alert the council if roads are dangerous in their proximity in his view to avert any possible danger.
Ennis councillor Johnny Flynn welcomed a previous suggestion that grit bins be made available to all schools while Fianna Fáil's Cathal Crowe advised that caretakers be given the task, "when schools close you're talking a huge amount of disruption to students and parents".
While he fully supported the item, Cllr Joe Cooney called "for all schools to be held on a level playing field. All schools should be looked after in the same way". Cooney told the meeting that he was still awaiting the engineer's comments on gritting roads in the Killaloe Municipal District.
Upon hearing the feedback, Tiernan said "I'd love to be a bit more positive in my response but unfortunately it's the same old same old with resources being the issue. Local authorites endeavour to cover up to 50% of road network average length of strategic roads". He told councillors that it was generally the responsibility of the schools to carry out the gritting if necessary.