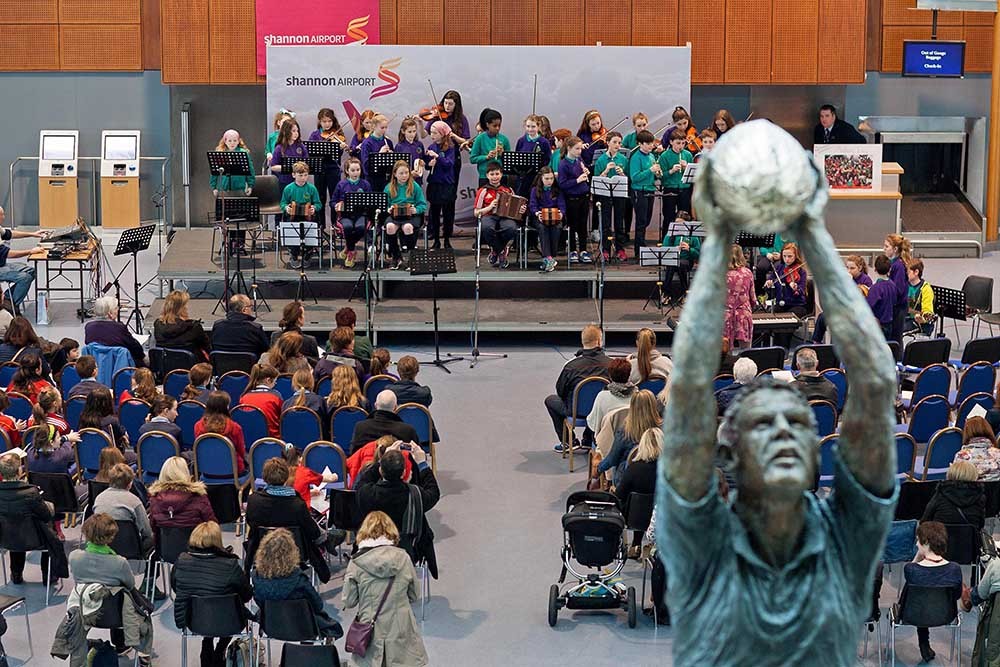 It was a case of Thomond Park meets Shannon Airport on Thursday as over 120 students from schools in Clare and Limerick entertained passengers with a tour de force of rugby songs and tunes.
The annual School Bands Spectacular saw pupils from Ennis National School and Knockanean National School from Co. Clare as well as Milford National School, Co. Limerick deliver a two-hour performance in the check-in area which culminated with a tribute to Anthony Foley and Munster rugby. 
After their individual sets, the three groups, in a show of their solidarity with the family of the late Anthony Foley, gathered for a final salute to the fallen Shannon, Munster and Ireland rugby hero before the curtain was drawn on the annual spectacular. 
Songs like 'There Is An Isle', 'Stand Up And Fight' and 'Ireland's Call' got an emotional rendition as the children passionately gave their all in front of special guests, Munster players Mike Sherry and Mark Chisholm, as well as parents and family members.
Said Operations Director Niall Maloney, "We have been hosting the Schools Band Spectacular for a few years now and we're delighted to see these very talented musicians in here having a great time.  Shannon Airport is very much part of the fabric of the community here in the region and events like this really emphasise that. They also make for a very entertaining morning for passengers going through the airport.
"The children enjoyed it, their families enjoyed it, we enjoyed it and it was great to see our passengers enjoying it also.  The finale of this year's performance was themed on Munster Rugby and where they also paid special tribute to Anthony Foley, which was very touching. It just showed how he captured the hearts and minds of all, including the younger generation."