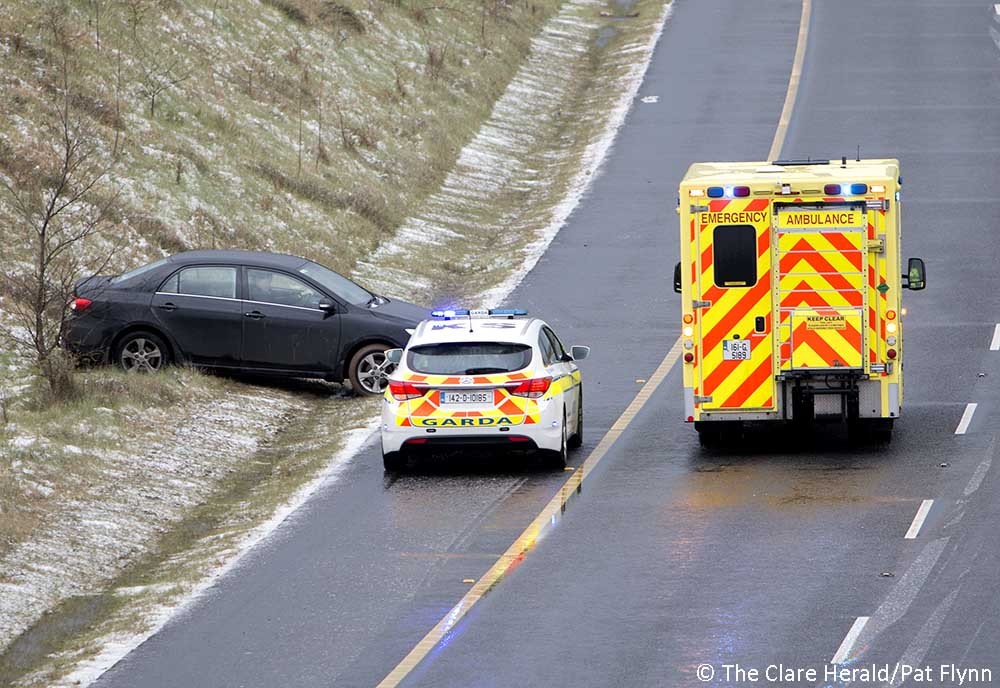 Three incidents involving vehicles that lost control on the M18 following a downpour of hail this morning, have been cleared.
No injuries were reported in the accidents which occurred at around 7.00am on opposite sides of the motorway just a few hundred metres apart.
A van travelling south from Gort towards Ennis skidded and ploughed into a crash barrier at Tubber on the Clare/Galway border.
A car left the road a short distance away and came to a stop on an embankment while a third car spun around on the road but did not collide with anything.
Fire crews from Ennis, Gort and Shannon along with an ambulance and rapid response advanced paramedic unit from Ennis responded to the scene.
Garda patrols from Gort and Ennis also attended the incident.
CLARE/GALWAY Two collisions on M18 between J15 Crusheen & J16 Gort near Tubber; one north & one south. Take care https://t.co/r19oH1u8F2

— AA Roadwatch (@aaroadwatch) March 21, 2017
A weather alert was issued by Met Éireann yesterday warning of freezing temperatures, hail and snow.
Following recent similar incidents on the M18, Transport Infrastructure Ireland (TII) erected roadside warning signs advising drivers to slow down in hail showers.
There were several collisions at the same location last month.