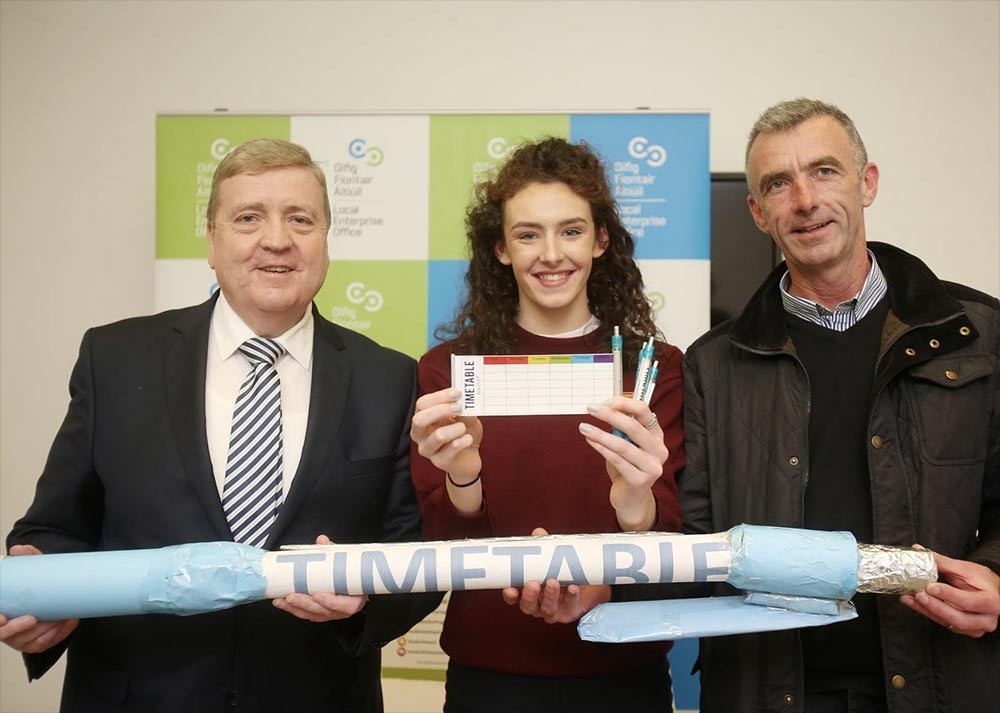 The Minister of State for Employment and Small Business, Pat Breen met a number of Ireland's most enterprising teenagers ahead of the National Final of the Student Enterprise Programme next week, including East Clare student Ella MacNamara.
Now in its 15th year, the event organised and run by the Local Enterprise Offices (LEOs) across the country, attracted an estimated 22,000 pupils from 620 secondary schools this year. 
The aim of the programme is to develop links between the education system and the real economy, so that school leavers gain the skills and practical knowledge of running a business, enabling more of them to consider self-employment as a future career option.
Among the enterprising young students represented at the launch was Ella MacNamara (16) from Scarriff Community College. A finalist in the Senior Category with her business Pentables, Ella was supported by her teachers Áine Purcell and Dearbhla Hassett.
Pentables are pens with in-built school timetables. Each 'pentable' has a retractable banner, which features a handy two-sided school timetable. The timetable can be customised by both teachers and students with their own school timetable. To date, Pentables has generated sales from small businesses, schools and state agencies.
Also through and representing Clare in the junior category are Naoise Lambe, Gráinne Mc Mahon, Shauna Considine and Ellen Cahir from Scoil Mhuire, Ennistymon. The students along with their teacher Laura Garvey entered their "I Holder" – handcrafted i-phone and i-pad holders. 
Scoil Mhuire students are also representing Clare in the Intermediate Category with "Méabhla's Fairy World". The brainchild of students Meabh Mullane and Kayla Sherdian, and supported by their teachers Caitríona Hayes and Laura Garvey, this venture saw the production of fairy gardens, fairy jars and fairy lanterns. 
Having progressed through their local school finals and individual county finals, 200 students aged between 13 and 18 have secured their place at the National Final on May 3.
Minister Breen met with seven of these budding entrepreneurs, including Ella, to see a remarkable showcase of innovation, such as protective base layers for hurlers, liquid fertiliser made with seaweed, timetable pens for schools, furniture made with recycled engine parts and a spray to improve the grip on sports equipment.
Minister Breen said "Entrepreneurship is the backbone of our economy, and embedding this culture at an early age is crucial. This programme is the gateway to ensure that entrepreneurship becomes a natural option for our young people as they discover and develop their talent and business acumen. As Minister for Small Business, I want to nurture Ireland's future entrepreneurial potential, and it is great to see teachers, young student entrepreneurs and the LEOs coming together to ensure that this starts in the classroom."
Stephen Walshe, Chair of the Enterprise Education Committee with the Local Enterprise Offices in local authorities, said: "We are celebrating fifteen years of the Student Enterprise Programme this year and it has already helped over 150,000 students since it started in 2003.The programme begins every September with free resources for teachers and students. With an increased emphasis in the school curriculum around enterprise in the classroom, we are expecting even more schools and students to take part in the Student Enterprise Programme in the years to come."
The Local Enterprise Offices have a total prize fund of €9,000 on offer on May 3 with judging taking place across the Junior, Intermediate and Senior categories that morning.