Foynes Air Show 2017, supported by the Irish Aviation Authority (IAA), will make dreams and wishes come true on Saturday July 22, as champion aerobatic pilot Dr Eddie Goggins will offer one spectator the chance of a life time – to be part of an aerobatic flight in a two-seater aircraft.
The dentist by day, daredevil aeronaut by weekend, is offering spectators and fans of the biggest ever air show along the Wild Atlantic Way, the chance to see the earth from above while also raising funds for children's charity Make a Wish Foundation.
Eddie, who has been flying aerobatics for 24 years and is a regular performer at the Foynes Air Show, has painted his French designed Avions Mudry CAP 232 to reflect his chosen charity.
"The Foynes Air Show never ceases to put smiles on people's faces, and I believe it is only fitting then that we do our best to share that feeling with children who are very ill, by supporting The Make A Wish Foundation," said the flying dentist.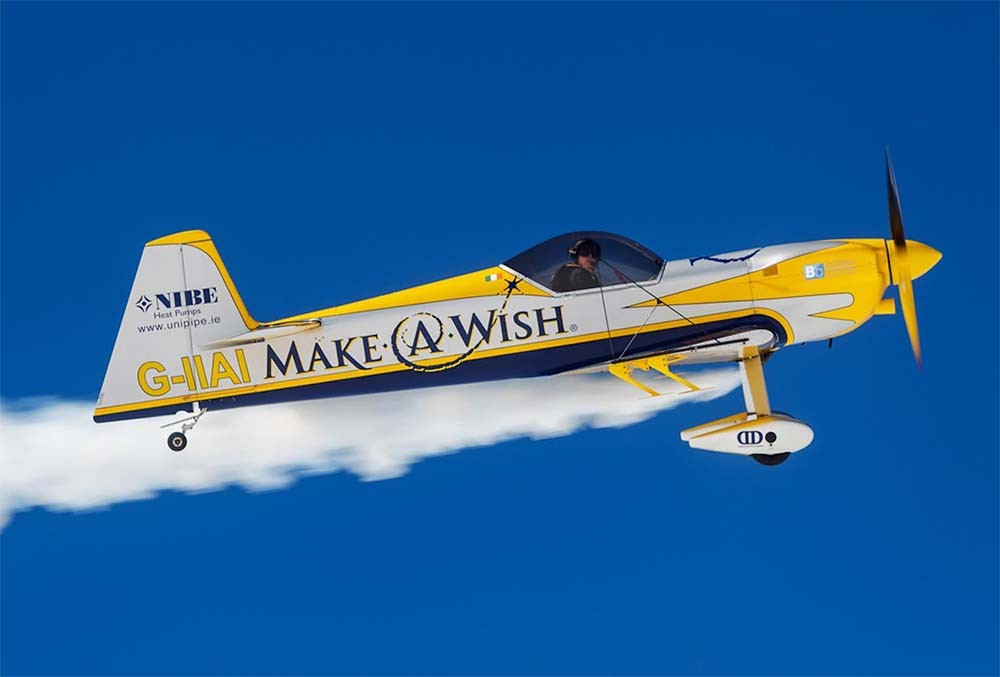 During his air display of Diving Corkscrews, Towering Spiral Cravats, Salmon Leaps, Nose over Tail Ruade Tumbles, Knife Edge and inverted Upside-Down fly pasts Eddie will announce to those attending the Foynes Air Show that they can donate €4 to the Make A Wish charity by texting FLY to 50300.
Each donation will enter the person into the draw to win an aerobatic flight with 100% of the text cost goes to Make A Wish, across most network providers. Some providers apply VAT, which means a minimum of €3.25 will go to the charity.
The starting date for text entries is July 1 2017. The draw will close and a winner will be announced at the air show one hour after the MAKE A Wish CAP 232 flying display.
Margaret O'Shaughnessy, Foynes Air Show Festival Director said, "The Foynes Air Show is as much about families and childhood dreams, as it is about aviation and Foynes historical link to the aviation industry. It seems fitting therefore that one of our acts has found a way of supporting a charity that makes the wishes of very sick children come true.
"The Make A Wish aircraft will be just one of 32 aircraft taking to the air over Foynes from lunchtime on July 22, 2017. We will have more than 18 world renowned acts taking part on the day, with a number of firsts for Ireland, including the Douglas DC-3 and the  Spanish Air Force F-18 act."
"The Catalina will make a return to Foynes after an absence of 80 years, while Mustangs, a Strikemaster, British Spitfires; Viggen jets, and a pair of Vampires from Norway will also add to the excitement on the day," she said.
The main supporter of the Foynes Air Show is the Irish Aviation Authority (IAA) as part of its #AviationIreland campaign to promote aviation across the State. The IAA also supports the Bray Air Display which will take place on Saturday and Sunday, July 22 and 23, 2017.
Eamonn Brennan, Chief Executive of the Irish Aviation Authority said, "This year is an extra special one for fans of aviation across Ireland. Under the IAA's "Aviation Ireland" campaign we are supporting not just one but two spectacular air shows over the same weekend at Foynes and at Bray. We are committed to promoting the growth of the Irish aviation industry and see this as a great opportunity to raise the profile of aviation and to generate an interest in our industry."