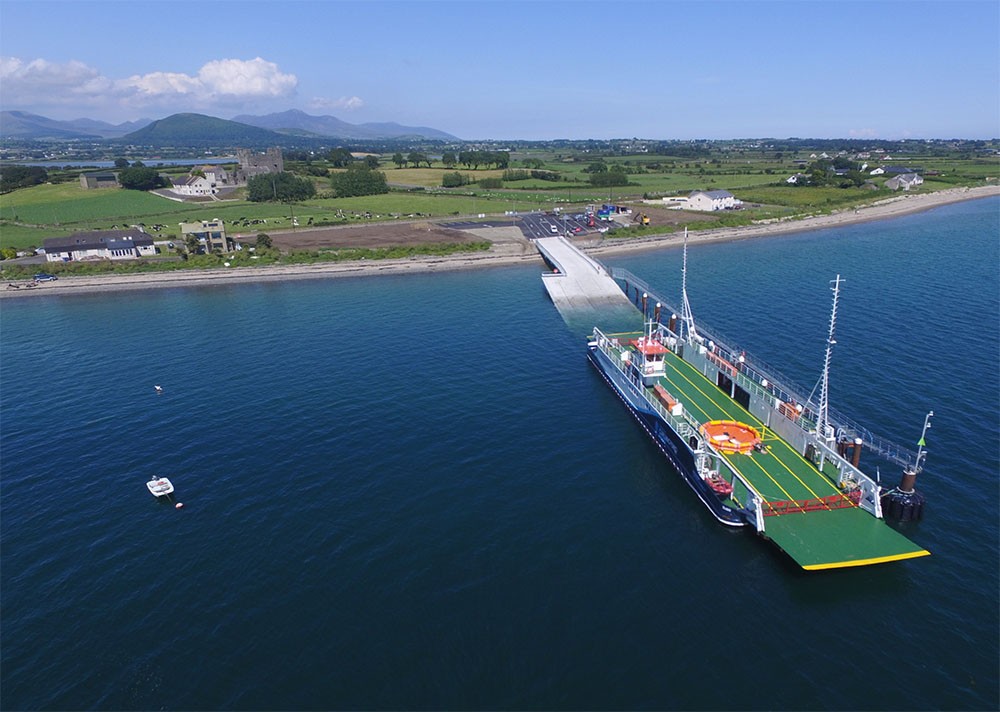 A Co Clare civil building, civil and marine engineering contractor was behind the construction of two ferry terminals for a new cross-board service on Carlingford Lough.
Kilmihil based L&M Keating, who have won national awards for the Doolin Pier and Cape Clear Island projects, have completed works at Greenore in Louth and Greencastle, Co Down for the new Carlingford Scenic Ferries company.
It's also apt that one of L&M Keating's first marine civil engineering projects was the Tarbert-Kilimer Ferry service. Although building works have been the backbone of the company, L&M Keating has since delivered some of the countries most exciting and largest marine civil engineering projects.
The Tarbert-Kilimer Ferry service has also prospered and many of this Shannon Ferries team have now successfully set up the Greenore-Greencastle, Carlingford Scenic Ferry Service. The development of this ferry service has been headed up by Paul O'Sullivan, Kilrush.
Richard Browne, a director of L&M Keating said: "The development has taken over 10 years of research, planning and design. L&M Keating were chosen some years ago by Carlingford Scenic Ferries as its trusted construction partner to deliver both ferry terminals, North and South with a start date of October 2016. All piling on the project was required to be completed by March 31st 2017 to comply with environmental constraints."
Due to planning and environmental constraints this was no mean feat. Delayed planning approvals resulted in a 4 month delay for the project and in a 2017 sailing looked increasingly unlikely. The ferry company, L&M Keating and designers RPS Group used this time to redesign the project for a fast track construction approach.
Finally approvals came through allowing a revised start date of 20th February 2017 leaving just 6 weeks to carry out all piling. The Clare based contractor mobilised four piling crews, land based and floating, North and South to attack the project on every front. The last of 43 piles was driven on the evening of the 31st March, just in time.
With the environmental programme met the push was now on to get the ferry operational. The redesigned structure facilitated the off site fabrication of much of the Greencastle jetty during the piling programme.
L&M Keating commissioned Banagher Precast Concrete delivered a range of beams and slabs to the project. Each of these precision precast elements were fitted by the L&M crew in a rapid construction programme again with land and water based crews. Once the infrastructure was in place the final fitting of fendering, lighting, quayside furniture together with parking and office facilities took place.
Carlingford ferries had its inaugural sail on Friday 21st July. The project is a massive boost to tourism in the area. The project is a testament to the vision and perseverance of the team at Carlingford Scenic Ferries.